Liv.e's Dazzling R&B, Inspired By Toonami And Gaming
'Girl in the Half Pearl' finds her stylistically voracious as she heals her inner child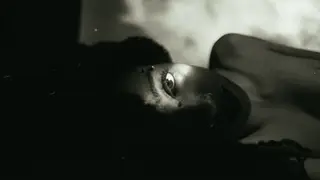 The Greeks had Aphrodite, Egyptians had Isis, and we have Liv.e. Each of these all-powerful, multi-faceted beings embodies the divine feminine, which surpasses patriarchal power and suggests there's a spiritual equilibrium within that balances the negative social structures placed upon us. Yet Liv.e, the young Texas-born R&B creative, is still often named among her male collaborative counterparts.
"I don't necessarily like that shit," Liv.e says, shaking her head while on Zoom with MTV News. She sits on her velvet green couch in a white Hood Supply pullover with the hood worn up for the entirety of the interview. "I always, always [want to stand alone as being my own artist]. But I understand that people also be wanting things to reference in order to understand. I don't know why that is. You never just heard something and it was something you never heard before? Like, damn!"
The singer didn't always know she would be in music, but that was mostly because it's what her parents did. Liv.e's mom sang and directed a church choir, and her dad played keys in successful blues and gospel groups. Although the artist, born Olivia Williams, played tuba and DJed in high school, she instead decided to focus on visual design and architecture throughout her education, first at Dallas's Booker T. Washington High School for the Performing and Visual Arts, then at School of the Art Institute of Chicago. Her musical fickleness is almost an allegory for how unpredictable her next project is.
The new record, Girl in the Half Pearl, out today (February 10) via In Real Life Music, blends drum and bass, deconstructed club, soul, and jazz. It's a deviation from her 2020 debut, Couldn't Wait to Tell You…, which introduced Liv.e's bebop-injected sound, but that's exactly what she wanted. "I hate redundant shit," she says. "I can't do it." It's the reason she dropped out of university before she got her architecture degree, and it's also why the record is not what longtime Liv.e fans might have expected.
Liv.e's most frequent collaborator, Pink Siifu, says that's the beauty of Liv.e's artistry. "Working with Liv.e is always dope because I always learn something. She always does something I'm not thinking about. I look up to Liv.e. I feel like she's the female D'Angelo. She's just so crazy," he tells MTV News. "She could kill n----s with neo-soul shit all the time, but she could also do any other thing. She has a lot of tricks up her sleeve."
Girl in the Half Pearl is a diaristic exploration of self through the lens of reflection, introspection, and drugs. Liv.e jumps across genres suddenly and abruptly, even in the first three tracks. She introduces the album with the hectic "Gardetto," follows it up with the experimental jazz tune "A Slumber Party?," and then comes full circle with her distinctive soulful sound in her ode to magic mushrooms, "Lake Psilocybin." The LP is as erratic as the conflicting life lessons one learns through experience.
Before Liv.e announced Girl in the Half Pearl last November, she strategically featured on electronic music duo Mount Kimbie's "A Deities Encore," a collaboration that foreshadowed her coquetry in dance music for her upcoming record. Dom Maker from the group agrees with Siifu. "Liv.e is the rarest of treasures. Her music hypnotizes me, and working with her always inspires me to push my work further. Her new record was the freshest thing I'd heard in a long time."
For Liv.e, music is all about being bold. "I take a lot of risks. I specifically take a lot of risks musically just to make sure whatever I'm doing, I'm doing it more so because I want to," she says. In the "Wild Animals" music video, for instance, Liv.e prances around an all-white set in a latex outfit, topped off with leather dog ears, as a live Doberman named Barry Manilow sits next to her throughout the entirety of the clip. "Everyone's so scared to have fun and do silly and goofy shit or shit that might be not that acceptable on the radio."
The first single from the LP, "Ghost," stays true to the singer's evocative essence, presenting her signature longing vocals, but places them over a jungle drum and bass beat. "I chose that shit because one, I had to get this off my chest. I'm giving you how I feel right now. Two, I felt like it kind of set the tone for what to expect."
With feverish breakbeats as the backdrop of the track, Liv.e poetically grieves a lost relationship ("I stayed awake till dawn / I felt that shit inside me / That you were really gone"), her lyricism just as distressed as the rhythms it lays atop. "I'm too vulnerable," she admits. "I'm just learning to find the balance and just save whatever real harsh vulnerability for the songs. I think it's a little bit harder being vulnerable toward people because it's hard out there. People are hard to trust."
However, Liv.e doesn't shy away from opening up about her past during the interview; she's still healing from the years of her youth, including her strained relationships with her parents. For Liv.e, the complete exposure she displays in her album is her way of healing her inner child. "It is damn near a rebirth of myself, in a more understanding way — in a way that like I have to go through some shit in order to see and to develop who am I, what I'm going to do, and what type of decisions I'm going to make."
For the singer, her art isn't only a way to express herself, but it's also a way to appreciate her past in a way she hasn't yet done. The influences of her childhood are woven in, and she notes the rhythmic boosts were inspired by video games like Jet Set Radio Future as well as Toonami and The Powerpuff Girls on Cartoon Network. She also knew that music videos would be important in her rollout because of how much she watched MTV as a teen. (She even directed the two visuals that are out now for the album.) "There are things about being a child where you are just so much rawer to the experience. It's not about categorizing things, it's more just like, 'Oh, damn, I really liked this. It's cool,'" she says. "I've started to pay more attention to my inner child. I'm telling her, 'I got you, I see you, I'm seeing the full scope right now.'"
Both healing and creativity are crucial parts of embracing the divine feminine, and in Girl in the Half Pearl, Liv.e proves that the catharsis of unleashing your vulnerability is integral to being at peace with every internal hurdle that comes along with it. "I feel like it's the most wide-open I've been," she says. "I'm feeling a little exposed."
Although Liv.e has historically named male acts like Prince, Outkast, and Sly and the Family Stone as her main musical influences, for this record, she harnesses the unladylike-ness of Sonic Youth's Kim Gordon and the eccentricity of Carla Vallet. Vallet also fused jazz and drum and bass beats on "Fantaisie Sign," a song Liv.e found through the neo-noir anime television series, Cowboy Bebop.
While she doesn't aim to be compared to anyone else, she also has learned to appreciate the value of the collective. "I know so many people are also thinking what I'm thinking," she says. "That's awesome. It lets me know that wherever my subconscious and my spirit are taking me is in unison with a whole lot of other people that also feel the same. That's what is so comforting."