Bop Shop Of The 2010s: The Best Overlooked Songs Of The Decade
A loving sendoff to songs that deserved more shine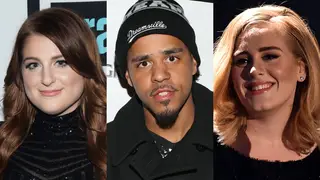 The search for the ever-elusive "bop" is difficult. Playlists and streaming-service recommendations can only do so much. They often leave a lingering question: Are these songs really good, or are they just new?
Enter Bop Shop, a hand-picked selection of songs from the MTV News team. This weekly collection doesn't discriminate by genre and can include anything — it's a snapshot of what's on our minds and what sounds good.
To close out the decade, this week's Bop Shop is filled with overlooked songs we think should have been bigger in the 2010s. You'll find some new faces, some old faces, some you know, some you don't, and some huge artists with songs that might've just missed the mark, for whatever reason. Dig in and relive the past 10 years with a fresh set of familiar and unfamiliar bops.
Emily Osment: "Lovesick" (2010)
Can we just agree once and for all that Emily Osment snapped when she debuted "Lovesick" in 2010? Everything about this song, from the neon rainbow-hued visuals of its accompanying futuristic music video to its multiple slick musical puns, is painfully on point. It's a relentless onslaught of high-energy pop, and Emily's confident and sassy throughout the entire track. I'm not ashamed to say I still listen to this song weekly, and it goes harder than 90 percent of what I currently have on rotation. —Brittany Vincent
Kanye West ft. Bon Iver: "Lost in the World" (2010)
After 11 tracks ruminating on sex and power, our antihero is left with total emptiness on "Lost in the World," the proper closer from My Beautiful Dark Twisted Fantasy. So he attempts to fill the hole with enough noise to drown out his solitude: avalanching drums, frenzied tribal chants, Bon Iver's intense howl, and a disembodied plea urging him to "run from the lights / run for your life." West told MTV News in 2010 that his "Lost" verse was his "favorite eights bars I've ever written in my life." It's also the grand finale his mad masterpiece deserves. —Madeline Roth
AlunaGeorge: "You Know You Like It" (2013)
It wasn't until DJ Snake released a remix for The Amazing Spider-Man 2 soundtrack that AlunaGeorge's debut single, "You Know You Like It," starting getting any sort of radio play in the U.S. But the song's original mix, a bass-driven '90s R&B throwback, should have been a mega hit stateside. It's the ideal introduction to the U.K. duo, with George Reid's production that sounds simultaneously familiar and futuristic creating a platform Aluna Francis's buttery smooth vocals to take over. The DJ Snake mix loses the bounce, swagger, and sexiness that made the original sound as fresh now as it did six years ago. —Bob Marshall
Ciara: "Body Party" (2013)
"My Boo," the 1996 R&B classic from Ghost Town DJ's, has endured as an energetic poolside anthem when the weather's warm, its techno-inspired beat making it a staple of every summertime hip-hop playlist. Producer Mike Will Made It flipped the song on its head, slowing it down to a crawl and bringing outs its seductive underpinnings. What he made would go on to become the beat for Ciara's "Body Party," a sexy single from her 2013 self-titled album that narrated a hot and heavy night with a partner. In its unforgettable (and now slightly cringe-y) video, she recapped how she met her then-partner, Future. —Trey Alston
J. Cole: "Chaining Day" (2013)
Six years later, when chains and jewelry seemingly matter more than ever thanks to Instagram and Snapchat, J. Cole's "Chaining Day" seems to have been ahead of its time. The deep cut from his 2013 album Born Sinner explores how stupid it is to spend money that could buy a house on a heavy necklace that doesn't do anything for you aside from attracting envy. He contextualizes his feelings by looking at the necklace that he's bought, making "Chaining Day" not just a sermon to rising rappers, but a way to chastise himself. It's a warning to avoid the glitz and glamour and stay true. —Trey Alston
Adele: "Send My Love (To Your New Lover)" (2015)
In the year when "Hello" and "When We Were Young" took over the charts, Adele's third 25 single seemingly fell through the cracks, which is just... blasphemous. It deserved more and deserved better! In this stunning pop hit, Adele sticks to her brand of singing about heartbreak and lost love, but with a surprising, uptempo twist, allowing her to convey "happy you're gone" rather than "I miss you, come back." The song stays strong in lyrical value, and its layered vocals, rhythmic beat drops, and electronic-inspired production make it completely fun. For the first time in a long time, we got to see Adele in a new light, both cool and refreshing, and I hope we see more of it in 2020 with the release of *fingers crossed* A4! —Sarina Bhutani
Hilary Duff: "Sparks" (2015)
As one of the seven gays that purchased the limited edition Breathe In. Breath Out. box set, I truly come from a place of rage that y'all let the iconic song "Sparks" flop. Duff's third single from her 2015 comeback is a propulsive synth-driven dance track about feeling those "sparks" of a newly kindled relationship. The song mirrored Duff's personal life at the time, during which she began dipping her toes back into the dating pool after filing for divorce. Run, don't walk, to only the "Fan Demanded Version" of the "Sparks" video above (because no one wanted to watch a Hilary Duff Tinder ad), and enjoy this neon daydream of what new love feels like. —Daniel Head
The Avalanches: "Because I'm Me" (2016)
Wildflower, The Avalanches's long-awaited sequel to their classic 2000 debut album, Since I Left You, finally arrived in 2016 to immediate fanfare. It was then quickly forgotten, which is a real shame considering "Because I'm Me" is the kind of joyous, life-affirming track that we all needed during the back half of the decade. The song's music video excellently suits the anthem to self-love in the face of rejection, starring an adorable kid singing his heart to an MTA worker in a Bronx subway station when a brass band spontaneously appears to back him up. Watching him dance to Sonny Cheeba's verses, I remember exactly where and when I was when first saw this, which might explain why more people don't know it. Sure, it would be conspiratorial, maybe even crazy, to wholly blame the 2016 presidential election that occurred less than two weeks after the video premiered for people not paying much attention to it. But it certainly didn't help. —Bob Marshall
Låpsley: "Operator (He Doesn't Call Me)" (2016)
There was a time, in early 2016, when I was convinced this song would save the world. (Either the gorgeous studio cut or the DJ Koze disco cut, the radio edit of which is above, could do it.) The fact that we're still here nearly four years later means, simply, it worked. Låpsley even released a new EP this month. —Patrick Hosken
Meghan Trainor: "Me Too" (2016)
How does one follow up a triple-platinum debut album that also scored them two top 5 hits and a Grammys win? The pressure was on for Meghan Trainor's sophomore album, and contrary to what the charts say, she delivered. Not only was "No" a certified bop, but "Me Too" was the electro-R&B hit we deserved, serving up self-love before it was a branded thing. With a banging beat and a sticky chorus, Meghan turned the bass up so loud she couldn't hear the haters, and never before has she been so confident. –Carson Mlnarik
Aly & AJ: "Take Me" (2017)
A decade can feel like an eternity, but sometimes distance can be the key to excellence — like in the case of Aly & AJ. Ten years after "Potential Breakup Song" gave them their claim to fame, the Disney pop icons returned in 2017 with "Take Me." This pop anthem flawlessly mixes '80s synth-pop, straight-up thirsting, and... cannibalism? The interesting combo pays off for the duo, creating a candy-sweet, infectious song. "I know that you would want it / If I could sink my teeth into you / First you gotta ask me out," they sing, giving voice to those overwhelming first-date thirst feels. Not only do these girls know their suitors are interested — they're prepared to bite down and claim what's theirs. —Dan McKenna
Dagny: "Love You Like That" (2017)
In 2017, long before the release of Katy Perry's "Never Really Over," her co-writer Dagny dropped a track equally as catchy, energetic, and emotive. That track was "Love You Like That" — an electro-pop masterpiece about being gloriously and stupendously in love. But the lyrics are only part of this song's flare, with the booming synth-pop beat doing most of the heavy lifting. By the final chorus, you have no choice but to shout out the lyrics, even after the beat nearly drops out entirely. If we could dream up the perfect top 40 radio hit, this one's it. —Jordyn Tilchen
Sigrid: "Strangers" (2017)
Sigrid filled the Robyn-sized hole in our hearts with this absolute banger that became a massive hit in Europe — and should have done the same Stateside. In the past decade, Scandinavia has become a hotbed for boundary-pushing, female-led pop music, and the fresh-faced Norwegian export is no exception. With "Strangers," Sigrid takes a sad story — about a relationship that doesn't live up to Hollywood standards — and shakes it alive with a tongue-tying bridge and a monstrous chorus that rivals anything you've heard on Top 40 radio. —Madeline Roth
Tove Lo: "Disco Tits" (2017)
"I hate vanilla," Tove Lo says at the beginning of this music video, as if its buzz-worthy title wasn't enough of a clue. What unfolds is a wild, psychedelic club anthem that sounds as sweaty as it does sticky. You can feel the dance floor bouncing beneath you as she croons, "I say hi, you say hi, we stay high / You look so pretty, yeah," in a single breath. Perhaps it was just too hot for us to handle. —Carson Mlnarik