These Rising Artists And Creatives Are Envisioning A Women-Led Future In Music
Kiya Lacey, OHSO, Tygapaw, Diamond and Princess, and Yung Baby Tate share how the industry can support women in 2020 and beyond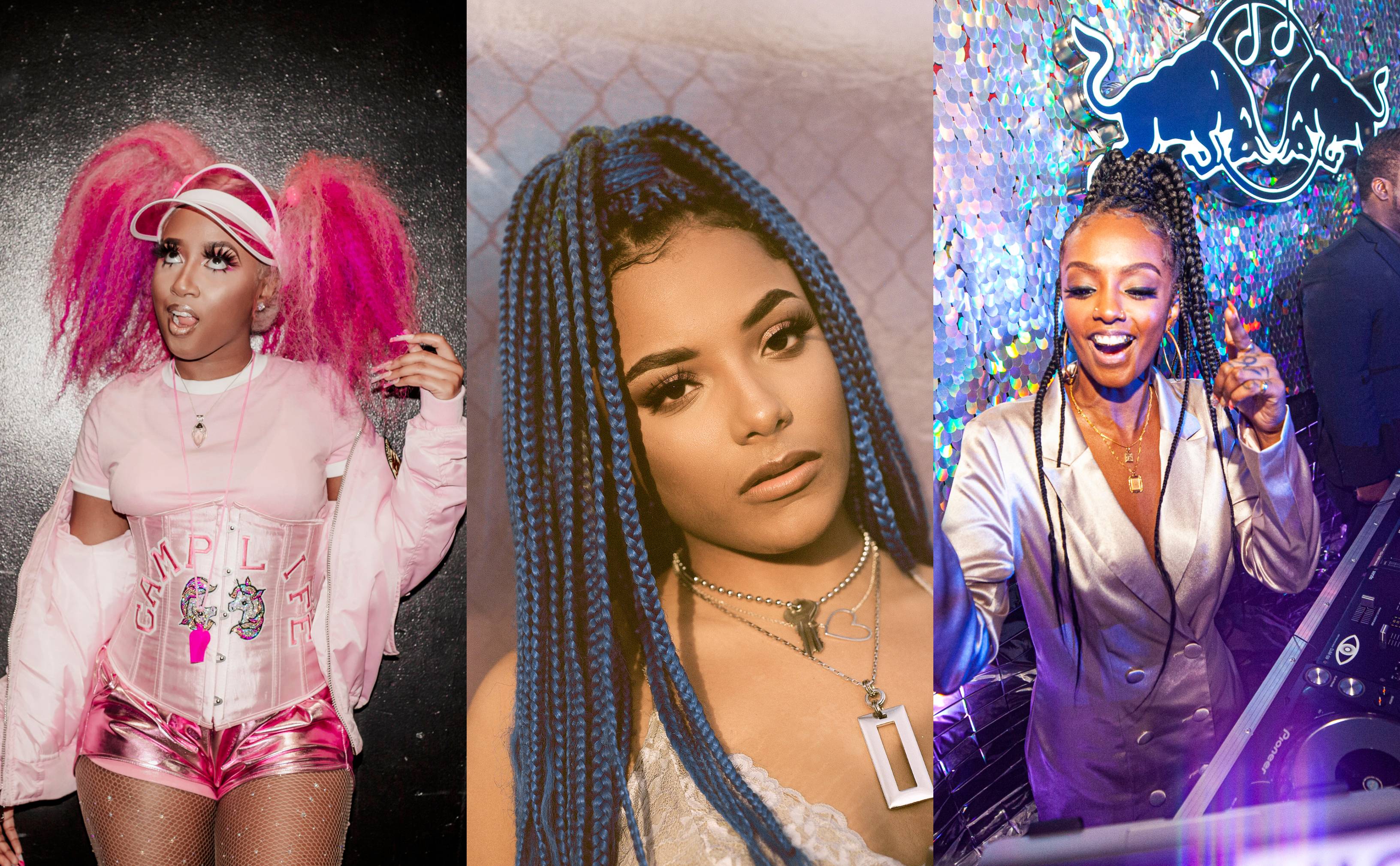 By Stephanie Smith-Strickland
From taking a seat at the proverbial table to the pop-culture phenom that was Hot Girl Summer, a new generation of women in hip-hop are exploring what it means to exist with joy and truth in a world that has historically attempted to dictate the parameters of their freedom. Whether they're performers like Kelela, who flawlessly experiment with left-of-center soundscapes, or those who engage in radical modes of performance that center body positivity, self-love and autonomy like CupcakKe, Lizzo, and Megan Thee Stallion, women are redefining their place in a music industry that has often been characterized as a boys' club.
Not only are they taking up space, they're earning more than ever before while also defining popular culture. This June, Forbes named Rihanna — who has built an incomparable fashion, beauty, and lifestyle empire — the wealthiest female musician in the world; her estimated net worth is $600 million. The fashion powerhouse also sparked an industry-wide move toward inclusivity with the launch of Fenty Beauty, when she intentionally considered the deeper skin tones heritage beauty brands consistently ignored.
But women have always been present and instrumental in bringing hip-hop to a global stage, often offering perspectives and experiences their male counterparts had never been challenged to consider. Pioneers like Queen Latifah, MC Lyte, Salt-N-Pepa, and many, many more helped pave the way for au courant names like Cardi B and City Girls to collect their accolades. Despite a generational gap, a haunting dissonance remains between the experiences of women artists and their male counterparts.
Pay inequity, labor inequality, and imbalanced opportunities still plague the music industry. A study conducted by the USC Annenberg Inclusion Initiative revealed that over 40 percent of women working in music felt their skills were discounted by their male colleagues, while 39 percent had experienced stereotyping or sexualization in some form. The numbers are pretty abysmal where opportunities in creative roles are concerned, too. Of the 700 popular songs released between 2012 and 2018 the study profiled, only 21.7 percent were credited to women, 12.3 percent of the songwriters were women, and only 2.1 percent of women were producers.
So what does it truly mean to center women and to cultivate infrastructures that encourage equality across the board? MTV caught up with six women musicians at Red Bull Music Festival Atlanta last month to hear their thoughts.
Who inspires her: "Amber Grimes is a huge inspiration to me. She is someone who always passionately advocated to put women in positions of power. Fadia Kader is another person I really admire because she's so open on social media about her journey. Watching her go from doing the Broke & Boujee parties in Atlanta to being at Instagram in Los Angeles just makes me such a fan of her resilience. When I first got to Atlanta, Bosco was a big inspiration to me because she really opened her arms to me and brought me into the community. She's so multifaceted and such a well-rounded artist so it's been such a joy to watch her get her creative agency, SLUG, off the ground."
How she creates space for other women: "My event series Not My First Rodeo celebrates women in culture and art. Our entire ethos is to make sure that we're creating a safe space, not just for women, but for anyone to feel comfortable and free. I've gotten so many messages from women telling me how safe they felt being themselves there, and that feels really good. When I'm on the mic I always make sure to reiterate verbal consent and tell everyone attending they need to ask permission to dance on someone or to touch them."
How the music industry can better protect women artists: "I think it comes down to accountability. Men have to hold other men accountable and the culture has to stop brushing things under the carpet. When there's celebrity or visibility involved I think sometimes people are afraid to hold people accountable and set a standard that makes sure we all feel protected."
Who inspires her: "Growing up, I didn't have too much access to the internet. When I was able to explore music on my own I was listening to Lil' Kim, Foxy Brown, and Trina, and thinking to myself, I wish that I could feel that free. I didn't feel like I could because it wasn't something that was accepted yet. Every time you were hearing about these women there was something negative attached to it, or you'd have your parents or your grandparents telling you that you couldn't watch them because it was inappropriate. There really wasn't anything inappropriate, it was just a woman expressing herself in the way she wanted. I don't believe in projecting my values and ideas onto anyone else. I want everyone to be able to choose what they want for themselves without having to feel negative repercussions for being who they want to be."
What a woman-led future looks like to her: "I think that right now there's a super big spotlight on women. There's this younger generation of women who feel a lot more uninhibited by societal rules that were programmed into the older generation. I think that's helping, especially with so much access to the Internet. I was one of those girls who, growing up, didn't necessarily see that type of representation I see now, so I didn't know it existed. This new generation has a lot more role models, and I think they are what our future looks like."
What resources she wishes women had: "There needs to be a chart or a table of some sort — even if it's just amongst the girls — where we share what we should be charging. We need separate ones for different elements of the industry as well. As a DJ, I started to be more transparent with other DJs about how much I charge. People make you feel so cliché about talking about how much you make but I'm like, wait a second, I need to tell people how much I make because where is their starting point? I think there's room for everyone to eat, so we need to de-program that part that makes us feel like this is mine or I can't share this information in case I lose an opportunity for myself."
Who she is: DJ, producer and founder of the Fake Accent nightclub and record label
What a women-led future looks like to her: "Pay equality is really the primary concern for me. I think being paid equally to male counterparts is still a huge problem and it's really appalling at this point that it's even still an issue. Also, sexism — misogyny still reigns very predominantly in the music industry and no one tends to call it out. I imagine a future that feels safer for women all around. I want to see more women in engineering and production positions; the removal of any misogyny is a really important aspect in all of this. For Black women specifically, I'd like to see us not have to work 10 times as hard just to be in the same position as a mediocre white male artist."
What resources she wishes women had: "I would say just having equipment and gear to practice on. For producing, that's a very big road block because if you don't have the finances, the software is very expensive. Usually you have to share software and that's how you start off. Friends will also share skill sets and teach each other — it's interesting because, you'll see with men, they're really happy to tell each other how to do certain things, but I definitely wasn't taught how to make music. I had to learn everything myself by watching a bunch of tutorials. I feel that if I'd had more of a group or support system and could skill share and share plug-ins, it probably would have been easier to learn. Even with tutorials on YouTube, most of them are done by men. That's another issue right there — if you don't see yourself or someone like you, you tend to think it's a position that you can't hold or aspire to."
Who they are: Members of Atlanta hip-hop group Crime Mob
How music's boys'-club mentality can be overcome: "We started out in a group with guys, so that kind of made people automatically take us a little more seriously. Even when you think of Eve or Lil' Kim, people have always really loved seeing women being able to hold their own with male rappers and producers. We had those double-time unapologetic rhymes and that confidence and sassiness that is way more acceptable today than it was back then. You know, you might want to get mad if a girl steps on your shoes. You might want to have an attitude or feel fierce or sexy, but instead we're being told, you have to act like a lady... Whatever that means. For us to be able to embrace who we are and for that to be so accepted today is really a blessing because we had to tone it down a lot back in the day." —Diamond
"It's such a blessing because we were just being ourselves and to know that being ourselves 15 years later is relatable to so many different women is just special because we've never tried to be anything other than who we are. We're in the era of women now. There's always been a variety of women artists, but now we're getting to see all of these different personalities and looks and styles being successful." —Princess
How brands and labels can be more consistent allies to women: "I think it starts with people like Princess and I because we're right in the middle of a generational gap. We have this new generation and then we have the generation before us that raised us. Even something like Solange having us perform for her Met Gala event — it's crazy to see how a mega superstar grew up being impacted by us. I think that just means we need to reach out and figure out how to bridge the gap between the generations and be mentors. There is a blueprint that we got from the Queen Latifahs, Da Brats, and MC Lytes and so forth. This new generation needs a blueprint so that they can see that, even though it can be a little tougher navigating this thing as a woman, it's totally possible." —Diamond
Who she is: Songwriter, singer, rapper, producer
Who inspires her: "Kari Faux is an inspiration to me because I just think she's so creative and talented. Wondagurl was a huge inspiration because I produce my own music and there weren't that many women producers to look up to. In general, I just believe it's really important for there to be more women producers and engineers in this industry."
How music's boys'-club mentality can be overcome: "I think I was able to bypass a lot of that because I do everything myself. I write, I produce, I do my own creative direction. I know that might not be possible for everyone, but I'd say learning how to do as much as you can by yourself, so you don't have to rely on anyone to get it done for you, is a good way to get past that."
What resources she wishes women had more of: "Mentorship is a big one. I think having someone who can kind of point you in the right direction is really important. And probably some kind of business classes, just because there are a lot of technicalities that come up that a lot of artists don't even know how to deal with because they didn't get into music to think about all of that."