Shawn Mendes Pulls Off A Full Harry Potter Cosplay During 'Carpool Karaoke'
Plus, hockey! Road rage! Justin Bieber's underwear!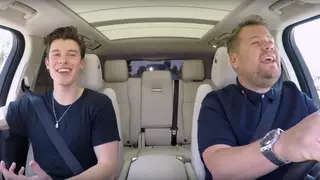 Shawn Mendes is spending the week co-hosting The Late Late Show with James Corden, which means it was just a matter of time before he made his "Carpool Karaoke" debut. And Monday night (June 4), the pair wasted absolutely no time, getting right in the car to belt out "There's Nothing Holdin' Me Back," "In My Blood," and other Mendes hits — and also taking a brief conversational detour to discuss how much a pair of Justin Bieber's underwear would actually be worth on the market.
The answer, as it turns out, is a lot: Mendes claimed he'd max out at $500 for a pair of Bieber's unmentionables, but it'd have to be a post-hockey pair. You know, the good stuff.
When the two aren't teaming up to belt out the choruses of "Mercy" and "Treat You Better," Mendes breaks down his love of the Harry Potter series in a good visual bit that features him in full Boy Who Lived cosplay and ends with... well, you'll see. (It must be hot sitting in Gryffindor robes in a car in L.A., no?) Anyway, here you go, for your new phone background:
Before it's all over, Mendes will have unleashed his inner road rager (by screaming out the window to a passing car) and also squared off against Corden on the ice. Guess who wins! And before you do, remember that Mendes is from Toronto.
Watch all the fun go down in the video above, and then watch Mendes perform album cut "Nervous" on Corden's show below. Thanks, folks. He'll be here all week.