Beyoncé's Biggest Sonic Pivot Yet Finds Inspiration In The Past
'Renaissance' finds the artist embracing older eras — both her own and the legacy of dance music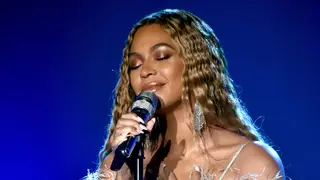 From the moment Beyoncé announced her seventh studio album, Renaissance, in June, the Grammy-dominating artist sent the Beyhive into hysteria as the fandom clung to every sign pointing to the project's new sonic and artistic directions. With the release of lead single "Break My Soul," Beyoncé strayed away from her signature surprise-LP motif, opting for a standard rollout for the long-awaited project that included an internet-shattering British Vogue spread, mysterious box sets, and an open letter published to her website that detailed the gravity of the new release.
Renaissance is Beyoncé's first solo album since the cultural and visual landmark Lemonade in 2016 and follows the 40-track compilation Homecoming: The Live Album and the soundtrack record The Lion King: The Gift in 2019. She revealed that the July 29 arrival of Renaissance came after three years of recording during the pandemic, a moment of stillness that she "found to be the most creative."
"Creating this album allowed me a place to dream and to find escape during a scary time for the world," she wrote in the letter, which went live the day of the project's release. "It allowed me to feel free and adventurous in a time when little else was moving. My intention was to create a safe place, a place without judgment. A place to be free of perfectionism and overthinking. A place to scream, release, feel freedom. It was a beautiful journey of exploration."
Creating this album allowed me a place to dream and to find escape during a scary time for the world.
Beyoncé dedicated the album to her Uncle Jonny, whom she described as her "godmother" and the person who introduced her to the vibrance of dance music and the transcendent spirit of Black and Latinx queer culture that she captures in Renaissance. She also paid homage to the "pioneers who originate culture… the fallen angels whose contributions have gone unrecognized for far too long." On "Pure/Honey," Beyoncé samples the hit songs of New York club icons Kevin Aviance (1996's "Cunty") and the late Moi Renee (1992's "Miss Honey"). She also enlists Nigerian superstar Tems, Jamaica-born rapper Beam, and "Slave to the Rhythm" singer Grace Jones, gifting fans with an electrifying step into dance music that roars with an ultra-femme and self-empowering energy.
While fans and critics praise Beyoncé's spotlight on legendary dance songs and artists, there's been controversy surrounding writing credits and samples on Renaissance — a reality when honoring the greats of any musical past by including their work. The singer removed an interpolation of Kelis's 2003 hit "Milkshake" from "Energy" after Kelis posted a series of Instagram videos and comments saying she was unaware the song would be sampled on Renaissance. Beyonce also changed a line on "Heated" to remove a term that's considered ableist.
The album — which boasts credits from heavy-hitters like The-Dream, Syd, Honey Dijon, Hit-Boy, and others — is lush with dazzling grooves and a liveliness made for the enchanting dance floors of the clubs, ballrooms, and kiki houses to which Beyoncé pays homage in what is only the first act of a forthcoming trilogy. Little is known about the two future albums, but Variety reported one or both will feature country-leaning tracks, and many fans predict a further descent into dance music or a return to her R&B and pop roots.
The momentum surrounding Renaissance was nearly squandered when the album leaked online two days before last Friday's release, but the Beyhive remained patient, awaiting its official drop, and have since basked in the project's house, disco, Afrobeat, electronic, and techno-driven sounds.
Renaissance is Beyoncé's first full venture into dance music and arguably the biggest sonic pivot she's taken in her career. Inspired by the legacies of disco queens Donna Summer, Robin S., and Teena Marie, Beyoncé conjures hip-swinging tracks like "Cozy," "Virgo's Groove," and "Move." She pierces the sharp riffs and sensual euphony of "Plastic off the Sofa" with ballad-level vocals.
While the creative direction of Renaissance seems novel for Queen Bey, a few songs in her catalog may have hinted at the eventual artistic shift. They aren't as bold as her recent effort, but "Blow" and "Haunted" from her 2013 eponymous album have inklings of dance and techno tucked in the background. Featuring production and writing credits from Pharrell Williams, Timbaland, J-Roc, James Fauntleroy, and Justin Timberlake, "Blow" is emblazoned with a funk and disco flare later heard on the new album's "Summer Renaissance" and "Cuff It." "Blow" even managed to peak at No. 1 on the U.S. Hot Dance Club Songs chart in 2014.
The songwriter behind "Haunted," New York musician Boots, said the song was partly inspired by the music of Aphex Twin, who's known for his ambient and techno styles. The song has a largely minimalistic composition, but its more upbeat moments hint at an atmospheric and darkened electronic sound later explored on the pulsating and thudding "Heated."
There are other parallels to dance music within Bey's oeuvre before Renaissance, like the techno-inspired "Radio" and "Naughty Girl," which interpolated Summer's 1975 classic "Love to Love You Baby." Those records illuminated what was to come from the artist, and the direction of Renaissance is in line with the 28-time Grammy winner's desire to explore exciting new creative passages.
With Beyoncé and Lemonade, the Houston-born singer-songwriter inspired other artists to seek new visual bounds and abandon the age-old album rollout for the wonderment of a surprise drop. She centered her music and 2018 performance at Coachella, later dubbed "Beychella" by fans, on the culture of historically Black colleges and universities, incorporating a marching band, J-setting choreography, and a step show.
Before then, Bey and her hubby, Jay-Z, released the collaborative album Everything Is Love in 2018, with the duo clearing out the Louvre in Paris to film the music video for lead single "Apeshit." Beyoncé later followed that up with The Lion King: The Gift as well as the 2020 musical film and visual album Black Is King, which saw her step into the world of Afrobeats with "Find Your Way Back," "Already," and the Saint Jhn, WizKid, and Blue Ivy-assisted "Brown Skin Girl."
In all its glory, Renaissance stands on its own as an alluringly fresh artistic dive for the legendary pop star, and its projected (and unsurprising) success is a testament to how well she's maneuvered creatively. The album is expected to take the No. 1 Billboard spot in its first week. The new dance-forward release has further cemented Beyoncé's place as an international fixture and luminary artist, and with two other installments reportedly in the works, there may be more achievements to come.