Taylor Swift And Hayley Kiyoko Team Up On A Surprise Stripped-Down 'Delicate'
Hayley takes the harmonies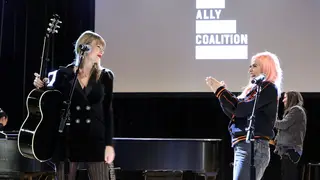 Wednesday night (December 5) in New York City, Taylor Swift made a surprise appearance at the Ally Coalition's fifth annual Talent Show to sing "Delicate." This is notable for a number of reasons: 1) Swift was not listed as a scheduled performer at the gig, which also featured Lana Del Rey, Bleachers, Haley Kiyoko, and more; 2) the venue where it happened, Town Hall, has a capacity of roughly 1,500 people, making one of the most intimate Swift performances in some time; and 3) she sang it alongside Kiyoko, someone who'd previously used Swift's career to contrast with her own struggles within the music industry as a queer artist.
"I've had several music industry execs say 'You're doing another music video about girls?'" Kiyoko told Refinery29 in March. "I was like, um, yeah... Taylor Swift sings about men in every single song and video, and no one complains."
Swift responded quickly on Tumblr, saying, "We should applaud artists who are brave enough to tell their honest romantic narrative through their art, and the fact is that I've never encountered homophobia and she has. It's her right to call out anyone who has double standards about gay vs. straight love interests."
That's all ancient history though, because the pair's team-up on an acoustic "Delicate" was accompanied by plenty of smiles and a power that comes from that kind of unexpected collaboration. Kiyoko takes the harmonies and it sounds good. Watch fan-captured video of the performance below.
The event also featured Lana Del Rey performing all new cuts from her upcoming Norman Fucking Rockwell album, including two we've previously heard, "Venice Bitch" and "How to Disappear." The other two, "Hey Blue Baby" and "I Must Be Stupid for Feeling So Happy," made their live debuts, as per Billboard.
"Me and Jack [Antonoff] wrote a couple of country songs just for fun, so we thought we'd play them," Lana reportedly told the crowd, referencing her producer for the upcoming LP. Antonoff was there, too, and his sister, Rachel, hosted the event. Check out one of those new cuts below.
Find out more about the Ally Coalition right here.