Lil Nas X Commanded All Of Austin To Shake Its Ass
His celebratory Austin City Limits Festival set was the epitome of queer Black and brown joy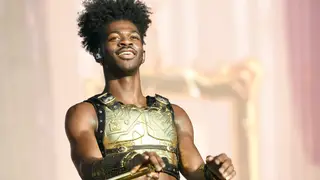 There was an air of suspense and sensuality as the sun started to set on Saturday (October 8) at the Austin City Limits Music Festival. While the 89-degree weather was only just starting to chill, nearly 75,000 festival goers, many adorned in pink cowboy hats, sparkly thongs, and shimmering translucent shirts, were not phased: Lil Nas X was about to take the stage.
The chart-topping rapper was the penultimate performer on the American Express main stage with a slot right before P!nk, and he did not compromise a single detail translating his theater- and arena-filling Long Live Montero Tour to an outdoor venue. As a breeze rolled in across Zilker Park, a futuristic Black queen appeared on the screen, introducing herself as "The Wizard of Naz" and kicking off the story of a young queer man named Montero. A title card announced we were beginning with "Act 1: Rebirth," revealing not only the blockbuster-level theatrics that would follow in the next 70 minutes, but Lil Nas X himself, who appeared on stage in a golden two-piece to the triumphant opening chords of "Panini."
An overnight viral hit and a quick-to-follow global pandemic may make Lil Nas X relatively new to touring — he noted Austin City Limits marked the first time he's ever performed outside — but he did not miss a single step alongside his often shirtless dancers, who helped make the show feel like the epitome of queer Black and brown joy.
An outpouring of anti-LGBTQ legislation in Texas has made the Lone Star State notorious as of late, though Lil Nas X made it clear from the start that this was a safe space — and he was not going to waste a single gay second. He strutted flamboyantly across the stage as he made his way through Montero tracks "Tales of Dominica" and "Sun Goes Down," although an early setlist appearance of "Old Town Road," introduced by a video touting its TikTok success and featuring a giant prop horse, was certainly well received. Donning a black leather jacket over a bedazzled crop top, the Georgia-born rapper made sure to keep the track (which still holds the record for longest-running No. 1 hit in Billboard Hot 100 history) fresh, moving seamlessly into his Cardi B collab "Rodeo," with a sexy, sweaty, crotch-grabbing dance break that interpolated Ginuwine's "Pony."
Perhaps no moment symbolized the performer's focus on queer celebration as much as a dance break to Beyoncé's "Pure/Honey" in the middle of "Act 2: Transformation." Upon noticing a fan in the front enjoying the Renaissance cut as much as he was, Lil Nas X looked the crowd up and down before saying, "You're gay," to thunderous applause. It provided the perfect segue into a larger-than-life performance of "That's What I Want." The earnest track faded into orchestral strings as Lil Nas X and one of his dancers leaned in for an onstage kiss. A unicorn-bearing Pride flag, which remained raised from the audience for the majority of his set, never looked more fitting. From the catwalk, the artist caught his breath with a powerful performance of emo rock-leaning breakup bop "Lost in a Citadel," which quickly unfolded into breakneck dancing to match its pace and the arrival of "Act 3: Becoming."
Our narrator appeared once more to welcome us to Montero, offering a psychedelic-sounding "wake up" to the crowd before Lil Nas X's dancers began crawling along the stage to the opening of "Montero (Call Me By Your Name)." All eyes were on Montero himself as he reappeared with yet another costume change, this time wearing a black two-piece that highlighted a sparkling butterfly on his chest above exposed midriff. Although a devil head with flaming eyes — reminiscent of Satan himself from the 2021 VMA Video of the Year — appeared onstage, Lil Nas leaned into the more uplifting elements of the controversial track. After an especially ass-shaking interpolation of "Get Ur Freak On" by Missy Elliott, the dancers strapped butterfly wings on the rapper's back as the futuristic cover of his album Montero flickered in the background. Though ACL has a history of supporting the queer community in the face of homophobia, it still felt like a landmark moment for a red-state crowd, as a gay Black man literally got his wings rapping lines like, "Shoot a child in your mouth while I'm ridin.'"
He took a minute to appreciate his metamorphosis in butterfly form, slowing it down to get candid with the crowd. "I don't think I've performed here since, like, 2019," he mused. "And you know, a lot has changed in my life and probably y'all lives right now." He had to end it on a high note, bellowing out, "If I don't see y'all for another three years, I hope y'all have the motherfucking best years of all time."
With the crowd in his hand like a ball of energy, Lil Nas X transitioned into "Down Souf Hoes," a thumping new song he introduced by asking, "Y'all want to shake your ass one more time?" Despite the fact that it's unreleased, the drill-inspired track has already become something of a viral twerk anthem, and a few lucky crowd members hopped onstage to share their moves for Lil Nas and the audience, including a young boy. "Whose son do y'all have up here?" Lil Nas X quipped before snapping a photo with the group.
He blazed through his Doja Cat collaboration "Scoop" while a festival goer on a scooter tried to make her way to another stage, prompting the surrounding audience members to call out, "Scoot!" Then, as he made another costume change, Lil Nas X let each and every one of his talented dancers (Bernard, Amari, Kebahb, Devin, Chris, Dobbin, Alex, and Zacharia) have their own moments on the catwalk, as they vogued, twerked, and oozed sass to cuts by Nicki Minaj, Rihanna, and Beyoncé.
Suddenly, a disembodied announcer revealed it was time for the "pussy-popping, oh goddamn he's fine, record-breaking, Grammy-winning" singer to take the stage once more. Those keeping a checklist of his chart-toppers already knew that meant one thing: "Industry Baby." Lil Nas X and his dancers strutted out for one last time, sporting bright pink costumes emblazoned with "Montero University," and delivered a performance on par with the track's sexual and controversial visual. Amid the grinding and riding and bone-shaking samples of Kanye West's "Power" and "All of the Lights," the audience got down — even Supernatural star Jared Padalecki, who posed for fan selfies in the front row.
As victorious horns played through the crew's final bows, a title card reading "Long live Montero" concluded our hero's journey. And considering the artist's onstage fearlessness and authenticity despite a whirlwind rise to fame and in the face of a handful of detractors, we share the same sentiment.