Shawn Mendes Got Soaking Wet Like A Rock Star At The VMAs
He kicked off the show with a drenching rendition of 'In My Blood'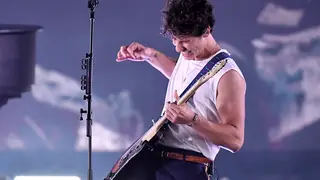 But this year, as his rain-drenched, Cardi B-introduced 2018 VMA performance of "In My Blood" just proved, Mendes (who left behind his teen years when he turned 20 a few weeks ago) has much more than just the rasp. He's gone full Rock Star, inviting everyone, even the folks in the last row of the joint, to join him in a chorus of whoas. And it's a great look on him.
A quick look at last year's VMA performance setup versus this year's might not reveal all that much difference. Mendes has upgraded his acoustic for an electric and added a string section — though even that tweak is a little subtle.
But now, to kick off the show's festivities, Mendes sang to the rafters and added a swelling coda to his personal anxiety anthem for a few more seconds of vowelly chants. In case it wasn't clear that the stakes are higher than ever, the stage design reinforces the music video's theme of crumbling walls and a gathering storm. In the middle of it all is Mendes's stable voice, the calming presence keeping everything together. It's just like the song's music video suggests: Shawn is going to make it through, coming out stronger on the other side. And soaking wet.
It was enough to recall one of Mendes's biggest influences, King of Leon, and their own throaty arena-rock staple "Use Somebody." Mendes naturally covered it at his MTV Unplugged show in 2017, and it's got the same mojo found across his newest album (though sometimes presented in slicker, funkier ways).
"In My Blood" is up for Best Pop, Best Cinematography, Best Direction awards this year. By the end of his performance, Mendes stood in the middle of Radio City Music Hall, soaking wet from a rain machine, and triumphant after a bout of menacing weather. And everyone there was with him, not ready to give up just yet either. It isn't in their blood.