Bop Shop: Songs From Chloe x Halle, Yasmin Williams, Jesswar, And More
Hazy holograms for 'Ungodly Hour,' a youthful meditation on 'Juvenescence,' and more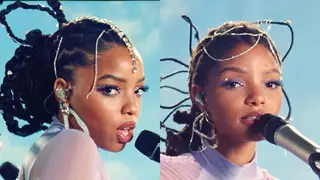 The search for the ever-elusive "bop" is difficult. Playlists and streaming-service recommendations can only do so much. They often leave a lingering question: Are these songs really good, or are they just new?
Enter Bop Shop, a hand-picked selection of songs from the MTV News team. This weekly collection doesn't discriminate by genre and can include anything — it's a snapshot of what's on our minds and what sounds good. And all February long, in honor of Black History Month, we shine the spotlight on Black musicians making art that feels vital to this moment.
Get ready: The Bop Shop is now open for business.
Chloe x Halle: "Ungodly Hour"
The ghost is in the machine — or is it under the sea? Both seem to apply in the aquatic, sci-fi music video for Chloe x Halle's "Ungodly Hour," which premiered Thursday on The Tonight Show with Jimmy Fallon. Repurposing bits of choreography from last year's VMA pre-show performance, the Bailey sisters splash around in couture and saunter as hazy blue holograms. The visuals are excellent, as are the transcendent vocals that tell off a pesky late-night caller. —Coco Romack
Yasmin Williams: "Juvenescence"
What is it to be young? It's something to ponder during the nearly four minutes 24-year-old guitarist Yasmin Williams plucks her way through "Juvenescence," a devastatingly gorgeous piece she first shared last year that anchors her new LP, Urban Driftwood. Think about your own youth, maybe, or how much time you've still got left. Or maybe you can picture Williams, resplendent and holding a harp guitar, and dive into the world she creates across a dozen strings. —Patrick Hosken
Jesswar is coming for the checks, and she won't let anyone stand in her way. In "Medusa," the Fijian-Australian rapper spits bars about standing her ground and crushing the competition with equal parts ferocity and certainty. Her rapid-fire rhymes might "make that earth quake" (quite literally, if the single's trampling, strobe light-filled visuals are any indication), but rest assured, the only casualties will be the egos of any "bully men trying to shut us down." —Sam Manzella
Amythyst Kiah: "Black Myself"
A rock remix of Our Native Daughters's Grammy-nominated folk single, Kiah released this song in conjunction with the Smithsonian Channel premiere of the documentary Reclaiming History: Our Native Daughters, tracing the stories of Black American women through music. Reaching across the music genre divide, "Black Myself" has the type of rock sound I've been missing — raw and strong. Kiah does not hold back, underscoring our history of slavery and segregation, but also loading the song full of the struggles and joys that make us look at adversity while moving forward and confronting our shared trauma of racism: "Washed away my blood and tears / But still some work to do." —Margaret Sclafani
Cautious Clay has paved a neat lane for himself somewhere in between R&B and alternative, tying together genres with tidy guitar licks and a soulful voice that drops as much as it rises. His latest single "Roots" is especially stealthy, but don't let his breezy performance — and shout-outs to tacos and red punch — fool you. He might be able to shrug off the weight of life and love with "just another rinse, repeat," but he's out for emotional blood in a toxic relationship with the track's opening lyrics: "From atoms up to comets / Life is never promised / You can make me wanna / Lie and be dishonest." Oof, that hits. —Carson Mlnarik
NanaBcool ft. Elton Aura: "10 & 2"
The first thing to notice about NanaBcool's infectious "10 & 2" is the itchy Timbaland-style beat courtesy of Hurricane that brings in the action, clearing plenty of room for the artist's warm voice. And then you hear what he's singing — echoing police commands to keep hands where they can see them. Yet the mood stays bouncy, even amid a harrowing refrain ("I got family too"). —Patrick Hosken
Rising R&B singer-songwriter Marzz, who recently signed to the same label as Normani, derives her name from the fiery red planet, and her debut single emits the same kind of glow. The queer 21-year-old dreamily delivers lyrics about her pattern of heartbreak, her voice dripping with yearning as she imagines a world where love isn't so difficult. The cozy visual takes it a step further, illustrating the warm memories of former lovers and the sad reality of occupying those spaces alone with some 2-D tears that would make any anime fan smile. —Carson Mlnarik
Solange: "Looks Good with Trouble"
Four years before her critically acclaimed A Seat at the Table, the seven-track effort True served as a transition between Solange's tinkering with boisterous, pop-friendly R&B melodies and her murkier, moodier concoctions. "Looks Good with Trouble" feels like the most clear preamble to her next phase, wherein just 90 seconds her airy, warming harmonies over weightless synths find comfort in a new young lover, seemingly with two faces: She calls off their trouble in one line, and beckons it in the next. Both worlds seem to be just fine. —Terron Moore