Drake Just Released The Tracklist To 'Scorpion' And It Is Massive
🦂🦂🦂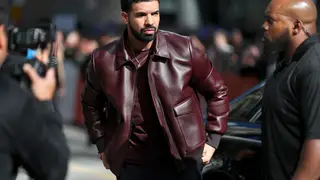 UPDATE (6/28/18, 7:05 p.m. ET): Hours after sharing the initial Scorpion tracklist, Drake has shared another post revealing the album's features: Jay-Z on "Talk Up," Michael Jackson on "Don't Matter to Me," and Ty Dolla $ign and Static Major on "After Dark."
Drake is a lot of things, but brief isn't one of them. Graham just released the tracklist for his fifth studio album on Instagram and it is longer than a rattlesnake's rattle in the month of July.
Scorpion is a double album separated into a Side A and Side B. The first half will consist of 12 songs, while the latter will contain 13. Rumors are persisting that the two sides will be separated into rap and R&B, but no one from Drizzy's camp has confirmed that yet.
Considering the past month of Drake's life, it isn't a surprise that he might need a few more songs to get everything off his chest. Fans are undoubtedly waiting for the MC to address his beef with Pusha T, secret child allegations, and the blackface controversy on wax. Only a few more hours until the world is engulfed in a Scorpion content haze.
Check the tracklist below.
6. Ratchet Happy Birthday