'It's Scary': Cheyenne Reveals Her Daughter's Rare Disease On 'Teen Mom OG'
Find out what doctors are saying about little Ryder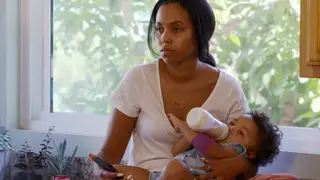 Cory and Cheyenne's co-parenting relationship is going well on Teen Mom OG, but that doesn't mean parenting itself is always easy. On this week's episode, Cheyenne got candid about their daughter Ryder's "rare genetic disease" and how she and Cory have been dealing with it together.
As we learned on the installment, Ryder was diagnosed as a newborn with VLCAD, which makes her body unable to process fatty foods.
"When she was first born, she had to eat every two hours," Cheyenne explained to her cousin. "She has to take medicine and, since its genetic, it's something that she'll always have. It's scary to hear that she can go into shock, go into a coma."
Later, Cheyenne and Cory met for one of Ryder's doctor's appointments, where they were terrified they'd get bad news and learn that their little one would have to continue taking medicine twice daily for the foreseeable future. Luckily, though, the appointment went well, and blood work revealed that Ryder was thriving without the meds.
"That was the first time [the doctors] didn't say anything crazy," a relieved Chey said.
It also helped that, at the appointment, she had Cory by her side -- especially since Chey said he's been handling their daughter's diagnosis better than her. We're glad everyone is okay, but what do you see in the family's future? Will Chey and Cory continue to calmly handle Ryder's issues together? Tell us your thoughts, send Ryder your well wishes and keep watching Teen Mom OG Mondays at 9/8c.