The 5 Types Of Rap Songs You'll Hear This Summer
All Summer '18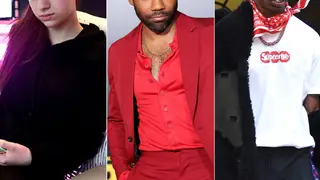 Rap revolves around the summer. The genre was born 45 years ago under the sweltering heat of a Bronx day, and since then, artists have used the season to launch claims to fans' auditory real estate. Each year, there is a "Summertime" by DJ Jazzy Jeff & The Fresh Prince or a "Bodak Yellow" by Cardi B that beats your loyalty into submission at cookouts, graduation parties, and beach retreats through sheer catchiness.
Summer 2018 looks no different. Kanye West released two wildly different albums — ye and Kids See Ghosts — in June. Drake might or might not be releasing Scorpion this month after suffering some body shots from Pusha T. Nicki Minaj pushed her album back to August, but still has plenty of time to transform the charts into a Barbie dream house. Between those release dates, we're rumored to get collab projects from Jeremih and Ty Dolla $ign, YG, and maybe Brockhampton.
While all of the aforementioned rappers are vastly different, summer hits still tend to follow certain trends. Face it: Good artists borrow, and great rappers type in "Lil Uzi-type beat" on YouTube — and then they flourish.
As the influence of streaming giants like Spotify and Apple increases, more artists are getting a platform during the busiest music time of the year. Below are the five types of rap songs you'll hear as the blazing months descend upon the country.
The Ol' "30 Is The New 20"
The Culprits: Rap can feel like a young man's game until the world starts burning. Summer 2018 already sounds like every rapper over 30 is soundtracking their pre-midlife crisis as Donald Trump's Twitter fingers ping in the distance.
The average age of the biggest rappers releasing projects in June — Kanye, Drake, Nicki, Nas, Kid Cudi — is 36.8. Even T.I. couldn't argue with that.
Where You'll Hear It: Your local parent-teacher conference.
The "Southern Song You Kinda Already Heard"
The Culprits: "Who Run It" fever might have died down since spring, but the spirit of remixing old Southern hits for new audiences is still in full effect.
Where You'll Hear It: On any playlist with the word "trap" in it.
The Culprits: Bhad Bhabie is arguably the third biggest female rapper of 2018. In one year, the "Cash Me Ousside" girl has gone from internet novelty to an artist who has made her first three singles hit the Hot 100. Relatedly, Big Shaq took his 15 minutes of fame from "Man's Not Hot" and potentially extended it to "Man Don't Dance." And 11-year-old Mason Ramsey yodeled his way from Walmart aisles to Coachella stages to record deals. The most infuriating part is that these songs bang.
What does all this mean? Potentially that we're months away from a No. 1 hit by Lil Tay and Woah Vicky ushering in the true apocalypse.
Where You'll Hear It: Blasting ironically from your little brother's room.
The Culprits: Juice WRLD is a Chicago rapper who sounds like Lil Uzi Vert's emo diary entries became sentient and got a record deal with Interscope. That's a compliment! Juice's "Lucid Dreams" debuted at No. 74, and he's got a rumored Uzi feature on the horizon. Playboi Carti's Die Lit also stormed up the chart with a similar aesthetic to that of his best friend, Uzi. Not to mention that Kid Cudi — the original king of emo rap — dropped an album with Kanye. The summer is all about getting in your feelings for the foreseeable future. Be prepared.
Where You'll Hear It: Hot Topic.
The "Everyone Wants A 'Despacito'"
The Culprits: "Despacito" is already a year old, and the pop world is still trying to duplicate its success. How? Well, Drake will reportedly be singing in Spanish on a new collaboration with Bad Bunny. Cardi B's "I Like It" samples Pete Rodriguez's 1967 song "I Like It Like That" and features Bad Bunny and J Balvin. Pharrell's "Sangria Wine" finds Camila Cabello singing partly in Spanish, too. There will undoubtedly be more songs that try to recapture the magic and success of "Despacito," but so far, nothing is touching Louis Fonsi and Daddy Yankee's massive hit.
Where You'll Hear It: At the dancery.