'Only The Young' And 9 More Surprises From Taylor Swift's 'Miss Americana' Doc
All the good stuff even Swifties didn't know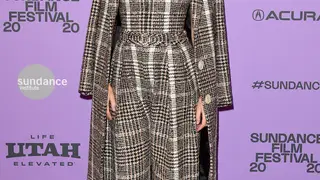 From writing candid lyrics that often read like lines on a diary page to sharing her actual diary pages, Taylor Swift is no stranger to letting us inside her world. Still, her new documentary, Miss Americana, now in select theaters and on Netflix, feels more personal than anything we've seen from the singer before.
Director Lana Wilson says Swift did not want the doc to feel like a traditional "pop star" film. Instead of focusing wholly on concluding her dark Reputation era or the kick-off of her pastel-hued Lover, Miss Americana follows the transformational period between records as Tay grapples with her role as a global superstar and her duty as a woman in a position of power.
While Swift has made a habit of meticulously documenting stardom through vlogs and tour movies, even the most diehard Swifties will find a bevy of new material to sink their teeth into, from frank discussions on body image to the oft-heard about but never-before-seen crevices of Swift lore, like completely silent music-video sets and air travel with Scottish Folds. Here are a few things even her most devoted fans might be surprised to learn.
She saved a powerful new song drop for the release.
A pivotal moment in the doc is when Taylor — armed with wine, her mom, and superhero publicist Tree Paine — presses post on her first political statement endorsing Tennessee Democrat Phil Bredesen for Senate. While it leads to record new-voter registration, Bredesen ultimately loses to the Republican candidate. Her mom tells her to build on what she started, and it seems to inspire Swift's most political track yet. "Only the Young" offers encouragement to the kids who loved Beto O'Rourke or Stacey Abrams and "went door-to-door trying to make it happen," taking aim at Trump and the "big bad man." The track appears in the credits, and spoiler alert: It's a bop.
She didn't have anything mapped out past the massive success of 1989.
Swift's fifth album, 1989, marked a complete plunge into pop music, but Swift admits she only had one goal in mind while making the '80s-inspired LP: winning Album of the Year at the Grammys. After taking home the top trophy in 2016, she felt empty, realizing it had been the only thing she wanted, and she didn't have anyone to call and share it with. It was a combination of this feeling, and the media backlash she faced in 2016 that led her to "deconstruct an entire belief system."
She had not tried burritos until, like, two years ago.
Old Taylor might be dead, but New Taylor is alive and well, and a vocal fan of this Tex-Mex delicacy. While hard at work on Lover at Electric Lady Studios in New York, Swift asks producer Joel Little if he likes burritos, prompting the revelation that she had not indulged in tortilla heaven until two years ago. How does she enjoy them now? With some chips shoved in for that extra "crunch."
One of her most prized possessions is her "Rihanna shirt."
While bracing for takeoff on her private plane amidst to-go dinners and Diet Coke (of course), Tay nearly puts her face in a plate of steak trying to keep it from sliding off her table. When her adorable mom — who handles departure like a pro — questions her methods, Taylor exclaims, "Either [my forehead] or the lap. This is a Rihanna shirt." We get it, Fenty is priceless!
"ME!" almost had a cuss word in it.
We get a front-row seat to the making of the buoyant "ME!" — from Tay deciding it would be the lead single, to Brendon Urie hopping on board, to her vision for its larger-than-life visual: "Emo kids! Theater! Dance sequences! La La Land! Cats! Gay pride! People in country-western boots!" Perhaps the most surprising nugget is the swear that almost made it in. "I know I said some bullshit on the phone," she sings in the early stages of the sugary sweet tune. Le gasp!
While she's not spoken a lot about it, Tay is thinking about motherhood.
In a particularly introspective moment, Swift talks to producer partner-in-crime Little about turning 29, and how there's a part of her that's "definitely not ready to have kids, definitely not ready for this grown-up stuff." With her current schedule of album, tour, album, her life is planned two years ahead of time, and she can't just be "figuring stuff out." To her credit, high school BFF Abigail says she'd be "an excellent mother."
While she was hiding away pre-Reputation, she got really into nail art.
Who was the mastermind behind Todrick Hall's fabulous nails during Tay's 2019 VMAs performance? None other than the "You Need to Calm Down" singer herself! Swift revealed she got really good at nail art while hiding away from the public eye, and tells Todrick to "give me a good review on Yelp." We call next in line!
Taylor loves ice in her wine and doesn't drink red because it's "too adult" for her.
When you go to Casa de la Swift, don't expect red wine! Much to her friends' chagrin, Taylor doesn't like the taste of red wine and prefers her whites chilled to the max. Completely understandable.
She knows her paparazzi-dodging techniques are ridiculous, and she does not care.
Considering rumors she once left her apartment in a human-sized trunk, it comes as no surprise that she's mastered the art of dodging paparazzi. While deplaning, Swift is alerted about paps outside, and quickly shrugs into the sleekest part-umbrella, part-coat, part-face mask we've ever seen. "Good luck selling this picture," she quips. Master of disguise, indeed.
Reinventing yourself is tiring, and Taylor is exhausted.
From onstage costume changes to genre rebirths, Taylor is a queen of reinvention, but it comes at a cost. Swift opens up about the double standard women in pop music are faced with, having to "reinvent themselves 20 times more than the male artists" with each era. "Women in entertainment are discarded in an elephant graveyard by the time they're 35," she says, noting that 2019's Lover "is probably one of my last opportunities" to recreate her previous success. Even still, Swift has learned to not put her entire her worth in her popularity, and her mental health — and her creativity — are all the better because of it.