Doja Cat's 'Planet Her' Has a Song For Every Mood
Let's take a trip to Doja's world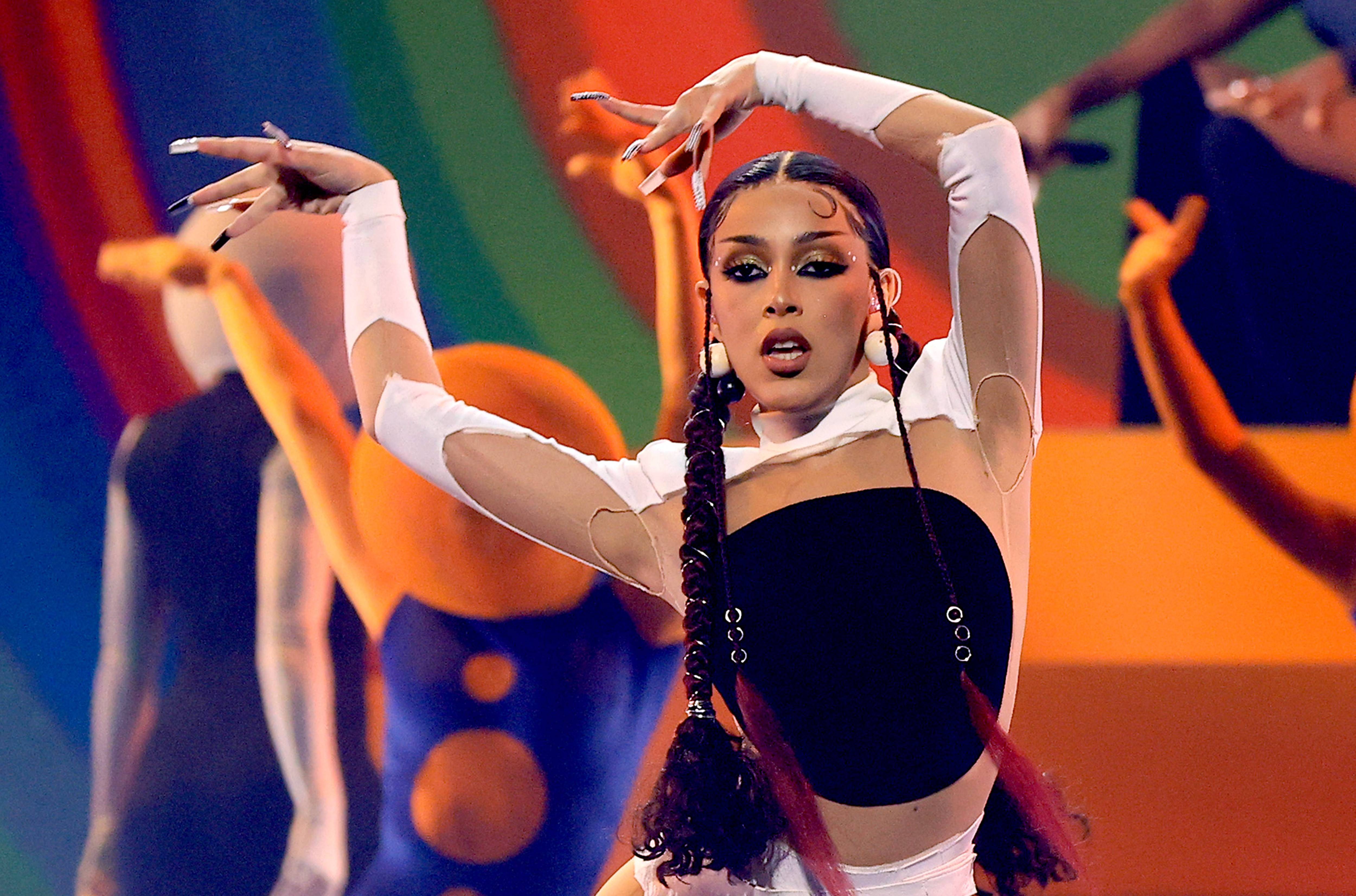 A year ago, after the 2020 MTV Video Music Awards, Doja Cat told us what to expect from a new album. Each new song would have "its own 'personality,'" she said, and it wouldn't be "perfectly consistent." "We have some dancehall stuff on there, some Afrobeat stuff, some funk, house. I'm trying to cover all bases," she said. Now, we know what she meant. Her newest album, Planet Her, is out today (June 25).
Discovered by Kemosabe Records and RCA Records through SoundCloud at age 17, Doja released her first studio album, Amala, in 2018, though it didn't quite pick up speed until her viral meme hit "Mooo!" took off and helped subsequent  singles "Candy" and "Juicy" travel as well. She fully became a star with 2019's Hot Pink, especially when lead single "Say So" topped the Billboard Hot 100. On Planet Her, she makes good on that promise.
This time, she's linked up for collaborations with Young Thug, Ariana Grande, JID, The Weeknd, and SZA. The album touches on various themes from love, lust, sex, regret, feminity, money, and breakups — which means it's got a song for every mood. Below, we break down which ones those are.
Listen to it when you're feeling: divinely feminine
Key lyric: "Baby, worship my hips and waist / So feminine with grace"
Doja opens the album with an Afrobeats song expressing her femininity while also exploring the many difficulties and expectations women are pressured to conform to. She also touches upon how patriarchy often tries to create competition, pitting women against each other and "end up like we Regina on Mean Girls." Much of the song is also a message for men to know how there is so much a woman can provide for them.
Listen to it when you're feeling: confident and sexy
Key lyric: "You can leave open windows / Don't care who see me out my clothes, baby"
This reggaeton-inspired song is about Doja wanting to get frisky with someone and not giving a damn if the world stumbles upon them. She gives a message that it's not abnormal for people to be openly sexual: "Deserve to get comfortable / It's only natural." In addition, she drops a line about bisexuality — "Yeah, I like bananas and peaches" — on this song that doubles as a how-to for feeling confident with your own body and sexuality.
"Payday" (ft. Young Thug)
Listen to it when you're feeling: excited about money
Key lyric: "I just can't believe / I got what I wanted all my life, now we go / Oh yeah, yeah, yeah / Getting paid every day, yeah"
In an extremely high register, Doja reassures us that she has all the money and fame in the world, and even potential beaus should be well aware about that. In his own sky-high cadence, Young Thug stops by to offer his take on this ode to luxury as well: "Hope you wanna fuck 'cause my money long like limousine."
Listen to it when you're feeling: Nicki Minaj vibes
Key lyric: "Thank you, Nicki, I love you"
The song seems to pay homage to Nicki Minaj, Doja's "Say So" collaborator, as she inhabits a similar vocal inflection and flow for two minutes. Doja even straight-up thanks Nicki at the end of the track and references one of her early cuts in the process. One rap icon giving love and support to another. We love to see it.
Listen to it when you're feeling: lustful and sexually curious
Key lyric: "Baby, show me what it's like / I don't really got no type / I just wanna fuck all night"
Another celebration of sexuality, "Need to Know" finds Doja fantasizing over an airy, spacious beat as she narrates her own desires and curiosity. As such, she sounds eager to show "a lotta new tricks" and "know what it's like." Save this one for date night.
"I Don't Do Drugs" (ft. Ariana Grande)
Listen to it when you're feeling: high in love
Key lyric: "I just want you, but I don't do drugs"
Simply put, Doja compares passionate love to being high on drugs. She's got her pal Ari to provide gorgeous falsetto on the hook, in a pseudo sequel to the pair's "Motive" from last year. As Doja delivers "You don't really hit me back" and Ariana goes for "You play on the safe side / But you fuckin' me up on this FaceTime," the chase for them creates more temptation and craving.
Listen to it when you're feeling: grief, longing, and regretful
Key lyric: "It's not you, baby, it's just me / I don't believe what I just lost"
Doja confirmed in a reply tweet to a fan that this song is about "fantasizing and reminiscing about an ex." According to the lyrics, the ex felt inadequate because of Doja's penchant for overthinking: "I know what you mean, you don't fuck with randoms / I got everything, everything but real love / I got in my head, I bet you could get me back out." As a result, Doja feels regretful for not being a better partner after the breakup.
"You Right" (ft. The Weeknd)
Listen to it when you're feeling: like you're coveting someone you're not supposed to
Key lyric: "I got a man, but I want you"
Over slick and twinkling keyboards, Doja sings that, despite having a partner, she still has secret fantasies about someone else. She knows it would be perceived as immoral and wrong but still remains honest: "You know I got so much to say / I try to hide it in my face." The Weeknd is naturally in his lane here, reminding us that it's only human nature to have fantasies about other people sometimes. Listen to this song when you feel guilty for having them so you know you're not alone.
Listen to it when you're: contemplating ending a relationship
Key lyric: "Baby, I don't really wanna be in like this / Ever since you've been like this"
Doja processes her shifting feelings for a partner due to major changes from them as a gentle trap beat glides underneath. The lyrics describe the partner as toxic: "Can't put my trauma to the side / When you told me I was lyin' / Had me feelin' like I died, baby." In the end, luckily, Doja breaks up with them. Let that be a lesson.
Listen to it when you're feeling: spicy, naughty, and rough
Key lyric: "I don't need lovin', late-night cuffin' / Take it all off, you naughty"
This song is about two lovers getting rough and frisky with each other. Both aren't shy about where they do it: "Kitchen, island, bedroom, closet" and "Now she tryna fuck me in the restroom or the parkin' lot / At the restaurant, anywhere, everywhere, anytime." Know that you've got options.
Listen to it when you're feeling: over someone's bullshit
Key lyric: "Look at what you did"
Glancing at the track title already evokes anger, and Doja delivers. As she sings about immature, unfaithful men who have wronged and hurt her, the '90s R&B rhythm makes it feel like a hit lost to time. This is the perfect song to listen to if you're frustrated and unsatisfied with immature partners and their bullshit.
Listen to it when you're feeling: like a baddie
Key lyric: "I pull up just like ooh, you a baddie"
Doja reflects about how there were people who did not believe in her potential and on how far she has come despite the obstacles: "You couldn't be more wrong / We show up and show out / Five-hundred racks, sold out / I never been more proud" and "All this work paid off / When they had no faith at all." She is truly a baddie.
Listen to it when you're feeling: self-assured and reflective
Key lyric: "Is it crazy I'm not scared to be alone?"
The '90s R&B vibes return, thanks to some gentle acoustic guitar plucking. Doja sings about how she has finally processed what she had to — "You couldn't tell that the both of us needed a whole therapist" and "Now I barely need ya" — as the rainy-day breakup perspective comes into view. In her words, "Bein' lonely better than 'needs control.'" Ironically, her ex is now the one scared to be alone.
Listen to it when you're feeling: cheekily romantic, flirty, and horny
Key lyric: "We cuddle, sure, I do love it / But I need your lips on mine"
Planet Her finds its perfect closure with the iconic dance-pop lead single "Kiss Me More." The song has romance, passion, bold sexual desires, and tenderness all in one. Cheeky and flirty verses give way to real horniness when she declares "I feel like fuckin' something." SZA follows suit — "Pussy like holy grail, you know that" — and both superstars show that romance and sex together can be both sugary and spicy at the same time.