Michael B. Jordan Credits Ryan Coogler For Giving Him The 'Self-Confidence' To Direct
Jordan and Coogler talk about their collaborative friendship with MTV News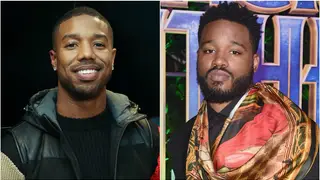 Over the past few years, Ryan Coogler and Michael B. Jordan have established themselves as one of Hollywood's formidable duos since the release of Coogler's first feature-length film, Fruitvale Station, in 2013. Since then, they've teamed up for two more critically acclaimed films — Creed and Marvel's Black Panther — and already have one more in the works.
Sure, you could call them the new Marty and Leo, but Coogler and MBJ's bond goes deeper than that. It even inspired Jordan himself to pick up a camera for his directorial debut, an adaptation of David Barclay Moore's The Stars Beneath Our Feet.
"He's the reason why I have the self-confidence to go out there and do it behind the camera," Jordan told MTV News of Coogler's influence while promoting Black Panther. "To see somebody my age taking care of however many hundreds of millions of dollars this [movie] is, it's inspiring. It lets me know that I can do that as well."
As for their collaborative relationship, Coogler said, "It's hard work making movies, and when you find somebody you enjoy working with, there's a part of you that wants to keep doing it, especially when you find somebody who's really talented."
In Black Panther, Jordan gives a standout performance as the film's angry antagonist, Erik Killmonger. Unlike other Marvel villains, Killmonger really is the hero of his own story — and some might even walk out of the theater believing his extreme actions were justified. That's the mark of a good villain — and a great actor.
"Mike is an incredibly talented experienced actor," Coogler said of his friend and collaborator, adding that he's "got a lot of the intangibles" like charisma, empathy, and a competitive spirit. "He brings an insane work ethic and a consistency that's really great to have on a set."
"With Mike," he said, "it can feel like you're watching life unfold."
When asked where this partnership might take them next — perhaps to a galaxy far, far away? — Jordan said he's down for the ride, wherever it leads.
"Anything that [Ryan] puts his mind to, I can't imagine it not being amazing."
Additional reporting by Josh Horowitz