Camila Cabello Dedicates Her Video Of The Year Win To Madonna
'Havana' took the top prize, but Camila was quick to show love to the material girl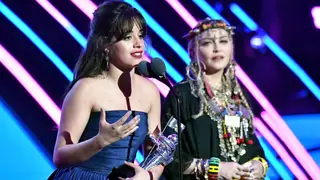 Camila Cabello has a long history as a fixture at the VMAs, especially in her years as a member of Fifth Harmony. But at the end of 2016, she announced she'd be following her own path, and now, it's clear: 2018 is the year Camila has properly arrived as a solo pop phenom.
Need proof? After earlier winning Artist of the Year, Camila just took home the night's top prize of Video of the Year for her Young Thug collab, "Havana," the video for which is a positively sumptuous buffet of colors and vibes.
And onstage at the end of the night, Camila was handed the Moon Person statuette by none other than Madonna — who she decided to dedicate her win to.
"Madonna, I love you so, so much," she said, a moment after admitting her hands were shaking. "I've seen every single music video of yours. I've seen every single documentary of yours. You've inspired me so much, and for that reason, this is a surreal moment. I love you, seriously. I can't believe it."
Madonna, for her part, prefaced the presentation of Camila's award with her own lengthy personal tribute to Aretha Franklin, who died on August 16. But as soon as Camila stood up onstage next to her, she let her nervous charm pour forth in an effusive speech thanking literally everyone she could think of: fans, family, and director Dave Meyers (who also shared the award last year with the Little Homies for Kendrick Lamar's sublime "Humble").
Camila ended up triumphant over fellow culture-topping nominees Ariana Grande's "No Tears Left to Cry," Bruno Mars and Cardi B's "Finesse (Remix)," The Carters' "APES**T," Childish Gambino's "This Is America," and Drake's "God's Plan" for the night's highest honor.
The "Havana" clip also doubles as a hilarious (and mostly, but not completely) fictitious origin story where Camila watches alternate versions of herself on both a TV and a movie screen. Now, the world watched her accept her Moon Person award onstage, where she acknowledged her family "inspired" it.
"Havana" racked up four VMAs noms in total, and Camila also took home Artist of the Year. Still, even the top artists have their own faves. That's why she left the stage making certain her influences were celebrated, too. "Honestly, I dedicate this to Madonna," Camila said. It was in keeping with her previous speech — and though there's no reason to be humble when you take the top prize, it's refreshing to know that you still can be.