347aidan's Bedroom Bop, Thundercat's Otherworldly Remix, And More Songs We Love
Plus transportive tunes from Phoebe Bridgers, Steps, Miloe, and more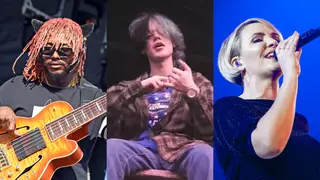 The search for the ever-elusive "bop" is difficult. Playlists and streaming-service recommendations can only do so much. They often leave a lingering question: Are these songs really good, or are they just new?
Enter Bop Shop, a hand-picked selection of songs from the MTV News team. This weekly collection doesn't discriminate by genre and can include anything — it's a snapshot of what's on our minds and what sounds good. We'll keep it fresh with the latest music, but expect a few oldies (but goodies) every once in a while, too. Get ready: The Bop Shop is now open for business.
Phony Ppl: "On My Shit" ft. Joey Badass
Brooklyn is out in full force on Phony Ppl's latest, with hometown rapper Joey Badass reuniting with his high school homie, vocalist Elbee Thrie. The now six-person crew distills chill, grooving vibes into one single, like cruising down Flatbush Avenue on a breezy fall day.
Thundercat ft. Ty Dolla $ign & Lil B: "Fair Chance" (Floating Point remix)
The musicality of Thundercat's "Fair Chance" hits the listener like a fever dream. Like so much of the bass virtuoso's work, the backing track is an ethereal mix of guitar chords and keys layered with precision, yielding a sound that is mystifying, even intoxicating. The newly released Floating Points remix adds an otherworldliness that echoes the Stranger Things theme and the uptempo flare of disco. Features from Ty Dolla $ign and Lil B pull you further into the 800-thread-count sheets of this musical bliss as the song ends the way it began, with a breathy declaration: "I'll keep holdin' you down. Even though you're not around." —Virginia Lowman
The Moore Family Band: "Raining Inside My Head"
Grab your umbrella and brace for a downpour. San Jose siblings Alyssa, Randy, and Dylan Moore have captured some nice explosive energy on "Raining Inside My Head," written and recorded this year while in quarantine. While their other single, "Falling," channels early Weezer, "Raining" fits right alongside contemporary frenetic pop-punks like Jeff Rosentock, who subtly cameos on synth. —Patrick Hosken
Katie Wood: "Where Have You Been"
Give me a banger of a synth-pop song any day, and I guarantee I'll be a happy girl. "Where Have You Been," the latest from emerging electro-pop act Katie Wood, is no exception. The British singer-songwriter delivers a vibey '80s revivalist cut that is equally at home on an angsty playlist or a dance floor (remember those?). It's a little Kate Bush, a little The Cure, and a whole lotta bop. To feel the full '80s fantasy, watch the single's grainy, surrealist music video. —Sam Manzella
347aidan: "Dancing in my Room"
Ontario-based groove-maker 347aidan says his music provides a peek inside his head, and if the 17-year-old singer's TikTok success is any indication — over 5.5 million likes and duets from fellow artists like Charlie Puth — his mind is a magical place. "Dancing in My Room" is a bop both personal and universal. Beginning with the quirky question, "What you been up to, Aidan?," the track transforms into a vaporwave, lo-fi, electronic joy ride. "I been dancing in my room / Swaying my feet / Tryna give you love and a kiss on the cheek," he chants, bringing us into his bedroom to bob along with him. Throw in his e-boy looks and the track's vibey visual, and you've got the kind of dreamy cotton-candy skies he sings about. —Carson Mlnarik
Here's a slice of heaven for you. Miloe, the moniker of 19-year-old Bobby Kabeya, embodies pure dream-pop delight on the title track for his latest EP, a collection of elegant and soft-edged indie. Fans of Real Estate will find a home in the hazy arpeggios, but Miloe's reach exceeds the suburban backyard, elsewhere capturing the travelogue of his youth in finger plucks and gently swaying piano. —Patrick Hosken
Steps: "Something in Your Eyes"
Still not over Eurovision being canceled this year? Same here. Luckily, 2020 has supplied us with a plethora of Europop bops to hold us over until next year. The latest is Steps's new single, "Something in Your Eyes." It's a crime that the British group never took off in the U.S., but it's not too late, America! "Something in Your Eyes" has everything you could want in a pop song: ABBA-esque drama, an insanely catchy chorus, and a euphoric key change that will give you chills. We might not be able to dance at G-A-Y just yet, but hit play on this song, close your eyes, and you'll feel like you're there on the dance floor. —Chris Rudolph
Phoebe Bridgers: "Kyoto" (Copycat Killer Version)
Allow me to be the latest person to recommend Punisher, the devastatingly good sophomore album from Phoebe Bridgers. Allow me also to put this remixed version of "Kyoto," a gorgeous and sad song where geographical distance mirrors the emotional kind, into your life. Instead of the horns and peppy drums of the album version, "Kyoto" here centers around a gigantic sigh of strings, courtesy of arranging ace Rob Moose. There promises to be plenty more where that came from on Bridger's new Copycat Killer EP. (Perhaps in the meantime, also, listen to her sing Goo Goo Dolls's "Iris" with help from Maggie Rogers.) —Patrick Hosken
Foster the People: "Under the Moon"
A yacht-rock groove with yawning guitar lines, the latest from Foster the People also finds leader Mark Foster jumping vocal octaves like a louche werewolf in the moonlight. "Our love will keep us warm," he sings, throwing shadows under a bright night sky. —Patrick Hosken