Lena Dunham And Jack Antonoff Reportedly Split After Five Years Together
The first couple casualty of 2018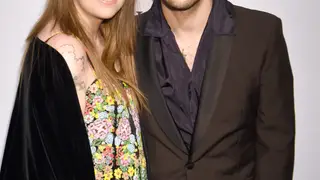 Well, folks, it's here. The first crushing celebrity breakup of the year has become public news, and it is my sincere regret to tell you all about it. Here we go.
On Monday (January 8), multiple outlets confirmed that Lena Dunham and Jack Antonoff have called it quits after more than five years of dating. According to E! News, the Girls creator and Bleachers frontman broke up back in December and the decision was "mutual."
A source told E!, "Jack and Lena were growing apart and it just made sense for them to end their relationship where it was. They want the best for each other no matter what. They are both moving on."
Dunham, 31, and Antonoff, 33, started dating in 2012 after being set up on a blind date. They celebrated their five-and-a-half-year anniversary in October, with Dunham sharing a cozy pic of them on Instagram.
That same month, Dunham penned a gushing essay about her then-beau for Variety. She wrote, "It's safe to say that before Jack my life was full of far fewer sights. He showed me the importance of making political statements using your public platform. He showed me the joy of collaboration. He showed me the magic of his home state of New Jersey and turned the butt of my snotty New Yorker jokes into a glimmering fantasyland."
Let's pour one out for the first couple casualty of 2018.