'Boy Meets World' Alum Danielle Fishel Is Engaged (And Not To Cory Matthews)
Topanga is officially taken!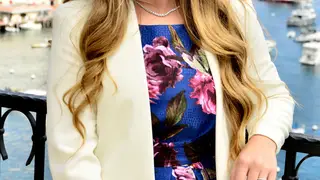 She may be forever hitched to Cory Matthews in our minds, but Boy Meets World and Girls Meets World alum Danielle Fishel, a.k.a. Topanga, is now engaged in real life.
The 36-year-old actress shared the happy news on Thursday night (March 22) with an Instagram pic of her and her husband-to-be, Jensen Karp.
"I woke up today thinking it would be a normal day and it was anything but normal," she wrote. "I put on my Genghis Cohen t-shirt and went to see @jensenclan88 at work where I proceeded to screw up a very romantic marriage proposal by being too efficient (this is very on brand for me)."
She added, "The future Mr. and Mrs. Karp are now engaged and no one is more excited than I am."
Karp, an executive producer on the TBS show Drop the Mic, posted the same pic and added, "I don't have anything witty or funny to say to accompany this picture. She is just the greatest person in the world."
He did, however, have something to add about their engagement, and it's exactly the kind of thing Cory would've said about Topanga once upon a time: "To imagine someone I went to high school with was always my person, is remarkable. You never know."
This will be the first marriage for Karp and the second one for Fishel (not counting Cory, of course). The actress previously wed Tim Belusko in 2013, and the pair quietly divorced in 2016.
Congrats to the happy couple, and here's hoping their wedding night goes a bit more smoothly than Cory and Topanga's did.