Everything We Know About Justin Bieber's 'Changes' So Far
Collabs, televised performances, track info, and more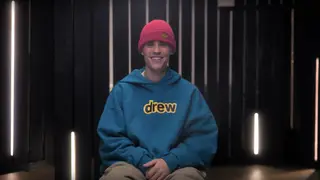 Spending Valentine's Day single and alone this year? Not on Justin Bieber's watch! The "Yummy" singer's fifth studio album, Changes, will be out everywhere on Friday, February 14, so the time to mark your calendars is now. And if you're not single, well, you might want to cancel those fancy V-Day dinner reservations. Bieber's new era is about to begin, and while exchanging loving glances and playing footsie under the table is great and all, Changes promises to be the musical equivalent of that. That's because Bieber's spent a lot of time in the lead-up to release talking about his marriage.
While we know that, there's still a lot we don't know about #JB5. With just a week to go until the LP officially drops, however, we do have some information about Changes — for those getting impatient, you've come to the right place. Here's everything you need to know about Justin Bieber's Changes, from the total number of tracks to Bieber's songwriting inspo. (P.S. Don't forget to buy 50-percent-off candy on February 15 to make the listening experience a little bit sweeter.)
What does the album cover look like?
With the album coming out on Valentine's Day, it makes sense that Bieber's decided on a red theme for its cover. On it, the pop star sits shirtless, likely hinting that after a tumultuous several years, he's finally ready to bare all. And though it's been over four years since his Purpose album, the "Yummy" singer's most devoted fans are ready and eager to hear about all of the "changes" he's gone through since.
How many tracks will be on the album?
Get ready, Beliebers, because you're about to get a lot of new Bieber tunes. According to Apple Music, Changes will have a grand total of 17 songs. For your reference, that's four more songs than we got on both Purpose and Believe, so it's safe to say this will be his biggest drop yet.
Will there be any collaborations?
Yes, yes, and yes! Already, Justin's dropped three collaborations from the album, including "Get Me" featuring Kehlani, "Intentions" with Quavo, and a "Yummy" remix featuring Summer Walker. And let's not forget those rumors about Post Malone and Travis Scott — which both turned out to be true. Post even told Billboard that he and Bieber worked on "something" together, and now we know it's a tune he wasn't previously on when Bieber previewed the album in Los Angeles last month. Get excited for appearances by Lil Dicky and Clever, too.
What else is included on the tracklist?
Though it's still too early to imagine which songs will become fan favorites, there are already several that we're intrigued by based on title alone. Judging by the tracklist Bieber shared this week, we already can't wait to hear "All Around Me," "ETA," "That's What Love Is," and of course, the LP's title track "Changes." But hit play on the above video and you'll see all the song titles for yourself. Valentine's Day truly can't come soon enough.
What's the inspiration behind Bieber's new music?
Bieber's life has changed a lot over the last couple years (hence the album title). And the biggest change came when he married the love of his life, Hailey Baldwin, in September 2018. Therefore, it makes sense that album would be mostly inspired by her. And according to those who've heard it already, the LP seems to be heavily focused on "the healing powers of love and marriage." Sweet!
Has the pop star teased any songs from the LP?
Bieber's Seasons docu-series doesn't just show the pop star's struggles over the last few years; it also shows behind-the-scenes footage of his studio sessions. So far, he's teased several tracks, including "Habitual," which he called "fire" and "one of his favorite songs." He also teased a Spanish track called "La Bomba," as well as a few others. And although "La Bomba" didn't quite make the final cut, Scooter Braun reassured fans on Twitter that they will get it, some way, somehow.
Does Bieber have plans to promote the album?
There are exciting things on the horizon. In addition to his recent appearance on Ellen, where he revealed the album's release date, the singer will be the musical guest on Saturday Night Live on February 8. But wait, there's more. The "Yummy" singer also teased that he'll be doing Carpool Karaoke with James Corden (again), so definitely be on the lookout for that.
Is there going to be a tour?
If you're already feeling confident that Bieber's about to deliver some of the best music of his career, we have good news: American Express cardholders can already purchase tickets to the tour! So far, Bieber's only announced North American dates, and he'll be supported by Kehlani and Jaden Smith. Pre-sale tickets are available for purchase through February 13, and on Valentine's Day, they'll become available to the general public. Get those credit cards ready.
What's the Seasons docu-series about?
If you haven't yet had a chance to tune in, Bieber's Seasons documentary is an honest and vulnerable look at his complicated life over the last several years. In addition to giving fans a window into his marriage, the doc doesn't hold back when it comes to the pop star's mental health, history with drug use, and recent Lyme disease diagnosis. But in addition to the struggles, the docu-series also highlights the triumphs, with his loving marriage being one, and his unrelenting passion for music being another.