A Timeline Of Eminem And Joe Budden's Brewing Beef
A very Shady timeline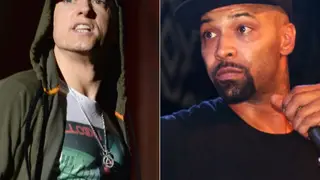 On Monday (January 8), Eminem did something that some fans have asked for since Revival was released in December: He got angry. On his "Chloraseptic (Remix)" featuring 2 Chainz and PHresher, the Detroit MC spit a furious verse aimed at Trump, his detractors, and most importantly, an unnamed target heavily implied to be Joe Budden.
Soon after, members of the Shady Records family got into the debacle. The potential sub was reinforced by Bizarre, a member of Eminem's band D12. 50 Cent, the Robin to Em's Gatman, got into the mix. Budden, who is signed to Shady through the group Slaughterhouse, fired back. In a few short hours, 2018 had its first official beef.
As a way of adding a little order to the chaos, here is a timeline of where the Eminem and Budden relationship could have gone wrong. We're ranking each incident on a zero-to-five Joe Budden scale, with zero being Budden tranquilly sipping tea next to Erykah Badu and five being Budden dropping a mic as Offset rolls up his sleeve to hand out fades.
We will keep updating this very Shady beef as it unfolds.
October 10, 2017: Yelling Fits and Hypocrites
Quote: "I'm just talking about the amount of disrespect and the hypocrisy that you show every time a lyrical MC comes out. You do it every time. It's not just Em." — Joe Budden to DJ Akademiks
Plot: In an Everyday Struggle episode from early October, Budden and Akademiks argued the issue of hypocrisy. On one side was Akademiks, known for supporting and holding young and problematic rappers — Lil Pump, 6ix9ine, and XXXTentacion — to a different standard than older rappers like Jay and Eminem. On the other was Budden, who does a decent job defending Shady and ends the video saying he's excited about Eminem's new album. So it doesn't seem like the tension started there.
Rating: 0 out of 5 Buddens
P.S.: Joe admits he still isn't in the Shady group chat with Em and the rest of his Slaughterhouse brethren.
October 11: The BET Trump Freestyle
Quote: "My thing was certain people we just can't question. I'm not talking about their albums, not talking about his albums. I'm talking about him." — Joe Budden
Plot: A day later, Joe continues to defend Eminem as one of the best rappers in the world. Akademiks calls Budden out for being biased as a result of his Shady affiliation: "You've never had an Em critique in your life." Neither host comes to a consensus about Eminem's Trump freestyle at the 2017 BET Hip-Hop Awards.
Rating: 0 out of 5 Buddens
November 13: Debating The Trashness or Not Trashness Of "Walk On Water"
Quote: "You don't want to hear Em acknowledge [fan reactions to his music] in a way — well, I don't — acknowledge those rumblings in a way to where it's, 'Damn y'all are right. Y'all were correct.'" — Joe Budden
Plot: There is a marked shift in Joe's critique of 2017 Eminem toward the middle of November. Throughout October, Joe continued to tow the company line on episodes of Everyday Struggle and "The Joe Budden Podcast."
It isn't until mid-November that an inkling of doubt starts to fester in the way Joe responds to Eminem's recently released "Walk on Water" and its critical response. Akademiks pushes his co-host to admit the song isn't good, and Joe upholds his diplomatic streak.
Rating: 3 out of 5 Buddens
December 13: Joe Budden Puts His Hands On "Untouchable"
Quote: "It's trash. One of the worst songs I've ever heard." — Joe Budden
Plot: Budden's review of Eminem's "Untouchable" is potentially the moment when everything went nuclear. In a charged tirade — "The tracklist without the benefit of the doubt appears to be utter garbage," "This is the first time in my life that I feel like the ball is being dropped on Eminem" — Budden critiques his perception that Eminem is using Trump and racism to sell records.
"It seems like you are taking the very common water-cooler conversation today of racism, which I hold near and dear to my heart," he says, directing his comments to Em. "So for this shit to look like this, I'm putting this on somebody on his fucking team, because this is disgraceful."
Rating: 5 Joe Buddens Standing Next To Infinite Migos out of 5
December 20: "The Joe Budden Podcast" (Part I)
Quote: "Somebody should have let Em know that the 'I Love Rock 'n Roll' sample has been buried and it's over in hip-hop." — Joe Budden
Plot: For the most part, Joe stays out of the critical conversation about Revival as his co-hosts Rory and Mal take Eminem to task for the creative choices he made. But he does get this jab in.
Rating: 2 out of 5 Buddens
January 8, 2018: Eminem Drops The "Chloraseptic" Remix
Quote: "Not as raw as I was, 'Walk on Water' sucks / Bitch, suck my dick! / Y'all saw the tracklist and had a fit 'fore you heard it / So you formed your verdict / While you sat with your arms crossed / Did your little reaction videos and talked over songs (chill!)" — Eminem
Plot: To quote the magical Cardi B, "Can you stop with all the subs? Bitch, I ain't Jared."
On Eminem's new "Chloraseptic" verse, he launches a campaign against fans, critics, social media, Akademiks, and potentially Budden for the lukewarm response to Revival. It isn't hard to notice that the critical consensus potentially got to Slim Shady.
Rating: 1 Million Buddens Screaming At Lil Yachty out of 5
January 8-9: The Beef Gets Bizarre
Quote: "But then one day, that bipolar, schizophrenic, crazy ass mind of yours wouldn't allow you to let loose and you went fucking ballistic. You went fucking crazy. Now you got your opinion. You don't like the Revival album. Cool, that's cool. You got your opinion. Fuck it; you ain't feeling it. But you went in... bro, Shady Records pays your fucking bills." — Bizarre
Plot: D12's Bizarre takes to Twitter and Instagram to air out his grievances against Budden. It is the first confirmation from someone inside the Shady camp that Eminem's "Chloraseptic" verse is aimed at Budden.
In a series of since-deleted tweets, Budden allegedly quips that Bizarre hasn't talked to Eminem in a decade.
"Biz u ain't spoke to Em in at least 10 years, u better relax n----a before you make me angry," Budden wrote. "Biz... i love you... i will also beat the dog shit outta u in Detroit."
In an interview with XXL on January 11, Budden's point that Bizarre didn't speak to Eminem is weirdly corroborated by the D12 member himself.
"Eminem didn't tell me anything," said Bizarre. "I haven't even spoken to him about who the song was for or about."
Rating: 5 out of 5 Buddens
January 9: 50 Gets In The Mix
Quote: "Look, you got a little ass-whopping coming." — 50 Cent
Plot: What is beef without 50 Cent? At various points in time, the New York rapper has beefed with Jay-Z, Ja Rule, Diddy, and The Game, to name a few.
It isn't surprising that 50 would jump to Em's defense. The mogul was signed to Shady/Interscope in the early 2000s as he prepped the release of his monumental debut, Get Rich Or Die Tryin'. Honestly, the weirdest part 50's Instagram comment is how he plugs his latest movie with hashtag #DenofThieves.
Rating: Weighing this against the 50 Cent scale of beef, we'll give this a 2 out of 5 Buddens.
January 10: "The Joe Budden Podcast" (Part II)
Quote: "What I'm saying is, I defended Em the whole way. I haven't heard the album still." — Joe Budden
Plot: Budden addresses the "Chloraseptic" remix, admits he doesn't think Eminem's verse was aimed at him, praises the verse, and explains the origin of his beef with Bizarre.
Rating: 0 out of 5 Buddens