The Gospel According To Kirk Franklin
The inspired third act of Kanye and Chance's faithful favorite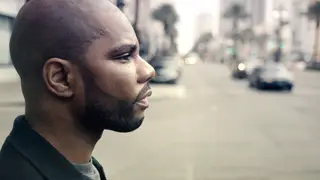 "Give me that power to walk away when another God takes your place," Kirk Franklin intones on an early June evening in New Orleans. The lights have gone blue in the Orpheum Theatre; he's on the sixth night of the southern leg of his 20 Years In One Night tour, which began in March. The 41-song career retrospective set is loosely arranged like a church service: First, nine exultant praise songs to wind the crowd up, and then the darker repertoire, the songs about human failure. Franklin and his six backup singers perform "Give Me," a martial call-and-response confessional. "Anyone can be saved," he says. "Even Kanye." Everybody reacts. Hisses, laughs, gasps, and the kissing of teeth fill the Orpheum. Franklin seems satisfied that the reference hits and proud that it may have scandalized.
Every night of the tour, Franklin makes this joke, and every night it gets a response. In the three months between the release of Franklin's 11th studio album, Losing My Religion, and the beginning of the attendant tour, the veteran gospel musician collaborated with West on The Life of Pablo. "I didn't call Kanye," Franklin tells me later — West reached out to him. But Franklin's work with West speaks louder than words. Twenty years ago, Kirk Franklin was the enterprising upstart putting himself forward as a medium between hip-hop and gospel. Now he's doing it again, this time as a legend.
Performing on the 20 Years tour, Franklin evades strict categorization. He is a motivational speaker, urging people to "find their own way" if conventional religion isn't working. He is a comedian, ragging on the teen version of himself, when he had "messed-up teeth and a Jheri curl." Predominantly, Franklin is a consumed hype man, shooting ad-libs while his singers carry his set; he himself sings rarely. He interpolates Tyga's "Rack City" and Kendrick's "Alright" into his set. (Kendrick, he tells me later, is his favorite rapper.) He wears tight white skinny jeans and a red button-down flannel shirt. Audiences rave when he slips in Total's "Can't You See." When Franklin does stop to sing, performing "Pray for Me" on the piano, his voice is grainy and commanding. And he dances: Throughout the nearly three-hour show, the 46-year-old musician moves across the stage, built to replicate an urban tabernacle, like a teenaged Vine star. His Milly Rock is enviably sturdy.
"It's precisely that earnestness that makes Franklin attractive to hip-hop's least orthodox makers."
This boyish vitality is what broke Franklin through to the black mainstream a generation ago. In the mid-'90s, Kirk Franklin and his choir, The Family, were a commercially successful, face-value gospel act, netting two Grammys and gaining recognition well outside of the Southern gospel circuit. In 1997, Franklin collaborated with another choir, God's Property, to produce the album God's Property from Kirk Franklin's Nu Nation. This Franklin was different. He no longer sported tense vests; the trendier Franklin wore baggy Gore-Tex jackets, smoldered through tinted lenses. "For those of you that think that gospel music has gone too far … Well, I've got news for you. You ain't heard nothin' yet!" Franklin announced on the intro to "Stomp (Remix)." The single, which featured Salt (Cheryl James of Salt-N-Pepa), and sampled Funkadelic, went to No. 1 on the R&B charts. The God's Property album would peak at No. 3 on the Billboard 200.
Franklin's next effort, The Nu Nation Project, veered even further toward mainstream hip-hop and R&B, with production from Rodney "Darkchild" Jerkins and features from R. Kelly and Mary J. Blige. "Revolution" promoted a contextual solidarity between gospel and rap, two genres apparently antithetical to each other. The song also endeared the musician to a younger, MTV-guided demographic, who were often estranged from the strident politics of the church. Listening to Franklin was noncommittal, nondenominational, and fun.
Franklin's modernizing efforts were the culmination of a cultural synergy that had been aligning for years. Black gospel music began to secularize in the '80s; later, artists like the Winans family, Mary Mary, and Yolanda Adams chipped away at the etiquette and production barriers separating church music from popular music. Even Marvin Sapp, a preacher, would embrace a slinkier R&B sensibility toward the end of the '90s. A sort of lax religiosity permeated black pop culture at the time. Bishop T.D. Jakes, whom Franklin has worked with, was making movies. Tyler Perry's straight-to-DVD fables were selling well outside of the Chitlin Circuit. Receding conservatism opened Franklin up. "Being raised in the church and being raised in hip-hop, it was just a really natural marriage," says Franklin. Hip-hop, too, was maturing thematically. Expectedly, the portion of Franklin's back catalogue that showcases his most literal hip-hop experimentation has aged like musical theatre. But it's precisely that earnestness that makes Franklin attractive to hip-hop's least orthodox makers.
The day after the show in New Orleans, Franklin is drained. He's got to recuperate during the two-hour drive to his next show, in Mobile, Alabama. Franklin's speaking voice is faint, hoarse, when his tour bus pulls up into the half-empty lot of a Whole Foods. He's wearing a tight, gray, deep-V-neck sweater. Much of Franklin's wardrobe clings. His face is geometric, chiseled into two quadrants by the sharp lines of his beard. His hairline is vigilantly groomed by a trusted barber. Being trim, neat, and clean is important to him. "God made Whole Foods," he says, walking into the market.
Franklin and his wife, Tammy, head to the produce section. She accompanies him on tour when she can, and sometimes the youngest of their four children comes along too, which Franklin likes, because their presence soothes him. Besides family and God's grace, he believes in a ritual of hydrolyzed whey protein smoothies and fresh organic fruit. Franklin started eating well in the mid-2000s, when much of the country picked up body-conscious lifestyles like a soft religion. He and Tammy have been married for 20 years. "I can hear the whole story of our marriage in his songs," she tells me later, when we return to the bus. They're complementary, petite, an advertisement for the platonic respect that an expert Southern partnership brings. The 20 Years in One Night tour functions as a career summary, establishing Franklin as the most prolific gospel performer of all time. Yet the common narratives of struggle, redemption, and triumph that color his songs about God apply well to the progression of a marriage. They suit the middle stages of maturation in a man's life, too: Franklin is 46, and three out of his four children are now adults.
The title of Losing My Religion, released in November 2015, would suggest the musician is at a provocative crossroads regarding issues of faith. Sectarianism was never really his thing, though. Raised Baptist, Franklin also directed choirs in conservative Adventist churches. Many of his compositions show Protestant roots. Franklin goes where his idiosyncratic praise practices are welcome, retrofitting his personal spirituality to existing spaces.
Tammy drifts off in search of presliced mangoes, while her husband loiters by the red seedless grapes. He opens the bag and starts sneaking a couple. Then more. "I'm testing them," he says. A modest crowd, made up entirely of black employees and patrons, has clustered around him by now, almost squealing. "To see if it has crunch," he tells his new audience, by way of explanation. Franklin peacocks for them.
Franklin bows down to a boy of about 6 years old, channeling the humility of a president doting on a stranger's baby. Does he know the singer? The boy nods yes.
"What's your name?" Franklin asks.
"Christian," the boy answers.
Franklin's eyes gleam. "That's a good name."
Of all the incendiary claims Kanye West has made in his career, "This album is actually a Gospel album" is relatively tame. He tweeted the clarification in late January 2016, as though delivering a revelation to his patient fans. The subject was his seventh studio album, which he had announced under the title So Help Me God, before moving to SWISH, then Waves, and finally, The Life of Pablo, a phrase redolent of European sainthood, outlandish artistic genius, and drug-war glamour. It was obvious that issues of supplication and faith were on his mind. This album would reflect something distinct from the anarchic creative pressure that produced 2013's Yeezus. The birth that year of his daughter, North West, softened him; the coming of son Saint West, in 2015, guaranteed him an heir. West was in a contemplative juncture artistically, foreshadowed by the oncoming of midlife — the confessional milieu that Kirk Franklin has mastered.
"His family came and had Thanksgiving with me several years ago," Franklin says of the most conspicuous musician alive. "He drove down and just wanted to have turkey dinner, you know?" He's perched on a stool in the upper room of the Orpheum while his band prepares for soundcheck at the stage. The soundcheck won't happen in the end — "I'd rather rest," Franklin says — and ultimately, he won't need it. According to Franklin, he and West have been friends for years. He abstains from saying the name "Kanye West" directly when we talk about their collaboration on "Ultralight Beam," the maximalist ode to religious illumination that opens Pablo. Franklin explains this avoidance as a gesture of shelter. On January 30, a photo of Franklin in a recording session for the album then known as Waves emerged. He stood in a crowded studio with West, French Montana, 2 Chainz, Kid Cudi, and The-Dream — a Voltron-like assembly of secular forces that, in the pop world, fed curiosity about what the album could possibly sound like. Franklin's more traditional gospel listeners, however, summarily dragged him on Instagram, citing disappointment. To them, West was worse than a sinner: His 2013 song "I Am a God" made him a blasphemer.
"The kids, they want to come to spirituality. But we have to meet them where we are."
"I will not turn my back on my brother," Franklin wrote in an Instagram post on February 14, the day The Life of Pablo dropped. He sounds like a puffed-up father when he justifies the collaboration, speaking of a prodigal son. "I think it's unfortunate that we don't go into the non-churchy places to be what I believe Jesus was," he tells me when I ask about his work with rappers. If 2 Chainz's Instagram post made it appear that West chose Franklin, Franklin clarifies that he also chose West. Both men were choosing God. West's Christianity isn't a recent revelation, nor has hip-hop ever been inhospitable to queries into faith. The ethics of Islam and Christianity have haunted the genre's storytellers since the beginning.
Franklin also appears on "Finish Line / Drown," off Chance The Rapper's mixtape Coloring Book. Chance, who delivers the most beatific verse of his rapping life so far on West's "Ultralight Beam," brought Franklin onstage to perform alongside him during the Chicago rapper's headlining performance at Pitchfork Music Festival in July 2015. "It would be hard for me to work with somebody cold," Franklin says. "[Chance] shared with me how my music really inspired him." When Franklin collaborated with him on Coloring Book, Chance publicly proclaimed Franklin a guiding influence and "musical genius." Chance has become a bellwether for blatantly Christian-adjacent rap, which has, by extension, introduced Franklin to some younger white listeners who didn't grow up with him. It would be an overstatement to say that this has materially changed his fan base. But those cosigns, that visibility, have widened the sense of Franklin's influence.
After spending two days on tour with Franklin, I start to discern when he's speaking cryptically. When he is talking about Jesus, he is often talking about himself. "These people" is code for nonreligious black musicians, many of whom grew up listening to him. Urban radio stations tend to play gospel music on early Sunday mornings, and Franklin's tracks are staples. Onstage, Franklin uses missionary, showy speech to justify his new role as wise collaborator to a generation of secular black male rappers still yearning for something. "The kids, they want to come to spirituality," he explains to his die-hard fans in New Orleans. "But we have to meet them where we are."
Franklin welcomes the recent legend attached to him in the music world while also distancing himself from contemporary rap per se. "If we live in a community where everyone's the light, then what happens at those dark places? And I'm not calling these people 'dark,' I'm talking about a lot of the messages and a lot of the things they have to tackle as 'dark.' Sometimes, that can make their lives dark. Sometimes, it can make them struggle with more darkness. If we are so holy and so perfect and never interact with people that may not go to church or may not be where we think we are, then how will they ever get light?"
"Ultralight Beam" features two Franklin contributions: the choir arrangement, which took Franklin seven minutes to teach, and the prayer ending the song. "This prayer's for everybody that feels like they're too messed up," he says.The song goes last in West's current set for the Saint Pablo tour. After the stage has gone dark and West can no longer be seen, Franklin's voice continues to ring out.
"Growing up in the church" is a hackneyed truism for famous black musicians, a folksy reference that says less about a musician's contemporary mindset than a canned narrative of personal growth. Logistically, the church provided the instruments and the initial guidance that coaxes young, dreaming black children toward music. For many R&B artists coming out of the disco era up until the aughts, the convention was one designated "church" track on every album. For Franklin, the history is real and present and contentious. The church is how he got a family.
"I was born Kirk Mathis," Franklin tells the Louisiana audience, a few moments after the people in the audience have given one another peace in the form of a hug, following his instruction. The Orpheum, which opened nine months earlier following a post–Hurricane Katrina restoration, holds 1,500 seats. About 550 people are attending. No matter to Franklin, who takes advantage of the modest showing, strolling through the aisle as if the building were a fledgling megachurch. On this Saturday, the audience is dressed in Sunday clothes — white stockings, pastel skirt suit sets, and wrap dresses. Mostly women came. "A godly woman adopted me and changed my name," Franklin tells them.
"For Franklin, the history is real and present and contentious. The church is how he got a family."
Gertrude Franklin was 67 when she took in a 4-year-old Franklin, who had been abandoned by both his mother and father. "Being adopted, not having a father, my time with God was very father-son when I was a kid," Franklin later tells me. "I would climb up on the roof and talk to Him, and then go downstairs and write a song. I spent a lot of time talking to Him and playing the piano."
Participating in the church and choir in his hometown of Riverside, Texas, was a natural outlet for Franklin, but it wasn't always welcoming. "I got kicked out a couple of churches for dancing. At a Christian university in Alabama, I was playing some of my music to the student body, and the president of the university came in. He turned my music off in the middle of the performance, and said it was too much. Said it was too radical. And this wasn't even the real urban joints," he recalls. "It was more — kinda that middle, Kirk Franklin churchy joint."
From 1993 to 1997, Franklin modeled himself after a choir leader. His first album, Kirk and the Family — put out on GospoCentric Records, the California record company that his music essentially built — features all-original arrangements and writing, but the formulas are traditionally black gospel. "Silver and Gold," the breakout single, was a plaintive hymn of self-effacement: The singers called out, "I'd rather have Jesus / Than silver and gold." The bombastic Christian MC that would emerge as Franklin's career progressed into the late '90s is barely hinted at on this album, which relies heavily on the well-hewn harmonies of the then-23-year-old's 17-voice choir.
"If you have a group, it's very hard to have a diverse body of work," Franklin says, when I ask him why he shifted from working with his two choirs to singing as a solo act. "Churchiness" can be a pejorative. The split caused strife: members of The Family sued Franklin in 2000 for fraud and breach of contract. "For me, it was just the continuum of trying to speak to the culture," he says. "And the ability to be more fluid. To do some songs where it's a men's choir, or maybe a children's choir, so that you can have a body of work that's more Quincy Jones–ish."
When adjusted for scale, it's an appropriate comparison: More than any other single artist, Franklin pop-ified gospel, in the same way that Jones mainstreamed black pop two decades earlier. Conversely, Franklin's compositions like "He Reigns" are now staples in megachurches across the country. A 1998 profile of Franklin in Vibe by Alan Light famously quoted Franklin calling himself "a holy dope dealer." On the cover, Franklin's wearing a glittery red shirt and posing more like Puff Daddy. Franklin has often been compared to Sean Combs, somewhat pejoratively, for his savvy dominance of the gospel field and and his perceived self-aggrandizing manner. The letters to the editor that followed in later issues of Vibe show the exclamatory spectrum of disapproval and admiration people had for Franklin during the height of his popularity. "It was disgusting to read the part where he described himself as a 'holy dope pusher.' What is 'holy dope' and where can I find it in the Bible," writes Brian Carlisle. "Our world has become a modern-day Sodom and Gomorrah and it's music like Kirk Franklin's that keeping our children in church and out of the streets!" writes Tamla Gaston.
God is a stable muse. He isn't necessarily a lucrative one. Inherently, gospel is a constrained variation on a theme; black gospel even more, because it serves a relatively small listening population. As conduits to secular fame, Nina Simone, James Brown, and all the canonical black greats sang anonymized praise songs, and then moved on. Originality held tertiary relevance to gospel, whose main currency was tradition. That reality became all the more intense once the black church declined in political power in the last decades of the 20th century, contributing to the secularizing of black culture in general.
Franklin came in on the tail end of that decline to fill a difficult vacancy. He'd grown up on piano and church hymns, but he also listened to "N.W.A, Snoop Dogg, Dr. Dre, all that street stuff, too." He also knew what it meant to be a black man at the mercy of two unforgiving communities: the black church and its respectability, and the American mainstream. He saw that hip-hop and its cursing, fashion-obsessed curators were providing young black people with a new method to express black existentialism. His videos embraced Hype Williams–influenced fish-eye angles and dances of the youth. He knew he could use his style of performance to translate the local, ecstatic nature of gospel to larger audiences. Franklin's banter at the Louisiana show sums up the formula well: "New Orleans, if you love hip-hop, make some noise! If you love Jesus, make some noise! If you love Jesus mixed with hip-hop, make some noise!" The crowd escalates its approval with each exclamation.
With his grapes in hand, Franklin and his wife return to the bus in the Whole Foods parking lot. On the mounted television, Wolf Blitzer of CNN reports on a mass shooting unfolding in Orlando. A shooter barrelled into the Pulse nightclub, holding the partygoers hostage for over two hours before the police shot and killed him. CNN is confirming that 49 people have died. Tammy pulls out a prayer book. Franklin takes out his phone.
He starts recording almost immediately, playing with an idea for a song. "Fifty bodies / Laying on the floor," he sings raspily into the Voice Notes app. A storm rains down on the border of Alabama and Louisiana. After some thought, Franklin decides against writing a song, and composes an Instagram post instead. He pulls up a photo of himself prostrate on a church floor from his camera roll, and captions it with a note reading "All Lives Matter."
Within a few minutes, a barrage of comments has come in on the post. Users are admonishing Franklin for using the phrase "All Lives Matter" — a bland aphorism that's been embraced as a retort by white people threatened by Black Lives Matter. Franklin doesn't seem to know this context; he shares a disappointed head-shake with his wife. Franklin seems confused, then irritated. As socially conscious as he likes to see himself — at every show, Franklin says a prayer for the "saints" who have been killed by American violence — he doesn't recognize the faux pas. "People always have something to say," he says.
In Franklin, humility brushes up close to pomp. "Our songs are a kind of subculture," he says when I ask him about the political valence of gospel. "Over the last 15 years, we've had some of the worst things that happened in society. And the art form that was the microphone for the movement is silent. It's been turned off. We're losing families. Police killings of young black men. There's a decline in millennials going to church. Church attendance is down all over America, the Pew studies show it." Franklin's right about the general population. But the Pew studies show that black Americans, including millennials, have held significantly more steady in religious affiliation than their counterparts. The style of social consciousness in rap today is markedly less methodical, more poetic and buried than decades ago, which may make it less detectable or even interesting to an artist like Franklin.
The bus pulls into Mobile in the late afternoon. Decades earlier, Franklin was scolded at a church not far from here for performing with a bombast the pastor found excessive. Today, Franklin is the new tradition. A considerably larger crowd turns out for this show, which is on a Sunday. One woman, holding two toddlers by the hand, tells me that she's come straight from church to wait in line. The rain subsides an hour before showtime. Before warm-up, Franklin arrives to the venue door in an SUV. He takes selfies with fans in the middle of the street, kikis; the stage door opens, and he's gone.