'It's Vin Day, B-tch!': Vinny Forced The Entire 'Jersey Shore' Gang To Celebrate...Him
For her part, JWOWW called it 'the worst day ever'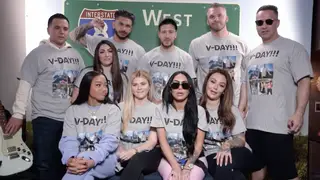 In all of 13 years on Jersey Shore, Vinny's roommates have never thrown him a party. So with only one day left of the San Diego family vacation, the sensitive Staten Island native was ready to take matters into his own hands.
"It is our last day tomorrow, and we're gonna go out with a bang," he declared during tonight's episode. "I'm planning a once-in-a-lifetime event. F*ck family fun day -- it's Vin Day, b*tch!"
He (literally) took a page out of Deena's book vaca-planning binder to make it official: matching gray T-shirts splashed with totally not-corny Instagram selfies.
After asking everyone to meet him in the suite for the big reveal, he gave a little speech (no, not that speech): "Alright people, listen. The last 13 years, I've endured a lot -- 75 parties for Mike, parties for JWOWW, parties for Pauly, parties for Nikki, but never a party for me. But that all ends today 'cause today is V-Day!" 
Cue an immense amount of confusion and all the dropped Jersey jaws. (Pauly: "V-Day? What the hell is that?" Angelina: "Valentine's Day? It's not Valentine's Day.") 
After explaining that it's his special day, Vin kicked things off with a keto breakfast, sans bagels and booze, while demanding that everyone take photos of him throughout the day's festivities while working their way up to the fun.
Angelina's survival tactic consisted of sneaking vodka in her water bottle, while Nikki snuck snacks. JWOWW called it "the worst day ever," and Deena lamented her alternative plans of hitting up a local cat café: "Let's get this party started. What's the opposite of a party?" ("Hell." -Jenni)
Vinny's version of fun is clearly different -- and it definitely didn't help matters that everyone was already somewhat annoyed with the keto king guido over his bossy ways at the Brazilian steakhouse the night before. (DON'T EAT THE CARBS!)
How will the gang fare post-Vin Day? Find out on the season finale next Thursday at 8/7c!