Kendrick Lamar Breaks Down 8 'To Pimp A Butterfly' Tracks
Get inside the mind of K. Dot as he explains the meaning behind eight key tracks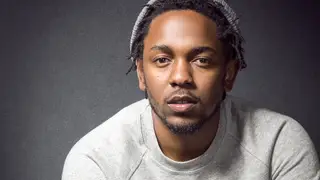 Kendrick Lamar prefers to let his music speak for itself, so when the Black Hippy MC dropped his second major label album, To Pimp a Butterfly, on March 16, he stayed quiet.
There was no press run or excessive amount of tweets. Instead, Lamar allowed fans to digest the album and formulate their own opinions. No doubt, TPAB is a deep and layered musical conversation, where Kendrick tries to come to terms with his celebrity.
After weeks of silence, Kendrick sat with MTV News on Mar. 31 at the W New York – Downtown to break down eight tracks from his 16-track masterpiece. But don't take our word for it, just let K. Dot tell it.
"This is one of my favorite records off the joint. First off, the lyrics is me going back to the feeling of what I wanted to do when I got signed. These are actually real thoughts... The overall theme of the record, why I love it so much is because it talks about something we weren't taught in school when we get this money... So, you mean to tell me the moment I become successful and I get this money and I don't know how to manage my money that you're gonna throw me back in jail for taxes?"
"I've been called many things growing up. In the state of just being a Black man, I've been called many things. From my ancestors, they've been called many things. But it's taking that negativity and being proud of it and making it to your own. Saying I am a king no matter what you call me."
"I've pulled that song, not only from previous experiences, I think my whole life. I think everything is drawn out of that, even situations from good kid, m.A.A.d. City. Nothing was as vulnerable as that record. So it's even pulling from those experiences of coming up in Compton."
"When I got to Africa and saw other people's problems, their struggle was 10 times harder and was raised crazier than what I was. Going out there really inspired — I wrote a lot of records off the album just by visiting South Africa. That was the moment I knew, OK, I could either pimp this situation or fall victim to it. That was a turning point."
"A few people think it's just talk and it's just rap. No, these are my experiences. When I say, 'Gang banging made me kill a n—a blacker than me,' this is my life that I'm talking about. I'm not saying, 'you,' you might not even be from the streets... I'm not speaking to the community, I'm not speaking of the community. I am the community."
"How Much a Dollar Cost?"
"It's a true story… These are moments in my life deeper than just handing somebody a dollar. These are actually moments of integrity, actually being able to talk to somebody. Me talking to him was simply a thank you from God. And I felt God speaking through him to get at me."
"To be 100% real with you, I see things as scenes in movies when I write. So that becoming an actual play and skit on the album is like second nature to me. I knew a lot people would be like, 'Oh, what is he doin'? Why is it like this?' But it plays a part going into 'Mortal Man,' the way I hear it."
"We're so confined with hatred and want to point out people's flaws that we don't see the big picture in what they're doing. And it's been done with leaders way before my time. They did it to Jesus Christ, the Lord and Savior, feel me? So who am I? I'm just a man, that's why we call it 'Mortal Man.'"