Bop Shop: Songs From BTS, Lakeyah, Aly & AJ, And More
Butter. Broken hearts. Bops.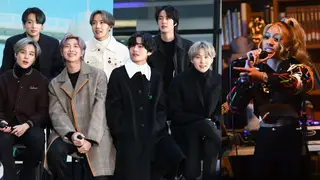 The search for the ever-elusive "bop" is difficult. Playlists and streaming-service recommendations can only do so much. They often leave a lingering question: Are these songs really good, or are they just new?
Enter Bop Shop, a hand-picked selection of songs from the MTV News team. This weekly collection doesn't discriminate by genre and can include anything — it's a snapshot of what's on our minds and what sounds good. We'll keep it fresh with the latest music, but expect a few oldies (but goodies) every once in a while, too. Get ready: The Bop Shop is now open for business.
It's comeback season! Ultimate boy band BTS is back with another Song of the Summer contender with the upbeat, retro, free-flowing "Butter." Marking a true evolution from the "Dynamite" era, BTS maintain their unique musicality and artistry while also pushing themselves to new heights both sonically and visually (hello, electric blue hair!). Accompanied by an equally brightly colored, vintage-toned music video, the group's always flawless choreography is, dare I say, "smooth like butter," and truly displays the members' teamwork and synchronicity. BTS tend to give their fans the songs they feel they need in the moment. Coming off the heels of "Life Goes On," "Butter" is the perfect gift to ARMYs who are entering hopefully a much better, lighter, fully vaccinated 2021. —Sarina Bhutani
Lakeyah ft. Gucci Mane: "Poppin"
Milwaukee rapper Lakeyah's latest album is called In Due Time, and it fits 12 charismatic tracks into a breezy 29 minutes. In other words, not a moment is wasted. On "Poppin," a propulsive and addictive cut featuring Gucci Mane, she flexes again and again, packing so many gems ("Bad bitches in his comments, I'm the trending topic") into a 2:34 runtime that you'll have to listen on repeat. With bars this good, you'll make time. —Patrick Hosken
Vincint: "All Over Again"
Following an electric Song of the Summer contender with a wistful pop ballad isn't easy, but Vincint makes it look that way. On "All Over Again," the sultry-voiced singer-songwriter turns inward for answers about a failed relationship. It doesn't matter that he and his ex "tried too hard to be happy"; given the chance, Vincint would fall back into his arms and "do it all over again." Against a pulsing dance-pop beat, the weight of that realization just hits different. —Sam Manzella
Few things in life feel as all-consuming and uninhibited as new love and tried-and-true love. Mereba's "Rider" is a steel-drum dream, whimsical but grounded by the truth in her velvety vocals. "World feels like a war / Tell me what living's for," the song begins. "Rider" asks and answers a question rooted deeply within us: If everything in this life is temporary, what is the point of it all? The answer: "Baby, it's gotta be love." The song beckons us to see for ourselves. —Virginia Lowman
Aly & AJ: "Lucky to Get Him"
Aly & AJ's earnestly whimsical album A Touch of the Beat… drowns itself in the naive allure of escape: finding your way out from a mad world, from a painful relationship, to pretty places, to your own paradise. Yet halfway in, "Lucky to Get Him" is a crux of the album's storytelling, the moment to take stock, not just of where you're going, but what you give up in the process. It's a calming, glowing reminder that time is truly precious; while escape is always tempting, every choice we make to run, or to stay, has lasting effects. "Don't be foolish," the song softly warns. "One second can turn into a lifetime." —Terron Moore
Japanese Breakfast: "Savage Good Boy"
There's something immediately unnerving about the strained, animatronic pitch in which Japanese Breakfast renders the opening line of "Savage Good Boy," the latest off her forthcoming album Jubilee. The singer wrote this song after seeing headlines about billionaires buying bunkers, imagining a scenario in which an ultra-wealthy dude attempts to lure a young woman to live off freeze-dried food in his subterranean hovel. The rest of the song is peppy, up-tempo alternative, but as she sings "I want to be your man" in chipmunk, it sounds like some shrunken masculinity with its balls caught in a vice grip. Michael Imperioli co-stars in the music video. —Coco Romack
Rebecca Black: "Worth It for the Feeling"
On this defiant, sensual cut, Rebecca Black insists on following her intuition no matter where it leads her. The viral "Friday" singer-turned-queer hyperpop artist is self-aware enough to know that the person she sings about isn't good for her. But when it comes to lust, sometimes repeating history "is worth it for the feeling." Agree or disagree? Hit play on the song's sultry, casino-set visuals to place your bet. —Sam Manzella
Bleachers: "Stop Making This Hurt"
Jack is back, even though he never really goes away. Known more for being a super-producer than a solo artist, Antonoff still uses his grandiose and reverby project Bleachers as a place for his most '80s sonic impulses. On his latest (which does not feature Bruce Springsteen this time around), he utilizes his patented wiggly, synthesized sound to nurse the wounded feelings present in the titular plea: "Stop Making This Hurt." The new Bleachers album is naturally called Take the Sadness Out of Saturday Night, and it's out July 30 — the perfect time for a windows-down, sun-soaked drive to a highway diner off Route 17. —Patrick Hosken
Sharon Van Etten & Angel Olsen: "Like I Used To"
What happens when two of the best songwriting voices merge into one? With Sharon Van Etten's earthy tones grounding the more skyward lilt of Angel Olsen, "Like I Used To" rings out like a sunset across a horizon — dusty, glowing, awe-inspiring. —Patrick Hosken