Offset Reveals Why He Isn't Planning His Wedding With Cardi B Yet
'We ain't planning it right now'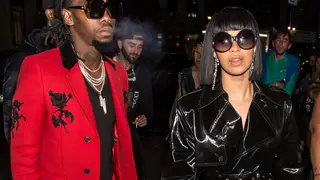 There are so many questions about Offset and Cardi B's wedding plans. Will Quavo or Takeoff be the best man? Is it socially acceptable to have your group mates ad-lib your vows? Will "Bad and Boujee" or "Bodak Yellow" be the first dance?
None of these questions are answered in the new Migos Rolling Stone cover story, but Offset did describe why he isn't planning his wedding to Cardi B just yet.
"We ain't, we ain't planning it right now," said Offset. "We chilling. We don't got time for that right now."
When asked about the alleged cheating scandal during the interview, Offset responded how you would expect a rapper like Offset to respond.
"It's my real life," said the "Bad and Boujee" rapper. "It ain't no gig. It ain't no fucking game, you know what I'm saying? It ain't no game. It's my life."
"She is real solid," said Offset. "Came from where I came from, did what I did. She's herself, man. I seen her develop from the trenches all the way up, and I like how she did it. I respect her grind as a woman. She came to the game with some gangsta shit. I like that. I fuck with her. That's my baby."
Read the rest of the Atlanta trio's cover story here.