Justin Timberlake Honored A Special Musician During His Super Bowl Halftime Performance
FutureSex/SuperBowlSounds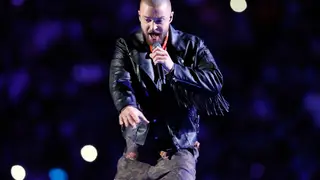 NSYNC and Janet Jackson didn't appear during Justin Timberlake's Super Bowl LII halftime takeover, but the Purple One sure did. During the latter half of Timberlake's performance, he sang a cover of the Prince's "I Would Die 4 U" as a projection of the singer was displayed behind him.
Rumors of a Prince hologram appearing during Justin's set circulated earlier this weekend. While the singer wasn't technically a hologram, his image hung over the proceedings. Prince was infamously against virtual reality. In a 1998 interview with Guitar World, he revealed his opinion on the burgeoning technology.
"That's the most demonic thing imaginable," said Prince. "Everything is as it is, and it should be. If I was meant to jam with Duke Ellington, we would have lived in the same age. That whole virtual reality thing... it really is demonic. And I am not a demon."
Jukebox Justin went through a career worth of hits during halftime. He started with "Filthy" off Man of the Woods before diving deep into classics like "SexyBack," "Cry Me A River," and "Suit & Tie."
While Janet Jackson didn't appear with Justin Timberlake during his performance, her fans did spend the day honoring her career with #JanetJacksonAppreciationDay.
Timberlake's Man of the Woods is now available.