Logic Gets A Possibly Regrettable Tattoo In Adventurous New Video
'Overnight' takes him to Tokyo, Maui, and a tattoo parlor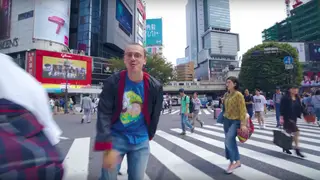 As far as regrettable tattoos go, it seems like so many of them are the result of naïve English-speaking people deciding to get some foreign word or phrase inked on their bodies. After all, you have to really trust that whoever's telling you the meaning of said word or phrase actually knows what they're talking about and doesn't want you to look like a complete fool.
Well, it appears Logic has that total trust, because in his new video for "Overnight," he gets a fresh tattoo with Japanese characters. It all happens during a whirlwind trip to Tokyo, where he gleefully dances in the streets while wearing a Rick and Morty tee. Elsewhere in the colorful, jet-setting clip, the rapper flies to Maui, where he reclines in a hammock and jumps into a pool with his clothes on. All the while, he dismisses the idea that his success happened overnight and puts his haters firmly in their place: "Tell me, is it really so hard, really so hard, to stop acting like a bitch? / I treated everybody with respect and now I'm rich."
"Overnight" comes less than a week after Logic dropped off the new single "44 More": his first new piece of music since his 2017 album, Everybody. Looks like he's really on a roll these days, so keep those eyes peeled for Logic's next move.