'Jersey Shore Family Vacation' Poll: Which Roomie Has Changed The Most?
At least the duck phone is still the same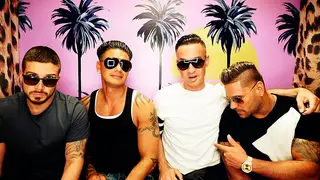 A lot can change in five years -- just ask Jersey Shore Family Vacation's Deena, Pauly D, JWOWW, Vinny, Ronnie, Snooki and The Situation. It's only been half a decade since we last saw the fervent fist-pumpers in their natural habitat, but it's almost as if some of them are entirely new people.
Snooki may have swapped pickles for parenthood and boardwalk antics for breast implants, but she still knows how to fall down party, as evidenced in this week's series premiere. Her girl JWOWW, on the other hand -- who is also married with two children -- is rocking a new 'do and prescription spectacles.
The Situation may be facing legal issues, but he has two years of sobriety under his belt and a serious longterm girlfriend. Pauly D is living large, DJing all over the world. As for the MVP middle man, Vinny is less into looking for someone to smush and more about eating ketogenic.
Though recently married, Deena maintains she's "still a meatball," and father-to-be Ronnie is about to exchange the traditional GTL for some GTB (Gym, Tan, Baby) action -- and it's not with Sam.
So, with all that in mind, which cast member do you think has changed the most? Vote up or down, below, then catch new episodes of Jersey Shore Family Vacation Jerzdays Thursdays at 8/7c.