Opposites Attract: Are Jeremiah And Kortni A Match Made In 'Floribama Shore' Heaven?
Hey, dad jokes are hot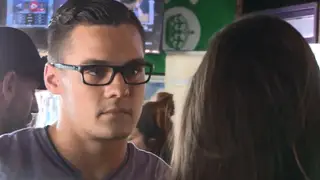 Whether it's Jeremiah's dad jokes or his larger-than-life pectorals that has her all hot and bothered, Kortni was quick to confess an attraction to the Jacksonville native -- even taking it a step further. "I would totally have Jeremiah's kids," she told Gus.
While Jeremiah currently describes their relationship as strictly "platonic," there was that whole dinner date debacle where he admitted that Kort is "not that hard to look at," bed-wedding tendencies aside.
The housemates have definitely taken notice of the duo's close connection, especially seeing as Jeremiah  is fiercely protective of Kortni, jumping to her defense at every opportunity -- be it with Logan, Kirk or Candace. (Including in front of his date du jour, Kelly, who had to battle both Kortni's drama and Codi's snoring for a little alone time with the Floribama father figure.)
"I feel like Jeremiah has this weird crush on Kortni that he doesn't want anyone to know about," Kirk noted.
Even Gus, Jeremiah's brother from another mother, took note of their undeniable chemistry. "They're both single at this point, [and they] might as well have some fun," he said. "From my perspective looking in, I do see that Jeremiah looks at Kortni a certain way. Really, Jeremiah and Kortni could be a good balance for each other. Opposites do attract."
While time will tell if Jeremiah is into exploring a future with his giraffe onesie-wearing roommate, the PCB native is into it.
"I'm kind of taken aback by the feelings I have for Jeremiah," she said. "While me and Logan were together, I would have never thought of Jeremiah like that. I really did think of him as a brother. But now that I've talked about it and it's out there, maybe something will happen."
Do you think something will happen? Could these two be a match, or are they just way too different? Sound off with your thoughts, then find out how Jeremiah feels next Monday at 10/9c.