From Phoebe Bridgers To Megan Thee Stallion, Get To Know The Grammys Best New Artist Nominees
2021 finds eight artists in a crowded, talented field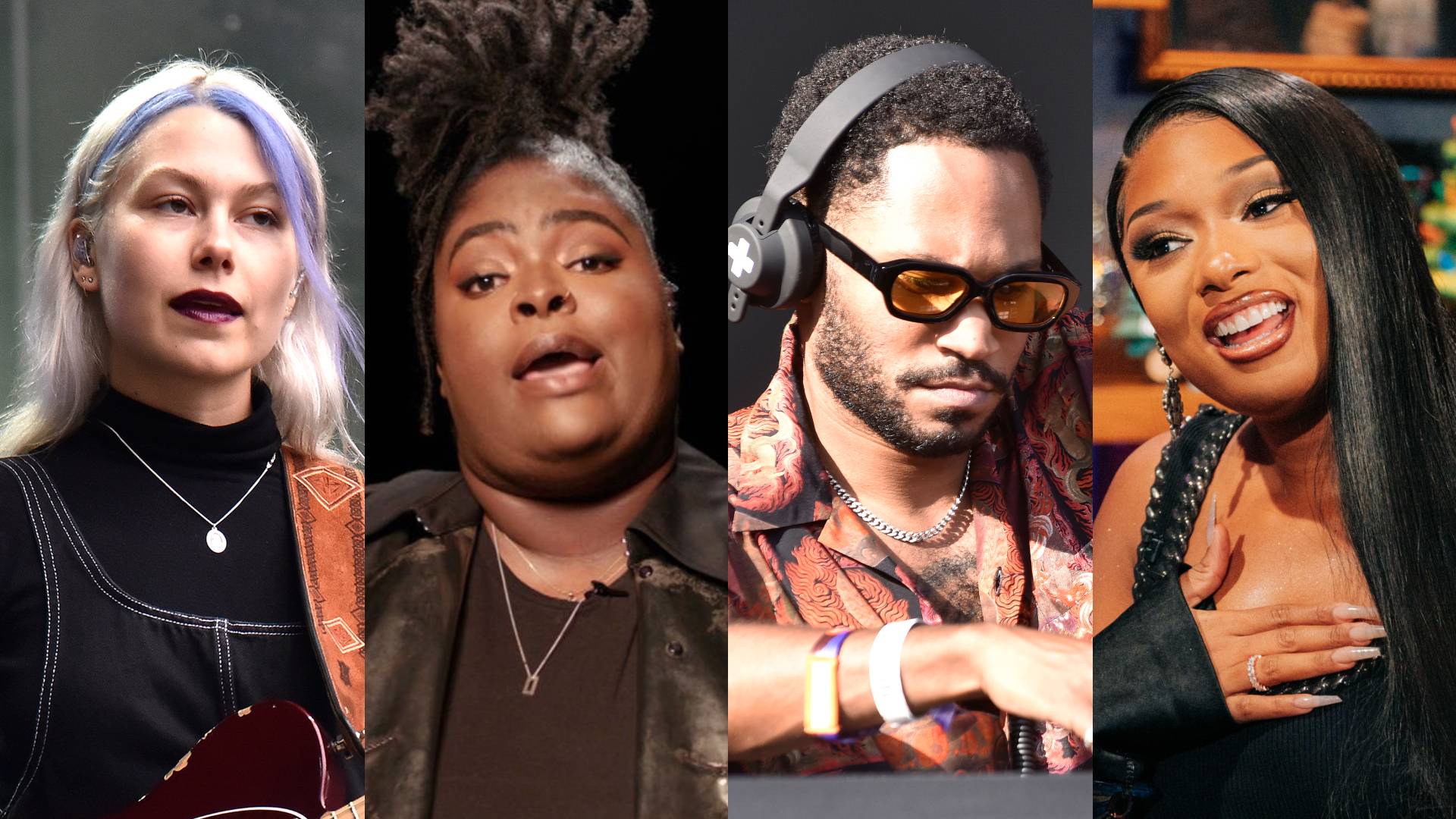 Last year, the Grammys were all about Billie Eilish. The young artist walked away with wins in the so-called Big Four categories (Record of the Year, Album of the Year, Song of the Year, Best New Artist), and her Best New Artist acceptance speech was marked by a shout-out specifically to the fans. "They're the only reason that any of us are here at all," she said.
As a result, this year's crop of nominees includes eight talented artists who all feel like fan favorites. Ingrid Andress, Phoebe Bridgers, Chika, Noah Cyrus, D Smoke, Doja Cat, Kaytranada, and Megan Thee Stallion are all up for Best New Artist, but only one can succeed Eilish as the reigning champ. Ahead of the show, here's what you need to know about each artist — and where to start with their music. Who will win? Tune in on Sunday night, March 14, to find out.
Rising country-pop star Ingrid Andress has long captivated with her a cappella prowess, appearing on NBC's The Sing-Off in different groups and eventually graduating from Berklee College of Music. She's since put that training to good use: On teary, twangy ballad "More Hearts Than Mine," she displays the knack for melodic storytelling she's honed over the past few years, elements that make her 2020 debut, Lady Like, so endearing. For a canny Best New Artist connection, spin her moody piano cover of "Don't Start Now" by 2019 winner Dua Lipa.
Punisher, the devastating sophomore LP from Phoebe Bridgers, was one of the biggest critical hits of 2020; it also felt like the 26-year-old singer-songwriting making good on a streak of escalating creativity. After her soft, sad 2017 debut, she linked up with Julien Baker and Lucy Dacus to form Boygenius, then paired with Conor Oberst for 2019's Better Oblivion Community Center. The tales on Punisher, which finds Bridgers up for three other Grammys, range from apocalyptic to intimate and sweet, and it's all part of what she told MTV News could be called "trauma representation." "There's like a weight lifted because it's just someone that you look up laying all this out that you relate to."
What sets Alabama rapper Chika apart from her peers isn't so much her progressive politics, nor her exceptional flow, nor her propensity to speak truth to power — whether that's calling out Kanye West for supporting of Donald Trump, spreading body positivity with a viral challenge, or taking an anti-gun violence stance. In fact, it's all of the above. With 2020's Industry Games, she rightfully flexed about all her buzz ("I met Hov last week, that shit was hella cool," she raps on "Songs About You," "Diddy introduced me as 'best of the new school.'") and a song like "U Should" showcases how her latest ventures fall distinctly in the "vibe" category. As she told us last year, "As long as you're proud of what you're making of yourself and you don't just give up on it because of a hard fight and it's tedious work, you should be fine."
Over the past few years, Noah Cyrus has developed an artistic identity distinctly different from the easy "sister of Miley" descriptors that characterized her start. But how did she do it? Constant evolution. While she dips into her country roots on 2020's The End of Everything standouts "I Got So High That I Saw Jesus" and "July," Cyrus spent time making big pop with MØ and skeletal grandeur with Labrinth before leaning into her own songwriter-y side. Her future looks rustic and promising: Last month's "Dear August" is built around circular acoustic strumming and, naturally, Cyrus's bombastic voice.
After winning Netflix's hip-hop competition show Rhythm + Flow in 2019, Inglewood's D Smoke kept charging forward. The lifelong musician and former educator born Daniel Anthony Farris is up for both Best New Artist and Best Rap Album at the Grammys, and collaborations with Snoop Dogg, Ari Lennox, and SiR have sustained his momentum, along with last year's expansive and jazzy Black Habits debut album. But one of the best and most heartfelt summations of his rise and subsequent popularity comes, of course, from a YouTube comment on "Gaspar Yanga" that reads: "This man was my high school Spanish teacher ... I'm happy [you're] following your dreams Mr. F."
What didn't Doja Cat do last year? After her summery disco jam "Say So" took off on TikTok, it hit No. 1 and got a Nicki Minaj remix, catapulting Doja to plenty of awards recognition, including a VMA win for Push Best New Artist. Doja's star power comes thanks to a discography boasting key team-ups with Saweetie, City Girls, and Ariana Grande, though plenty must be said about her ability to get eyeballs online as well. With additional nominations for Record of the Year and Best Pop Solo Performance, it might be hard to believe it was only a few years ago she was mooing in a cow suit for millions of views. Her Grammys attire will likely be a little more... elevated.
Louis Kevin Celestin has only released two studio albums under his Kaytranada moniker, but the Montreal electronic artist can boast about two dozens mixtapes, collaborative projects, and EPs released over the past decade, too. As such, Kay is the archetype for the age-old "Best New Artist?" question that tends to pop up in this category (see also: Bon Iver, Lizzo, etc.). But as he recently put it on Twitter about his 15 years behind the boards: "[I] have an entire lifetime to make music so that's pretty new if you do the math." It's all a testament to his work ethic and drive; throughout both 2016's 99.9% and 2019's Bubba, his exploratory, funky, and effervescent beats are heightened by vocal contributions from Tinashe, Kali Uchis, Anderson .Paak, and more. Bubba is up for Best Dance/Electronic Album, and the energizing, hypnotic "10%" scored a nom for Best Dance Recording.
In so many ways, 2020 belonged to Megan Thee Stallion. The year saw her break through any remaining separations keeping her out of the top tier of pop stars and become a household name, netting her two No. 1 hits (with fellow icons Beyoncé and Cardi B) and a slew of Grammy noms (including Record of the Year, Best Rap Song, and Best Rap Performance). But Meg also became an outspoken voice for protecting Black women after her own assault and dropped her long-awaited debut album, Good News. What's next for 2021? Only Meg knows, but so far, she's already off to a tremendous start.