Bop Shop: Songs From Dijon, Bibi, Camp Cope, Taylor Swift, And More
The 10-minute 'All Too Well,' a soulful exultation from Michelle, and so much more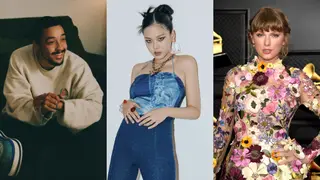 The search for the ever-elusive "bop" is difficult. Playlists and streaming-service recommendations can only do so much. They often leave a lingering question: Are these songs really good, or are they just new?
Enter Bop Shop, a hand-picked selection of songs from the MTV News team. This weekly collection doesn't discriminate by genre and can include anything — it's a snapshot of what's on our minds and what sounds good. We'll keep it fresh with the latest music, but expect a few oldies (but goodies) every once in a while, too. Get ready: The Bop Shop is now open for business.
Taylor Swift: "All Too Well (10 Minute Version)"
The song that claimed the season of fall, the song that romanticized the light in the refrigerator, the song that has left us feeling OK but not fine at all is back and longer than ever. Coming in at a painstaking 10 minutes and, you guessed it, 13 seconds, the newly released Taylor's Version of "All Too Well" is the result of Swifties begging Taylor Swift to crush their hearts even more by unearthing this hidden gem from the vault. And she did not disappoint.
Beginning with a chilling spin on the original melody, the guitar strings cut through that familiar sound that we know, dare I say, all too well, and sets up what will become a carefully crafted roller coaster of emotional heartbreak and meticulous storytelling. Swift pleads her vivid lyrics with a deeper voice, controlling inflection, and jarring details — leaving nothing to the imagination of what a 21-year-old Taylor was going through as she wrote these words in her journal over a decade ago.
There are a ton of new lyrics to unpack in this version of one of Swift's most acclaimed songs, but the most hurtful one of all might just be, "You said if we had been closer in age, maybe it would have been fine, and that made me want to die." That's something we would expect from the song that also gave us, "You call me up again just to break me like a promise / So casually cruel in the name of being honest." —Alissa Godwin
Nilüfer Yanya: "Stabilise"
London's Nilüfer Yanya made one of the best albums of the 2019 by channeling anxieties about the modern world through a fictional futurescape — and crafting some of the most interesting guitar work to pair with it. She returned this week with "Stabilise," a somehow even more frantic entry, though one that's also a whole lot of fun. Echoes of The Drums and Radiohead's beloved "Weird Fishes/Arpeggi" abound, but Yanya's core sound — a whisper-like voice and relentless spindly plucks — promises to make Painless, her follow-up LP, likewise a classic. —Patrick Hosken
Mel 4Ever: "Jennifer's Bodice"
"You fucked up Jennifer's bodice," a demonic Mel 4Ever snarls in the chorus of this horror-infused hyperpop track off Tranic Attack, her debut EP. Part Promising Young Woman and part Jennifer's Body, the visceral cut includes a verse about the Brooklyn-based singer-songwriter devouring and shitting out her abuser. How's that for a revenge fantasy? —Sam Manzella
Twice can make K-pop stans care about science. As the second single off their new album Formula of Love: O+T=<3, "Scientist" is a cheerful, spirited track with a retro vibe and campy feel. "Scientist" is accompanied by a bright and colorful music video filled with test tubes and vials, chalkboards covered in equations, and, as always, multiple incredible dance breaks. The song builds its way up to a fun and catchy chorus, with lyrics like "Love ain't a science / Don't need no license," and "Don't try to be a genius / Why so serious?" that I can already picture fans singing along to. As a group, Twice is consistently creating music to uplift and entertain their fans. This time around, the superstar girl group encourages their listeners to take it easy and follow their hearts, which is a message we could all use right now. —Sarina Bhutani
Smooth as silk but plagued by self-doubt, Bibi's "The Weekend" is an ode for those suffering through unwelcome romantic head games. But performing it live at 88rising's recent Head in the Clouds festival, Bibi transformed it into something with real power. Just look at the crowd lose themselves in it. —Patrick Hosken
Mitski: "The Only Heartbreaker"
The second single off Mitski's upcoming album Laurel Hell swaps the singer's sometimes reserved indie-rock musings on the pains of love for a retro synth-pop sound. And yet her lyrics, co-written with Semisonic's Dan Wilson, remain as self-aware as ever, as she takes the entirety of the blame for being the "bad guy," "the only heartbreaker," in a torched relationship. She twirls in the ashes after setting the romance ablaze. —Coco Romack
Avril Lavigne is back! Fresh off her nostalgic and banging collab with Willow, the 2000s punk-pop princess has released her first single from fellow early aughts pioneer Travis Barker's label DTA Records. "Bite Me" marks a return to form for an artist who's experimented with different genres and producers throughout her career; all it takes is her opening war cry to remember why she will always be a trailblazer for a generation that grew up on Hot Topic, Myspace, and prep-school ties as a fashion statement. Barker's signature, ear-blasting drums provide the perfect backdrop for the song's sharp lyrics. "You should've known better to fuck with somebody like me / Forever and ever you're gonna wish I was your wifey," she bellows, reminding us all why no one does Avril quite like Avril. —Carson Mlnarik
There's something infectious about Los Angeles vibe master Dijon's excellent debut album Absolutely. From its very title, the collection resounds with affirmations. On longing ode "The Dress," the singer's voice recedes delicately until the almighty chorus, where it thickens up to deliver a series of tender pleas: "We should go out and dance like we used to dance / We should go out and hold hands." Hard to say no to that. —Patrick Hosken
It's not often you hear a K-pop song that immediately recalls '80s rock, but when it comes to B.I, you learn to simply expect the unexpected. Vastly different from the soloist's sentimental "Illa Illa," new single "Cosmos" tells a much happier story. Accompanied by a bright and airy music video that travels through space and time, "Cosmos'' unapologetically describes an out-of-this-world love, juxtaposing sweet, romantic lyrics with a high-energy melody filled with strong drum beats and retro electric guitar sounds. (I know it's hard to imagine jumping around to lyrics like "Please live and breathe in my imagination / Like the intangible depth of the unknown galaxies / So I can love you forever," but trust me: B.I makes it more than possible.) This effervescent title track officially introduces fans to B.I's new world and marks the start of a fun, interesting, and spirited comeback. —Sarina Bhutani
Beloved Aussie "power emo" trio Camp Cope have returned with a tune that sounds as blue as its title. Singer Georgia Maq's voice mines the depths of depression over plunging guitar chords, but there's a lovable buoyancy keeping "Blue" afloat. It's more akin to slowly reaching a single arm up to the sky — you're still a ways from carefree, but you've taken that important first step toward liberation. —Patrick Hosken
Dave Gahan and Soulsavers: "Always on My Mind"
"Always on My Mind" was first sung by Gwen McRae as "You Were Always on My Mind" but later made popular by Elvis Presley in 1972. Presley recorded the track a few weeks after separating from his wife Priscilla, and it's a common misconception that the song was inspired by his marital strife. Longtime Depeche Mode frontman Dave Gahan seems to nod to the organic life of the music in his take with Soulsavers — out today on the cover album Imposter — which sounds like it's been nearly hollowed out. Gahan's full-throated vocals, sparse piano keys, and choral backing are the only instruments here, reverberating as if through in an empty wedding chapel. —Coco Romack
New York collective Michelle (who style their name in all caps) can be hard to sum up, but "Mess U Made" is the perfect introduction to both their sprawling talent — four vocalists who join together for the big moments, like a pop group — and their impeccable sensibility. The tune itself, delicate R&B-pop, is beautiful, and in this live performance recorded in September, Michelle's singers make it a little edgy, shouting a cuss for effect and releasing a gleeful scream to punctuate the music's seeping emotion. You might yell, too. —Patrick Hosken