Jessie Reyez Feels Conflicted About How Intensely People Resonate With 'Gatekeeper'
She wants the song to expose industry sexism because 'it's about goddamn time'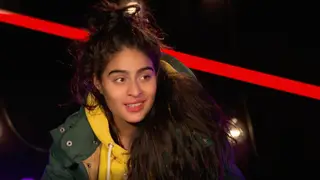 Jessie Reyez is plotting her debut album for release this year, which is great news for fans of her emotionally raw lyrics, heart-on-sleeve ballads, and R&B coolness. The Toronto singer — who's MTV's Push: Artist to Watch for the month of March — served up an appetizer last year with the EP Kiddo, which includes "Gatekeeper," a standout song that recounts Reyez's real-life incident of sexual harassment involving a powerful producer.
Though it was released last year, before the #MeToo movement, the song has become newly poignant in the past few months as more and more women have spoken out against sexual harassment. According to Reyez, though, the timing was a complete coincidence that she never saw coming.
"It wasn't premeditated, there wasn't a blueprint," she told MTV News correspondent Meredith Graves. "It's crazy. There's two sides of the coin, and it's dope that people resonated with it, but it's also shitty that people resonated with it, you know? It's shitty that it needs to be so much of a conversation now. It shouldn't be. It should already be established that that's not OK."
Gloomy and bass-heavy, "Gatekeeper" tackles the tired reality of sexism and misogyny in the music industry by describing real conversations that men in power have with young women. Reyez sings, "We are the gatekeepers / Spread your legs, open up / You could be famous / You know we're holding the dreams that you're chasing / You know you're supposed to get drunk and get naked." The 26-year-old wanted the song to get people talking, especially the people who are abusing power themselves.
"All I can hope for," she said, "is positivity and that more people speak up and that there are more males talking about it as well, considering the fact that a lot of these executive positions are held by males."
She continued, "A man's never going to understand our struggle. Never. Because they don't have a vagina; they don't know what it feels like to walk around feeling like you need to fight for your place in the room. They don't know that. So the more that we talk about it, the more that these conversations happen, hopefully we'll be able to dead that and find that understanding, that middle ground. I think that's the only thing that's missing, is that conversation and the empathy."
Thankfully, more and more of those conversations are now happening, and Reyez has only one thing to say about it: "It's about goddamn time."
See Reyez's full acoustic performance of "Gatekeeper" below.