Selena And Cardi B Lord Over A Lava-Filled Underworld In DJ Snake's 'Taki Taki' Video
Ozuna also joins the post-apocalyptic party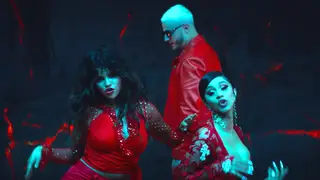 No one really knows what "Taki Taki" means — Cardi B claims it's something Ozuna made up — but while we continue pondering its definition, DJ Snake has generously distracted us with the collab's fantastical new video.
Directed by Colin Tilley, the vid finds each of the artists — Snake, Ozuna, Cardi, and Selena Gomez — singing their portion of the reggaeton banger in a different post-apocalyptic world. The guys are seen surrounded by women in a stormy, lava-filled land, while Cardi strikes power poses in a red-lit realm. Gomez, meanwhile, brightens things up by singing her English and Spanish verses in a serene forest. Only Sel could pull off a monochromatic green outfit while surrounded by trees.
"Taki Taki" previews DJ Snake's sophomore album, due out later this year. The producer recently shared a major milestone on Instagram, announcing that he's one of only five artists in history to hit one billion streams on Spotify twice; the Justin Bieber-featuring "Let Me Love You" and his Major Lazer collab "Lean On" have both surpassed the billion stream mark. Stay tuned to see if "Taki Taki" makes the cut as well.