Miley Cyrus's 'Plastic Hearts' Has A Song For Every Mood
From icy dance-pop to acoustic balladry, Miley's seventh album spans an ocean of emotion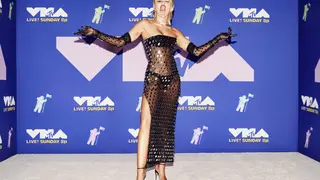 Miley Cyrus's long awaited seventh studio album, Plastic Hearts, dropped on Friday (November 27) and sees Cyrus embracing a throwback rock sound, reinventing herself yet again and unapologetically reflecting on her journey from Disney child star to mature artist exploring herself. She spent her immediate post-Disney career trying to shed the clean-cut image that comes with child stardom, and since then, Cyrus has tried embracing many sounds, from pop to country to psychedelic, in order to break away. Now, she seems to have found a bold, fitting path in rock.
The track "Gimme What I Want" has Cyrus drawing deeply from Nine Inch Nails and her penchant for covers of '80s tunes, while "Prisoner" melds a Runaways-style glam-rock vibe and Dua Lipa's dance-pop sound with bits of Olivia Newton John's "Physical." Cyrus gets personal on "Never Be Me" and "Golden G String," in which she discusses her flaws and her evolution as depicted by the media. All this adds up to a robust new sound to work with.
She originally planned to release a series of EPs, starting with 2019's She Is Coming, but the 2018 Malibu wildfires — in which she lost her home — changed those plans. Though most of the old material survived the natural disaster, the event altered her perspective on her life. That renewal is there on Plastic Hearts, which also has seen videos allowing her to transform into rock and roll vampire and even eat a spider. Along with collaborations with Mark Ronson, '80s icon Billy Idol, and rock forebear Joan Jett, Cyrus treats fans to her personal rebirth and a look into her true musical self.
Below, we break down this rock-fueled album track by track and mood by mood.
Listen to it when you're feeling: rebellious
Key lyric: "Thought it'd be you until I die / But then I let it go"
Serving as a more savage version of "7 Things" and a nod to early aughts alt-pop, this kickoff track is an upbeat, rebel punk song that seemingly dives right into Cyrus's divorce from Liam Hemsworth as well as her image in the media. Play this when you want to thrash around your childhood bedroom and set your own rules.
Listen to it when you're feeling: thoughtful
Key lyric: "I just wanna feel something / But I keep feeling nothing all night long"
Slyly referencing Rolling Stones's "Sympathy for the Devil" in its intro and Bruno Mars's "Locked Out of Heaven" in its outro, Cyrus sings of wanting to feel deeply connected to someone or something, but only being able to for a short time. This song will have you thinking about your last IRL hookup or virtual date.
Listen to it when you're feeling: reflective
Key lyric: "I know that you're wrong for me / Gonna wish we never met on the day I leave"
On this vulnerable mid-tempo track, Cyrus reflects on a relationship that wasn't meant to be and learns to let go. Listen to this the next time you're stuck on that person you thought was your forever.
"Prisoner" (ft. Dua Lipa)
Listen to it when you're feeling: freewheeling
Key lyric: "Can't get you off my mind / Why can't you just let me go?"
A mashup of neo-disco samples and early '70s/'80s rock, Cyrus and Lipa sing of feeling trapped in their emotions and pair it with an equally retro and sensual video. This song will provide you with a dance-tinged escape from those 3 a.m. thoughts you're having during quarantine.
Listen to it when you're feeling: lustful
Key lyric: "I don't need a future, I don't need your past / I just need a lover"
Over '80s synths, Cyrus sings of giving a potential lover the choice to pursue a relationship and being OK if they turn her down. This song serves as a reminder that you can be alright on your own amid the flurry of Instagram engagement announcements.
"Night Crawling" (ft. Billy Idol)
Listen to it when you're feeling: sexy
Key lyric: "Sometimes I'm the best you've ever had / Sometimes I need your loving"
With throaty vocals and thoughts about light, violence, and silence from Idol, this track marries rebellion with sex. A rocker version of Teddy Pendergrass's "Turn Off the Lights," this song will have you thinking of your beau in the wee hours.
Listen to when you're feeling: free
Key lyric: "Lotta years went by with my hands tied up in your ropes / Forever and ever, no more"
Wielding her weathered vocal style and a disco-pop sound expertly, Cyrus channels Stevie Nicks and samples her hit "Edge of Seventeen" while singing this LGBTQ+ anthem of being a free spirit who embraces all that she is and doesn't live with expectations of forever. Whether you need a pick-me-up or want to dance in your room in the middle of the night, this song will provide the right soundtrack.
Listen to it when you're feeling: nostalgic
Key lyric: "And I don't miss you but I think of you and don't know why"
With a country feel and powerful vocals, Cyrus explores missing someone that you shouldn't and not being able to shake them. Listen when you still feel warmth while thinking of a past friendship or relationship and want to understand it.
Listen to it when you're feeling: angry
Key lyric: "I hope that it's enough to make you cry / Maybe that day you won't hate me"
After a near-fatal experience during a flight to the Glastonbury Festival and recent discussion about not wanting to join the 27 Club, Cyrus discusses how the media would shed positive light on her if she was to die after years of negativity. If you're feeling angry at the state of your life and being left on read during the pandemic, this song understands those feelings.
"Bad Karma" (ft. Joan Jett)
Listen to it when you're feeling: naughty
Key lyric: "You may think I'm ghosting, but the truth is I'm a liar"
Leaked online a year ago, this defiant song sees Cyrus and rock legend Joan Jett crooning about cheating and not caring about the consequences, with Cyrus noting that she'd "think about it later." Miley's got you covered the next time an ex pops up in your DMs.
Listen to it when you're feeling: emotional
Key lyric: "If you're looking for someone to be all that you need / That'll never be me"
With vibes of "It Ain't Me Babe" by Bob Dylan, this gutting power ballad sees Cyrus sing of not being who a partner would need her to be. This song is great for processing breakups and realizing that there is life afterwards.
Listen to it when you're feeling: powerful
Key lyric: "The old boys hold all the cards and they ain't playing gin"
This personal track inspired by the Trump era sees Cyrus doing two things: owning her persona over the years ("I was trying to own my power / Still I'm trying to work it out") and discussing how men can still act as the gatekeepers to the fate of women. If you wanna feel like a boss, here's your soundtrack.
"Edge of Midnight" ("Midnight Sky" remix ft. Stevie Nicks)
Listen to it when you're feeling: wistful
Key lyric: "Sings a song sounds like she's singing / Ooh, baby, ooh, said, ooh"
This remix to lead single "Midnight Sky" transports you to the past with its clear references to Stevie Nicks's 1972 hit "Edge of Seventeen" and even has Nicks singing the chorus, something we never knew that we needed. Bookmark this for whenever you need a song to dance to in between Zoom meetings.
"Heart of Glass" (Live from the iHeart Music Festival)
Listen to it when you're feeling: romantic
Key lyric: "In between what I find is pleasing and I'm feeling fine / Love is so confusing, there's no peace of mind"
A cover of the 1979 original by Blondie, Cyrus's 2020 cover garnered praise and was an introduction to her robust, rock-infused new sound. Importantly, it's also Debbie Harry-approved.
"Zombie" (Live from the NIVA Save Our Stages Festival)
Listen to it when you're feeling: sentimental
Key lyric: "It's the same old theme since 1976 / In your head, in your head, they're still fighting"
On this cover of the 1993 original by The Cranberries, Cyrus channels a powerful sound in line with its anti-violence message. Save this for the next time you need to be reminded that musical taste and Cyrus's vocal abilities transcend genre.