Bop Shop: Songs By Kim Petras, Kacey Musgraves, Jay B, And More
And Megan Thee Stallion goes tongue out on a remix of BTS's butteriest hit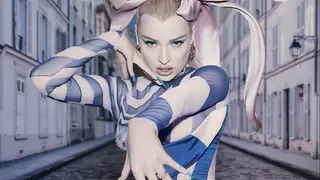 The search for the ever-elusive "bop" is difficult. Playlists and streaming-service recommendations can only do so much. They often leave a lingering question: Are these songs really good, or are they just new?
Enter Bop Shop, a hand-picked selection of songs from the MTV News team. This weekly collection doesn't discriminate by genre and can include anything — it's a snapshot of what's on our minds and what sounds good. We'll keep it fresh with the latest music, but expect a few oldies (but goodies) every once in a while, too. Get ready: The Bop Shop is now open for business.
Kim Petras: "Future Starts Now"
Kim Petras is back and better than ever. On "Future Starts Now," the German-born pop singer of "Heart to Break" fame leans into the genre's affinity for self-empowerment anthems. "You're more than just anybody / Don't give up, the future starts now," she proclaims over a triumphant electronic beat. The single doubles as the beginning of a new era for Petras, who recently signed with Republic Records, the powerhouse label behind pop icons like Ariana Grande and The Weeknd. It's safe to say her future looks pretty bright. —Sam Manzella
Mini Trees: "Cracks in the Pavement"
There's a delightful sway running through Lexi Vega's latest single as Mini Trees, the lo-fi project with high ambitions. She calls it "living room pop," a clever way of both wresting control of the oft-abused "bedroom" label and nodding to the party-ready groove that livens up the tune like a set of interior string lights. Vega has been a drummer for years; the rhythm of "Cracks in the Pavement" showcases her attention to a beat. But her songwriting, and the way she centers mood so directly, makes this one a favorite for the patio, and even the bedroom, not just the living room. —Patrick Hosken
BTS ft. Megan Thee Stallion: "Butter"
Of the things that could not have been predicted in 2021, hearing "ahhh" in a K-pop song tops the list. In a surprise collaboration between two of today's biggest artists, Megan Thee Stallion joins BTS on a remix of the massive hit single, "Butter." It's a true remix, with Megan's iconic verse arriving early in the song and her vocals incorporated throughout. However, the real highlight is the harmonized rap between the Houston rapper and rapline member Suga. BTS's music choices continue to prove that music is truly universal and cannot be defined by border, color, or language. May we all have a hot girl summer. —Sarina Bhutani
Alexander Nate: "Save This Dance for Me"
"Save This Dance for Me" is a dreamy, soulful track from Virginia-based R&B artist Alexander Nate. The singer's latest release is a nostalgic love story that pairs smooth vocals with gorgeous visuals. The video features a young couple locked in a sensual interpretive dance meant to symbolize the ups and downs of a relationship. It's a reminder to cherish every moment. "If it all fades away when we're older, and you save one memory," he sings. "Could you save this dance for me?" —Farah Zermane
Sunshine Boysclub: "Like a God"
Over a swaggering beat and throbbing brass line, Sam Martin finds the confidence in himself to continue on with "Like a God," the newest single from his pop outfit Sunshine Boysclub. He knows when to dial up the acoustic guitar and when to give in to the echoes, as he lyrically examines changes in life, the voices through which we speak to ourselves, and the ever-present opportunity we have to make our lives better. "Why don't you do it right now," he sings, drawing out the last word into an irresistible chorus. —Carson Mlnarik
Guy Lawrence, one-half of the brotherly electronic duo Disclosure, wrote that "In My Arms" came out of "wanting to revitalize a very fractured and uncertain dance music scene" in light of a seemingly never-ending pandemic. Six minutes of infinite drums, cowbell, vocal blips, and more waves than an oceanside dinner is a great place to start. Get lost in it. —Patrick Hosken
It's impossible not to smile when listening to Anees, especially his latest single "Drunk on Myself." The indie rapper, singer, and songwriter released an unapologetic self-love anthem that will have you searching deep within yourself to find the joy and love you've been looking for. Just under three minutes, it's a pithy lesson in grace (and rhyming) with a fun, colorful video filmed on the iconic Santa Monica Pier. "I wrote a love song to myself," Anees wrote on Instagram, "because self love comes first and it's not selfish to put u first." —Farah Zermane
Jay B ft. Jay Park: "B.T.W"
What's better than one international K-R&B star? Two international K-R&B stars! Keeping it in the H1ghr Music family, newly signed soloist Jay B is joined by label co-founder Jay Park on his sophomore single, "B.T.W." The artists' strong yet sultry vocals melt together over a heavy trap melody. Switching it up from Jay B's first music video (a live performance of single "Switch It Up"), the borderline sepia-toned visual brings Jay B back to his roots, displaying lively choreography, colorful party scenes, and crisp beauty shots. Released in tandem with debut EP Somo:Fume, "B.T.W" is a track representative of Jay B's new musical direction and encapsulates his ethos as a solo artist. —Sarina Bhutani
Here's the deal: R.E.M.'s 1996 album New Adventures in Hi-Fi is widely considered a late-era masterpiece, but I've never heard it that way. Even in an age of streaming-aided interminable album lengths, 65 minutes is simply too much; the bloat often obscures great melodies in overdone affectations. That's why this alternate version of "Leave" rules. By centering Michael Stipe's voice, stripping away the car-alarm guitar and drawn-out prologue, and cutting more than two minutes off the runtime, a real song emerges. It's wounded and dark, very moody, and highly replayable. The 25th anniversary edition of New Adventures, out October 29, promises more gems to unearth. I can't wait to (possibly) finally dust off the masterpiece lying in wait. —Patrick Hosken
South Korean artist Su Lee lets us into her loneliness — and her box, literally — with new single "Coward" from her EP Box Room Dreams, named after the small pad where she records, writes, and films. Over a dreamy pop guitar loop and with building conviction, Lu gets more vulnerable with each lyric, finally admitting, "I need your help now / But I'm scared that you'll push me away" in its layered chorus. Its charming visual takes the neurosis that plagues us all on desperate nights to comical proportions. —Carson Mlnarik
Kacey Musgraves: "Star-Crossed"
The opening title track off of Kacey Musgraves's upcoming album, Star-Crossed, is a far cry from "Biscuits" and "High Horse" off previous albums. "Star-Crossed" begins with a sparse Spanish guitar, with Kacey singing, "Let me set the scene / Two lovers ripped right at the seams / They woke up from the perfect dream / And then the darkness came." "Butterflies" this is not. The track flourishes and expands from there, adding a choir of vocals, more guitars, and an electronic backing that sounds like it was lifted from a sci-fi movie. Are we blasting across space or crash landing back to earth? Guess we'll have to wait until the rest of the album drops in September to find out. —Chris Rudolph