From BTS To Red Velvet, Here Are The 18 Best K-pop B-sides Of 2018
Justice for 'Paradise'!!!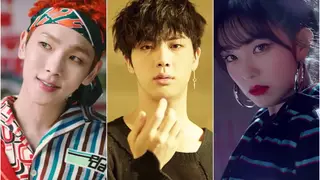 Time must move differently in K-pop. That's the only logical explanation for how BTS, some of the busiest and most famous Korean artists on the planet could put out two albums (Love Yourself: Tear and Love Yourself: Answer) — in addition to their third Japanese studio album, Face Yourself — two mixtapes (J-Hope's Hope World and RM's mono), release their first-ever English track with Steve Aoki ("Waste It On Me"), embark on a sold-out world tour, film multiple music videos, and drop a fire diss track and remix on Soundcloud all in the span of 12 months.
Or how NCT's Mark Lee, a 19-year-old Korean-Canadian with an effortless flow, could participate in a whooping nine comebacks, or new releases, this year between Neo-Culture Technology's many units: NCT 127, NCT Dream, NCT U, and NCT 2018.
Mark Lee, the hardest-working guy in NCT
In the world of K-pop, things move fast and furious. And the next release — complete with its own concept (or visual theme) and album — is just around the corner. As such, it's so easy to miss the real gems in an artist's or group's total work because the lead single is the only song that ever gets any real promotion. So much has been said about 2018 being a breakthrough year for K-pop, thanks to its growing visibility and credibility in the U.S. — and that's certainly true! — but this year was also a great year for Korean music, period.
EXO made their triumphant return with Don't Mess Up My Tempo, a layered album full of crystalline pop, and SHINee released The Story of Light, a prismatic trilogy that celebrated the group's fizzy aesthetic and eclectic sound. Meanwhile, Red Velvet refused to be put in a box with The Perfect Red Velvet, Sunmi explored the complexity of human emotion on the moody Warning, and NCT 127 continued to break the rules of convention with their first full-length album, Regular-Irregular.
So let's take a look at the work that often goes overlooked with some of the best K-pop B-sides of 2018 (in no particular order):
"All Day All Night," SHINee
SHINee have been churning out pristine pop and rhythmic bangers for the past decade, so it should come as no surprise that The Story of Light Episode 1 — the first EP in the group's Story of Light trilogy — kicks off with this explosive, future-bass bop. The song opens with chirping birds, intimate chords, and pretty vocal riffs from singers Onew and Taemin — signaling the dawn of a new day — before erupting into a seismic chorus, and oh my God does it soar.
British songwriter MNEK brought some of his traditional R&B sensibilities to "Paradise," a song that truly stands out among all of the work BTS have produced this year because of its catchy, melodic hook and important message. The track preaches a familiar theme found throughout the group's work: that you don't need to live life chasing a dream that isn't yours. "It's alright to not have a dream," vocalist Jin sings on the chorus. "If you have moments where you feel happiness for a while." It's a nice reminder to stop and reflect on life's simple joys — and it slaps.
"Gravity" is like a Choose Your Own Adventure novel — you never quite know where it's going but the journey is all the fun. It's a modern synthwave song that delivers powerhouse vocals and keeps building until you reach nirvana (that happens somewhere between Chanyeol's first rap break and Baekhyun's bridge, or maybe it's between Sehun's second rap break and Chen's high note). EXO have already proven themselves as a formidable force in K-pop, but "Gravity" is still a major flex — even for one of the biggest groups to have ever taken the mantle.
As a member of SHINee, Key has long established himself as a versatile performer — a singer, rapper, dancer, visual artist, and certified strong personality — but with his debut solo effort, Face, the pop chameleon proves that he still has a few tricks up his sleeve. While a song like "Chemicals" might be what we've come to expect from an artist like Key, with its thumping dance beat and highly addictive chorus, "Good Good" is the bold choice. Sonically, it's a little bit of everything, but when that chorus kicks in, Key's falsetto rising above the alchemy of keyboard synths and heavy bass riffs, it's pure pop-star magic.
The B-side that really should have been the lead single, "Come Back" has all the elements of a hit K-pop song. After all, it's a formula SM Entertainment has perfected for years with groups like SHINee and EXO. It's loud, but not too loud; it's instantly catchy, the kind of song that will have you singing along to its bouncy chorus after one listen; and it's just an upbeat banger driven by amazing vocals. Maybe that's why NCT 127 went with "Regular," a Latin-trap track with limitless bravado that lets rappers Taeyong and Mark shine, instead. NCT's Seoul-based group are anything but conventional — but sometimes the people just want a good pop song. Presumably, SM knew that too because the group prepared an impressive live stage for the song while they were promoting "Regular."
Red Velvet have often been described as the Queens of B-sides because a lot of their best, most interesting work isn''t usually their title tracks. (Except for you, "Bad Boy.") Their artistic DNA is written into their name, with "Red" signifying their vivid pop aesthetic and "Velvet" reflecting a slower, R&B sound. "All Right" falls somewhere in the middle: It's a bright, '80s-style synth-pop track with a funky bass line, but the group's vocal charms and distinct harmonies elevate it to something irresistible.
It's impossible to distill the entirety of Jonghyun's distinct artistry and musicality into one song — but "Grease" comes close. Featured on his second solo album, Poet | Artist — released posthumously in January following his death late last year — "Grease" is a divine contradiction that combines the SHINee vocalist's smooth, soft legato with a slick, wobbling rhythm. Written and arranged by Jonghyun, the song describes a past lover who just won't go away, like a grease stain. "I want to clean it up (clean it up) / I want to fix it up (fix it up) / Let's say this never happened," he sings on the pre-chorus, before jumping several octaves on the bridge. Even when he was dragging you, Jonghyun turned it into something beautiful.
There's something sinister about "ADDICT," the introductory song on Sunmi's critically acclaimed EP, Warning. It makes a bold statement. On each track, the ex-Wonder Girls vocalist issues a warning to a hypothetical lover, and "ADDICT" is no exception. It's a moody reminder that she's "running the show" in this relationship. It's that confidence that makes Sunmi so seductive, and her music so darkly captivating. "I'll be shining on you, everywhere, day and night," she talk-sings in English over an hypnotic beat. She knows she's a queen, and there's nothing sexier than that.
One can interpret "Drippin'" as a dirty song, both in its trap-infused production and in its lyrical content — the idea being that these seven teenage boys want to "soak you" with their love (in a very PG way) — but that's what makes it so undeniably fun. Co-written by rapper Mark, it's the kind of bass-heavy banger that's not only signature NCT, but it's also a track you can imagine a teen boy writing, thinking he's being slick. It's endearing, really. "It's awkward that [NCT] Dream sings these lyrics," main vocalist Haechan, then 17, said in response to the song. "But I wanted to do it eventually." They've come a long way since the sickly sweet days of "Chewing Gum," and a song like "Drippin'" makes me excited to see where they go next.
ATEEZ is an eight-member rookie group that made quite an impression with their pre-debut song, "Pirate King," earlier this year. But "Twilight" is the real hidden treasure on their first EP, TREASURE EP.1: All to Zero. The polished trop-pop song is an upbeat ode to the colorful glow that love and happiness bring. It's rather innocuous, sure, but lovestruck boys happily mooning over the objects of their affections will never get old. It's Pop 101.
"When It Rains At Night," Pentagon
It's hard to imagine any song doing more for Pentagon than their wildly catchy 2018 single, "Shine" — a song that should rightfully be on everyone's Best of 2018 lists — but "When It Rains At Night" is the emotional pop ballad your soul really needs. For a group that isn't known for their ballads, Pentagon are a stacked band of vocalists. But "When It Rains At Night" isn't just a song for Jinho and Hui to flex; it also allows their more raspy-voiced rappers, Wooseok and Yuto, to really, uh, shine.
Seventeen are the ultimate mood-makers of K-pop, so it's hardly surprising that their performance unit (known for their dancing and overall ace performance skills) — Hoshi, Jun, The8, and Dino — turned out "Moonwalker," a vibey song with a heavy synth bass that could best be described as a BIG MOOD. And it just makes you want to dance, which is kind of the point. Between b-boy The8's playful refrain on the pre-chorus and unit leader Hoshi's beguiling vocals, "Moonwalker" should be an instant addition to any pregame playlist.
It's not that "Shoot Out" wasn't a great lead single — between the darker concept and meme-able choreography, you could argue that it was the perfect lead single — but it's hardly best song on Monsta X's second full-length album, Take 1: Are You There? In fact, if you're looking for a turn-up song with real allure, listen to "Oh My." And then there's "Myself," a song that stands unparalleled in the group's body of work. With its unique drum and guitar line, there's a softer '90s alt vibe to it — something you don't hear often in modern K-pop, especially from a group who excels at house and dance music like Monsta X.
When people unfamiliar with K-pop think of the genre, they most likely picture a group like TWICE — a group of honey-voiced girls with a cutesy concept and an entire catalog of deliriously cheery pop songs. But what's so wrong with that? "CHILLAX," a B-side off the group's Summer Nights album, is a happy trop-pop track about slowing down and taking time for yourself. "My mind says, I want to go slower," Jihyo sings. Honestly, same! Perfect for any season, this is the kind of song to play when you're in a funk and in desperate need of a mood enhancer.
"Dear Sun," Jung Jinwoo feat. SOMA
K-pop is such a broad term, especially with so many groups and artists experimenting with hip-hop and R&B. Solo singer Jung Jinwoo does a bit of both — exceptionally well — on his first album, Rotate. But "Dear Sun," featuring Korean singer SOMA and produced by Jinwoo's Planetarium Records label mate Villain, is a true standout. Between Jinwoo's tender vocals and Villain's dreamy production, this soft R&B duet will have you smiling ear to ear and most likely body-rolling into next week.
EXO-CBX — a subunit of EXO featuring members Chen, Baekhyun, and Xiumin — sneakily released one of the best K-pop albums of the year with Blooming Days, a week's worth of songs for ever occasion (that's the concept of the seven-track EP). "Vroom Vroom" is the passionate Friday night song, a funky synth-pop track that highlights the trio's velvet-smooth vocals and playful harmonies. And that "vroom vroom vroom" on the disco-beat hook is so addictive.
The four women of Mamamoo don't do "cute," and that's what makes them stand out. Their sensual sound leans heavily R&B, which is what makes "Rude Boy" equal parts predictable and unexpected. Their smooth vocals are on point, as per usual, but it's the trap beat and rapper Moonbyul's flow in the second verse that propel the song into something truly singular. If Moonbyul tells you to ditch your cheating man, you better listen to her.
"everythingoes," RM feat. NELL
RM's seven-track playlist, mono, is a warm blanket for a tired soul. On mono, BTS' leader and main rapper gets vulnerable, laying his deep insecurities bare on songs like "Tokyo" and "Seoul" (produced by electronic duo Honne). It's equal parts wistful and weary, and the theme of loneliness is constant throughout. But the mood breaks on "everythingoes," a collaboration with Korean artists Nell that highlights the resilience of the human spirit. "It will pass, someday, for sure, for certain," RM sings softly. The refrain plays like a nursery rhyme, a powerful reminder that everything in life, even the pain you feel right now, is temporary.