Ronnie Ortiz-Magro Reveals Details About His Brand-New Baby Girl
Plus, find out what surprises the 'Jersey Shore: Family Vacation' star most about being a dad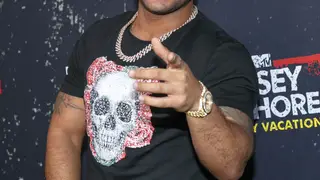 The Jersey Shore gang is a real family -- and there's a brand-new addition to the lovable clan. This calls for a toast with some Ron Ron Juice...
Ronnie Ortiz-Magro -- who is on MTV every Jerzday Thursday with his brothers/sisters from another mother -- welcomed his first child with girlfriend Jen Harley on April 3. The two had shared on Christmas Eve that they would soon have a petite guidette princess to call their own. The little lady's moniker: Ariana. Us Weekly was first to break the news.
"In the beginning, when me and my girlfriend were first hooking up, we would joke around and say, 'Imagine if we had a kid,'" Ronnie revealed to MTV News. "I always knew that I was going to have a girl, so we came up with Ariana. And when we found out that [Jen] was pregnant, we said that it was only right that we name [the baby] Ariana. It was faith," he said, adding that she isn't named after anyone.
Now that Baby Ariana is here, how would Ron describe being a dad?
"Fatherhood has surprised me in many ways," he stated. "You love all of these people throughout your life, and then you finally have a baby and you start to realize what real love is. I look at her, and I'm like, 'I made that. That came from me.'"
And while we have to wait to see a glimpse of the MTV munchkin, Ron said the peanut looks just like her daddy.
"She didn't get the good looks," he joked.
Offer your congrats to Ronnie and his loved ones in the comments, stay with MTV News for more baby updates and keep up with Jersey Shore: Family Vacation every Thursday at 8/7c!