Anitta Storms The VMAs With The Sexiest Performance Of The Night
'VMAs, did you think I wasn't going to shake my ass tonight?'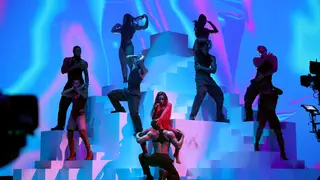 If a stranger were to stop you on the street and ask you to name the sexiest VMA performance of all time, you would probably ignore them and keep on walking, or maybe ask them, "Whatever happened to, 'Hello? How are you? My name is?' What happened to that?" But on the off-chance you took their unsolicited question seriously, your thoughts would probably lead you to Madonna writhing on the ground in a bridal gown to "Like a Virgin" at the very first VMAs ever, or maybe Normani's Janet Jackson-inspired entanglement with Teyana Taylor at the end of "Wild Side" at last year's proceedings.
After tonight, however, there might just be another contender to add to the list. Anitta's performance of "Envolver" at the 2022 VMAs — and if you have to ask why, you obviously missed it.
Clad in a tighter-than-skintight red catsuit and matching fire-engine pumps, the singer began her performance at the top of a multi-tiered pyramid. She slowly made her way down to the floor of the Prudential Center's main stage, where she simulated [redacted], [scene missing], and other choreographed acts with one of her backup dancers. And then, just when you might have thought she was done, Anitta called out into the crowd: "VMAs, did you think I wasn't going to shake my ass tonight?" And shake her ass, she did! And shake her ass, she did…
Tonight marks Anitta's VMA main-stage debut as a performer, though it is not her first time performing during the ceremony's annual broadcast. Last year at the 2021 VMAs, hosted at Brooklyn's Barclays Center, the artist brought Versions of Me single "Girl from Rio" to life as part of the pre-show set.
But that's not all — Anitta had a huge night beyond her performance. The entertainer, who happens to be the first Brazilian artist ever nominated for a VMA, also took home her very first Moon Person. "Envolver" snatched the win for Best Latin, beating out Bad Bunny's "Tití Me Preguntó," Becky G and Karol G's "Mamiii," Daddy Yankee's "Remix," Farruko's "Pepas," and J Balvin and Skrillex's "In da Getto."
The 2022 VMAs aired live on MTV from Prudential Center in Newark, New Jersey. Find the complete list of winners right here and keep up with all of the night's biggest VMA moments.