Charli XCX And Troye Sivan Go Back To '1999' On Nostalgia-Trip New Song
Complete with shout-outs to Jonathan Taylor Thomas and Slim Shady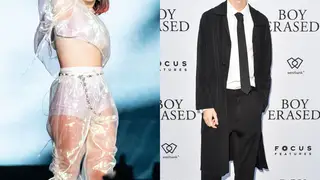 While the Purple One was concerned with the future, Charli's caffeinated-as-always vocals are a touch wistful for the past. She sings, "Wishing we could go back in time / Maybe we could do it tonight, tonight, tonight" and pinpoints the final year of the 20th century as the preferred destination.
This all begs the question, what exactly would one do if she found herself dropped back near the end of the first Clinton term? (Charli grew up in Essex, and Troye in Perth, so the Clinton reference point isn't as fitting, but whatever.) The song's escapist lyrics mention some specific cultural hallmarks of the time — blasting Slim Shady and Britney Spears — but also simply indulging in what being young has to offer, like "playin' air guitar on the roof."
"I know those days are over but a boy can fantasize / About JTT on MTV and when I close my eyes," Sivan sings on the bridge, shouting out '90s teen heartthrob Jonathan Taylor Thomas. The single's cover art also finds Troye and Charli decked out in shiny Matrix leather like Trinity and Neo, a look that never quite went away or maybe did but is now back, for good?
"1999" marks the second prominent time-machine pop song this year, after Anne-Marie's early-aughts patchwork "2002." Both songs shout out "...Baby One More Time" specifically, too, though "2002" expands its scope and uses songs from many other years as reference points. The madcap "1999" is absolutely classic Charli, a celebration of pop that fuses elements of the era she's shouting out while also somehow sounding like a roadmap to pop's effervescent future.
I can only hope we'll soon get a video that's as incredibly studied in its approach to the late '90s as that cover art. I mean, look at that font! Not since Beerbongs & Bentleys has an album cover evoked such particular late-'90s shopping-mall music shop feels.
Until we get a proper visual though, you can listen to the whole thing above. And dance.