Beyoncé Might've Out-Rapped Jay-Z On DJ Khaled's 'Top Off'
Battle of the Bey and Baes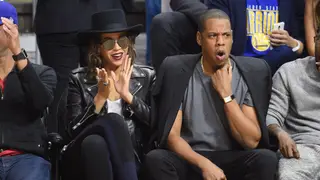 Today (March 2), DJ Khaled liberated the first single from his next album Father Of Asahd — "Top Off" featuring Jay-Z, Beyoncé, and Future. The biggest surprise from the new song comes from Beyoncé, who decides to go bar-for-bar with Jay on the second verse. So the only question that remains is, who had the hotter 16?
Next up, Beyoncé gets right to the point with a killer opening line: "I'm the only lady here, still the realest n---a in the room / I break the internet, top two and I ain't number two." Bey follows that bar up with another declaration to "Free Meek Mill." Finally, someone needs to talk to Mrs. Knowles-Carter about her partying policy, which seems excessive, but also a little baller. If Beyoncé's closing line is true, then anyone who has dreams of turning up with the legendary singer must sign a non-disclosure agreement beforehand. Guess Tiffany Haddish didn't get the memo.
Listen to "Top Off" below.