The Enduring, 8-Bit Legacy Of The Super Mario Bros. Theme Song
'Ground Theme,' composed by Koji Kondo in 1985, can today be heard in orchestral arrangements, amusement parks, and a new blockbuster movie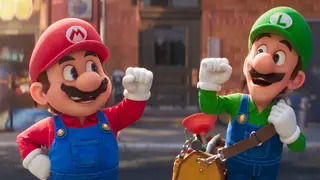 While walking through the sprawling campus of Osaka University of Arts, located in its namesake city nestled in the southwest region of Japan, Koji Kondo noticed something flapping in the wind. "I saw a recruitment advertisement on a flier for a sound editor at Nintendo," he recalls of the fortuitous moment.
Kondo was intrigued. After all, then a young student, he had a predilection for sound creation and was known to play around with synthesizers. Plus, working for the gaming company was enticing considering he was previously a fan of table games. "I just thought that this sounded like a heavenly opportunity for myself," says Kondo. "After school, I actually only applied to one company, and that was Nintendo."
Little did the company or the young composer know at the time, but his hiring in 1984 would alter the history of gaming. Kondo has become a legend of his craft for his indelible soundtracks, swiftly catapulting Nintendo onto the global cultural stage. But while his legacy includes memorable melodic soundscapes for numerous video games, including the Legend of Zelda series, it's his association with the Super Mario Bros. franchise that helped define not only his career, but the game at large, the company that made it, and the music of video games in general. Hollywood's latest refresh of the classic characters in the form of The Super Mario Bros. Movie marks yet another impressive chapter for Kondo and his memorable work, specifically the game's instantly recognizable theme.
"I've loved the Mario games all the way back to Donkey Kong and grew up playing them," says Brian Tyler, the film's composer, who was one of the games' multitudes of passionate fans. For the new movie, he heavily utilized the musical groundwork Kondo laid back in the early '80s. "One of the coolest parts of scoring this film is that it translates the experience of playing the game. When I played the early games, I imagined being in a greater world than the 8-bit graphics. It seemed emotionally real to me. That is what this film brings to all of us fans."
To Tyler's point, a half-century ago, video games were just that: rudimentary devices with simple graphics and a limited sound library, with music concocted as a mere afterthought. It was up to Kondo to create a gameplay soundtrack around these specific limitations, and by the summer of '85, the opportunity to work on Mario came into view. "At the time, we only had three sound supervisors working in my department," he explained to MTV News through a translator. "We'd take games as they came to us in order, and it happened to be my turn when Mario came up. That's how I was selected to work on the project."
Before concocting the now-famous theme, Kondo originally had a different musical idea stemming from Super Mario Bros.'s sunny visuals. "When I first played the game, the one thing that really made a big impression on me was the bright blue sky. Up until that time, video games had this very black background, so the bright colors were quite groundbreaking."
With that, he wrote an effervescent theme. It ultimately was nixed. "It was light and fluffy, but it didn't match the feeling of playing. I wanted to musically match the movements of Mario and find a rhythm of what was happening on screen. That became the basis of what we know now." It was a revolutionary idea at the time.
Officially dubbed "Ground Theme" or "Overworld Theme" (as opposed to his "Underground Theme") what he subsequently birthed was a buoyant anthem in the form of a simple hummable earworm that mimics a calypso produced on a synth. Thanks to its seemingly Caribbean flavors, Kondo says that a lot of listeners assume there was a Latin or jazz influence in his creative vision.
"But that really wasn't my aim or attention," he reveals. "I was listening to a lot of different music at the time, from classical to world music, so there were a lot of genres that were capturing my attention. But really, it was all about the rhythm, and not influenced by any one style of music."
I wanted to musically match the movements of Mario and find a rhythm of what was happening on screen. That became the basis of what we know now.
From its dazzling golden coins and green pipes, another hallmark of the Mario-verse is the soundtrack's repeatability. Its malleable nature wasn't an artistic choice but a way to maximize the Nintendo Entertainment System's finite amount of memory. At normal speed, it's playful. Slowed down, it sounds nefarious. And yes, it can also be sped up when Mario enjoys an in-game boost.
"There are a lot of different patterns," says Kondo, analyzing his creation. "Part of the reason is the available data we had for sound and music production was quite small, so we had to be really creative when it comes to the structure of the music. It may be long in duration, but it's made up of a series of smaller motifs."
---
The Super Mario Bros. game was released in the fall of 1985. Within three years, Nintendo became a global juggernaut, so popular by 1988 that the New York Times quoted a toy expert on the phenomena: "For boys in this country between the ages of 8 and 15, not having a Nintendo is like not having a baseball bat." It's so important to Japan that in 2016, then-Prime Minister Shinzo Abe even dressed as Mario at the Summer Olympics to help preview his country's 2020 bow. (Kondo called it an "unbelievable event.") Along the way, Kondo's music became an inseparable part of the lore, with the theme appearing in some form in every Mario release, including a bevy of consoles, shows, and films.
That includes the latest Hollywood iteration, The Super Mario Bros. Movie, in which Chris Pratt lends his voice to the beloved red-hatted plumber. In it, our hero is still thwarting his classic antagonist, Bowser (voiced by Jack Black), and his wicked plans for world domination. Kondo's theme is alluded to in its viral trailer, while composer Tyler made it a point to honor the game's history in the score of the film itself.
"I had the honor of getting to know Koji throughout the entire process of making this film, and while I wrote entirely new film themes for Mario, I also wanted to use many themes from many of the games within the score," he says. "He was gracious enough to help brainstorm with me how the original music from the games could be incorporated into the score. It was one of the most incredible experiences of my career and I could not be more proud of this film."
Kondo is still awestruck by its success. "I composed this music for a video game. Now we have orchestral arrangements. It's being used at theme parks. It's being used in this movie and it has become something that is known worldwide," he says. "It's not anything I ever could have imagined."