Gayle And Lauren Spencer-Smith Became Friends At A Tate McRae After-Party
It's an MTV EMA tree of friendship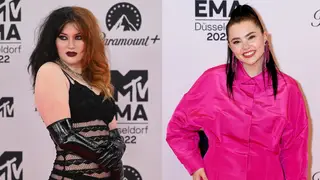 She might've delivered a fierce performance from atop a messy bed on the stage at the 2022 MTV EMA, but before the show on Sunday night, on the red carpet, Gayle took a moment to give a hug to one of her best pals: Canadian singer-songwriter Lauren Spencer-Smith.
While the "ABCDEFU" singer was previewing her dominatrix-inspired stage look, she was briefly interrupted by Spencer-Smith clad in hot pink for a proper embrace. "I can't get enough of this woman!" Gayle excitedly told MTV News correspondent Dometi Pongo. The pair then regaled the carpet with the tale of how they met, and their fun road all the way to the EMA, all while slamming the ways women in the music industry are often pitted against each other.
Naturally, the two artists first met because of a concert. The pair connected at an after-party thrown by fellow EMA performer Tate McRae following a concert in Los Angeles. "I snuck into it, basically," Gayle said, laughing. Their friendship blossomed further after appearing on the same press circuit together.
"We always do the same radio shows," Spencer-Smith added, "so every couple weeks, we're like, hey!"
Gayle then reflected on their closeness in an environment that is often more about division, especially when it comes to young women. "I think it's absolutely hilarious that people try to compete young women against each other," Gayle said. "She's only my friend, and we're only coming up together, not against each other."
Another pal Gayle enjoyed the EMAs with? Taylor Smith, whom she sat next to during the show and whom she will be opening for on Swift's massive arena showcase The Eras Tour in 2023. Gayle will share the stage with other heavy-hitting openers like Paramore, Phoebe Bridgers, Beabadoobee, and Muna, and when the series was announced, she shared that she was "so so so excited" to be a part of it.
Gayle rocked the big EMA stage later in the evening with a performance of "ABCDEFU," jamming on an electric guitar and ending up messy with confetti. She was nominated in the Best PUSH and Best New categories for the ceremony. The alt-rock singer recently dropped another installment of her EP A Study of the Human Experience on October 7.
As for Spencer-Smith, who took the Extended Play Stage at the VMAs back in August? She teased that her song "28" will officially be on her upcoming album — which means, yes, she has an album in the works. Get ready.
The 2022 EMA was co-hosted by Rita Ora and Taika Waititi and broadcasted live in more than 170 countries on November 13 from the PSD Bank Dome in Düsseldorf, Germany. It is now streamable on Paramount+ and Pluto TV. Taylor Swift took home the most awards from the big night, including Best Video. Find the full list of winners here.