Lil Nas X's 'Old Town Road' Is Officially The No. 1 Song In The Gosh-Darn Country
It happened on his birthday!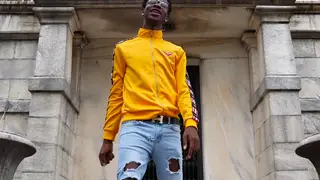 Lil Nas X's career thus far has been a Western film of cowboys and steeds. It's one of those bronco-buster romps where the spurs-wearing hero gets double-crossed, left for dead, then, ultimately, makes a triumphant return in a hail of revolver smoke and fresh cigarettes. Lil Nas X's is smiling in the town saloon as cheers fill the air around him. Today (April 9), on his birthday, his viral country anthem, "Old Town Road," has officially become the biggest song in America.
The rising country star announced the news that his song had topped the Billboard Hot 100 chart early Tuesday morning with a simple tweet: "hitting #1 on billboard on my birthday wow," he wrote. Having the final seal of approval that you're the creator of the biggest song in the country has to be one of the best birthday gifts that you can receive — especially given the fraught path the song traced on its way to the top.
Lil Nas X's "Old Town Road," a tumbleweed-blowing, horse-rearing anthem, went viral on Tik-Tok before climbing Billboard's Hot Country Songs chart and peaking at No. 19 last month. But Billboard removed the young artist's song from the chart because it didn't "embrace enough elements of today's country music."
"Old Town Road" grew immensely thanks to streaming, virality, and a cosign from the legendary Billy Ray Cyrus, who welcomed Lil Nas X into country music's community. Cyrus even hopped on the official remix to the song last week and gave it a yeehawthentic country presence. Now, Lil Nas X is in an even bigger spot than he was before being removed from the chart. If this was a film script, Quentin Tarantino would have penned it. Relive all the magic below.