'13 Reasons Why' Season 2 Promises 'The Tapes Were Just The Beginning' In Clue-Ridden First Trailer
Here's when the popular Netflix drama will return for Season 2. (Hint: It's soon.)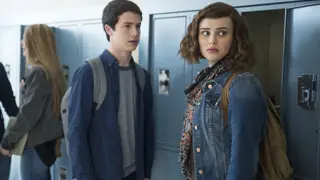 Forget the tapes — for Liberty High's resident tortured teen, Clay Jensen, and the 12 other recipients of the late Hannah Baker's final recordings, it's all about Polaroids now. On Monday (April 30), Netflix dropped the chilling first look at the anticipated second season of its controversial hit, 13 Reasons Why, hitting the streaming service on May 18.
In it, the promo promises, "The tapes were just the beginning," as photos flood the screen. Eagle-eyed fans can spot the clues hidden in each photo — like the note Tony clutches to his chest, the tears streaming down Jessica's face, Bryce's latest victim, and the threatening message on Clay's bed — and it's clear that Clay is preparing for his big day in court. Most harrowing of them all? The photos of Hannah. Who's blackmailing Clay, and are they the ones responsible for the photos? Take a peak at the teaser below to decide:
According to the Netflix synopsis, the second season "picks up in the aftermath of Hannah's death and the start of our characters' complicated journeys toward healing and recovery. Liberty High prepares to go on trial, but someone will stop at nothing to keep the truth surrounding Hannah's death concealed." But here's the kicker: "A series of ominous polaroids lead Clay and his classmates to uncover a sickening secret and a conspiracy to cover it up."
Tyler is the obvious suspect, given his interest in photography and penchant for taking photos of people when they least expect it. Not to mention, Tyler is suspiciously absent from the teaser trailer. When we last saw the troubled teen outcast, he was staring at photos of his classmates while in possession of a box of guns and ammunition, suggesting that he might be planning a deadly attack on the school.
Earlier this year, showrunner and executive producer Brian Yorkey confirmed that Tyler was indeed "thinking about making a tragic choice to restore to some sense of control or power." But it might not go down the way we fear. "We'll see over the course of Season 2 that he continued to struggle with that," he told Insider, "but that hopefully there will be a community that is able to support him in a way that maybe there wasn't for Hannah."
Another notable clue: Mrs. Baker's new short 'do, which implies that there will be a time-jump between the first and second seasons. Though, the events of Season 1 have clearly left their mark on everyone involved.
If this teaser is anything to go by, 13 Reasons Why is only getting darker.