Linkin Park Keep Looking To The Sky On 'Meteora'
Mike Shinoda breaks down the band's previously unheard 2003 songs and considers the legacy of their beloved second album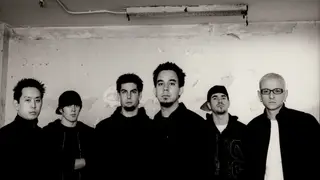 Mike Shinoda has never been to Meteora, the site of stunning rock formations in central Greece that date back 60 million years. But on tour with his band Linkin Park in the early 2000s, he glimpsed those otherworldly terrestrial forms in a magazine. "We saw the picture of the place, and it looked like it was from another planet," he told MTV News recently. "It was so unusual and unfamiliar."
At the time, he may have felt the same. Linkin Park's 2000 debut, Hybrid Theory, became the best-selling album of the following year, propelling the California six-piece rap-rock group to global fame. It eventually became certified 12-times platinum. "If it was today, imagine one minute you're making demos in your parents' house, and the next minute, you've made an album that's bigger than [Justin] Bieber, Drake, The Weeknd, Halsey, and Post Malone," he said. The pressure was on to create a worthy follow-up, and Shinoda was primarily concerned with doing the work to make that happen.
In the days before GarageBand and iPad setups, he had hefty recording equipment installed on the band's tour bus. Between tracking song ideas and tinkering with samples, he spied the Meteora photo and liked how it meshed with two elements: the oft-repeated refrain of his band's "meteoric" rise in the music press, and the potent symbolism of towering crags.
"One thing that's cool about that place is it's really hard to get there. It takes real effort to arrive at the top, and I know that the album was the same way," Shinoda said. "Meteora was an album that we had to push and be patient and work hard and craft this body of material in order to arrive at the album we wanted to have."
Now, he's celebrating doing that work. On April 7, the band will release Meteora 20, the deluxe anniversary reissue of an album that has sold upwards of 16 million copies, spawned some of their most immortal singles, and remains beloved among fans. That celebration also includes previously unheard songs from Meteora's recording sessions, like "Lost," released in February and made even more potent in the wake of co-frontman Chester Bennington's 2017 death. What's there is revelatory: Bennington's soaring, emotional vocals that glide above layers of surging guitar and processed electronics.
The same is true for "Fighting Myself," another buried gem originally titled "Shortcut," given new life via an updated mix while retaining its era-appropriate essence. "We would've played it live if we had seven guitarists," member Brad Delson writes in the reissue's liner notes. The distorted crunch makes it unmistakably Linkin Park, though the most curious hook may be its eerie, wraithlike opening sound effect. That simple device crystallizes where Linkin Park's creativity helped them fit into the rock landscape in 2003, when many of their heavy-rock peers lost chart power or simply moved into other musical directions.
Shinoda and the band's DJ, Joe Hahn, explored new frontiers on Meteora as well, like low-BPM drum-and-bass on the ballad "Breaking the Habit" and a shakuhachi flute line that circulates around rap cut "Nobody's Listening." "Most of the hip-hop that I loved was sample-based," Shinoda said. "Joe and I really started getting into this phase, which maybe it never really ended, but this was the first time we really started making our own samples." That's how Shinoda's typically baritone voice, pitched unrecognizably high, ended up opening "Fighting Myself." The rest of the song features him rapping and Bennington delivering the aggressive refrain: "Fighting myself, I always lose."
Even decades beyond the production and recording process, Shinoda remains game to talk about how specific Linkin Park songs were actually made. It's all part of the "work in progress" theme the band clutched to while making Meteora, one that ended up adorning its minimal, graffiti-inspired album cover. During recording, the band — Shinoda, Bennington, Hahn, Delson, drummer Rob Bourdon, and bassist Dave Farrell — convened in a warehouse to cover a gigantic wall with lyrical ideas, art fragments, and more imagery. The street artist Delta, crouched in creation with a spray can and clad in a respirator, ended up the sole figure on the front cover: a manifestation of its central theme.
That enterprising mentality extended to another gem unearthed from the Meteora vault. "More the Victim," initially known as "Cumulus," likewise unleashes an avalanche of heavy guitars over which Bennington delivers a ferocious vocal performance — a staple of the Linkin Park sound in 2003. It fits into how listening to and thinking about Meteora in 2023 conjures a tempting narrative. After Hybrid Theory, Linkin Park needed to assert themselves again to prove that their success was not a fluke or a fad. Meteora, with its airtight 36-minute runtime and barely a second between tracks, was a resounding re-arrival and an affirmation of both talent and vision. Then they flitted off to explore the high-profile with Jay-Z, the experimental, and the heavily electronic. ("There was a certain point at which the [band] were like, 'Our guitarists won't pick up a guitar,'" Shinoda jokes.)
It's a version of the band's history about which Shinoda has reached clarity upon consideration two decades later. After Hybrid Theory, "a rumor that had gone around that we were an industry plant and that we didn't write our own songs and we didn't know each other," Shinoda said. Meteora allowed the band to follow up their blockbuster debut with an even tighter showcase of all their skills; creating an art wall as a monument to the writing and recording process — which they helmed themselves with help from producer Don Gilmore — was cathartic and rich in meaning. "We definitely wanted people to get a look under the hood as we were doing it, and once it was done, to show the process. We were starting to realize that the way we thought about music and definitely the way we made it, at that time, was kind of unique."
At the top of the Meteora formations reside two dozen Greek Orthodox monasteries, many in ruin, with a handful still functioning as prayer sites. "When you're green," Shinoda said about making the album as a 25-year-old, "your musical vocabulary's smaller. Your experience with the process of making things is smaller. This naivety, I think it provokes some really cool stuff." They might seem precisely like the kind of mystical, loaded emblems that a nuts-and-bolts musical guru like Shinoda would avoid. He's busy doing the work; how could there be time for philosophizing? 
The first lyrics on the Meteora album, sung in a slowly building firestorm by Bennington, paint a clearer picture: "Sometimes I need to remember just to breathe." It's the kind of thing you might say looking up at a cluster of breathtaking rock outcrops — a fleet of geological works in progress.