Little Mix And Nicki Minaj's 'Woman Like Me' Is Girl Power At Its Loudest And Proudest
It's a true full-circle moment for Nicki and the girl group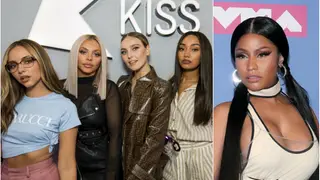 The wait is over: Little Mix — the British girl group behind such sassy, brassy anthems as "Power," "Hair," and "Salute" — are back and badder than ever.
For the lead single off their upcoming fifth album, the girls joined forces with Nicki Minaj for "Woman Like Me," a reggae-tinged jam co-written by Ed Sheeran and Jess Glynne. It puts Little Mix back in familiar, boss-minded, pop-powered terrain, as they wonder whether a guy could fall for a strong, "unconventional" woman.
"I always say what I'm feeling / I was born without a zip on my mouth," Jesy Nelson and Leigh-Anne Pinnock begin, before Jade Thirlwall and Perrie Edwards ask on the chorus: "My momma always said, 'Girl, you're trouble' and / And now I wonder, could you fall for a woman like me?" Minaj, meanwhile, comes through with characteristically confident bars about being "a bad Trini bitch": "Greatest of all time, 'cause I'm a chameleon / I switch it up for every era, I'm really bomb / These bitches really wanna be Nicki, I'm really mom."
A few days before the release of "Woman Like Me," Little Mix shared on Instagram that the song is "about celebrating women in every shape and form." They added, "We don't feel like there are enough places to celebrate women right now... so we wanted to make one!"
Another reason for them to celebrate? The collaboration marks a true full-circle moment for Little Mix, who covered Nicki's hit "Super Bass" while competing on the U.K.'s The X Factor way back in 2011. In a radio interview on Friday morning, the girls talked about what "a dream" it's been to collaborate with Nicki, and the rapper responded in her own Instagram post, writing, "Dear Girls, 7 years later, & here we are. With the perfect song! All things in time right? Thank you for having me."
"Woman Like Me" may be a "perfect song" for Nicki in more ways than one — she only needs one more Billboard Hot 100 entry to become the first female artist in history with 100 entries. Will the Little Mix collab be the one that gives her that milestone? We'll find out soon!