John Green's Novel 'Looking For Alaska' Is Headed For The Small Screen
It follows in the footsteps of 'The Fault In Our Stars' and 'Paper Towns'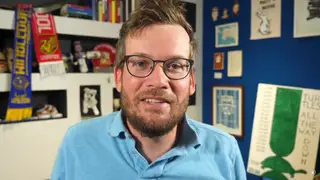 John Green's Looking For Alaska has spent 13 years in development limbo, but now things are finally official: Green's first novel, and arguably his most beloved, is headed to Hulu.
Under the stewardship of Josh Schwartz and Stephanie Savage — the masterminds behind teen dramas The O.C., Gossip Girl, and Marvel's Runaways — the eight-episode limited series will follow Miles "Pudge" Halter, a kid obsessed with the dying words of famous people (not unlike Green himself), as he leaves Florida and transfers to Culver Creek Preparatory High School in Alabama for his junior year. It's there that he meets Alaska Young, the girl who's going to change his life, and her circle of quirky friends.
Schwartz and Savage have a knack for writing teen unrest, and Alaska has plenty of it. The book doesn't sugarcoat death; instead, it asks questions, as we all do. Death is confusing and painful for those left behind, but mostly it just leaves us wanting to know more — and in some cases, why. Looking For Alaska doesn't have all the answers, and that's kind of the point.
Schwartz first brought the manuscript to Paramount in 2005, when he was just known as the fresh-faced creator of The O.C. Paramount Pictures had the rights to Looking For Alaska for more than a decade, but even the success of Green's first book-to-movie adaptation, The Fault In Our Stars, couldn't get the project off the ground.
But given the success of 13 Reasons Why over at Netflix, it's not surprising that Hulu would want to invest in a young-adult story that tackles similar themes of mental health and teen sexuality.
And luckily, the screenwriter's dedication to the impactful tropes hasn't waned over the years. "Some projects come together overnight, some take 13 years! Couldn't be more excited," Schwartz tweeted after the news broke, while Green reflected the enthusiasm with a tweet of his own, marveling at the long-term commitment to the project and casually noting, "I'm excited. Hope you are, too."