Bop Shop: Songs From Rostam, Saweetie, Brooke Eden, And More
Songs for the pensive, the rambling, the smitten, and more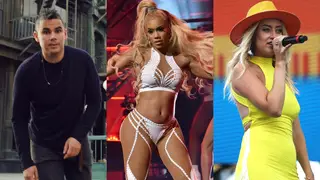 The search for the ever-elusive "bop" is difficult. Playlists and streaming-service recommendations can only do so much. They often leave a lingering question: Are these songs really good, or are they just new?
Enter Bop Shop, a hand-picked selection of songs from the MTV News team. This weekly collection doesn't discriminate by genre and can include anything — it's a snapshot of what's on our minds and what sounds good. We'll keep it fresh with the latest music, but expect a few oldies (but goodies) every once in a while, too. Get ready: The Bop Shop is now open for business.
Elohim ft. Big Freedia: "Strut"
Here we go. Thanks to a structurally sound, icy house-inspired beat, Elohim is able to create a space that feels eternal, where the bass can keep pounding forever. Add in empowering vocalizations from New Orleans bounce legend Big Freedia and you have an instant classic — exactly the kind of tune that reminds us how "the power we hold within ourselves is infinite," as Elohim says. Like I said, here we go. —Patrick Hosken
Brooke Eden: "Got No Choice"
Queer country crooner Brooke Eden was smitten with her girlfriend from the first "Hey girl, how are you?" and she doesn't care who knows. "Got No Choice," her third new single this year, skews more toward pop than classic country, paying homage to the GF Eden wasn't looking for but can't resist loving. Her bliss bleeds into every resonant, twangy note she sings. Fair warning, it's infectious. —Sam Manzella
Number One Popstar: "Forever 21"
Existential dread has never sounded as dreamy as it does in Number One Popstar's new single "Forever 21." Over sparkling synths and an '80s-reminsicent beat, the Slut Island singer reflects on the carefree days of her twenties with a heaviness you wouldn't detect from its lighthearted production. While one often spends adolescence chasing maturity, adulthood is flecked with dreams of youth. Though her self-directed visual finds her reuniting with the optimism of an older self, its tongue-in-cheek conclusion reminds us that some missions are futile. Still, Kate Hollowell finds a way to strike a chord with this retro mall-wave bop that wouldn't be a far cry from its namesake store. —Carson Mlnarik
Saweetie: "Fast (Motion)"
Saweetie's answer to the "Futsal Shuffle" is this pepped-up stadium tune that comes complete with a sporty visual that finds the rapper jumping out of a plane, showing off her racing chops, and holding her own in the octagon. Consider it her audition tape for a number of film franchises — Mission: Impossible, Fast & Furious, and Godzilla/Kong producers, are you paying attention? —Patrick Hosken
Rostam: "From the Back of a Cab"
On the cover of his upcoming new solo LP, Changephobia, Rostam gazes upward, open to wonder. It's the same receptiveness that characterizes his lovely new video for "From the Back of a Cab," a wiggly number built for gazing out and contemplating. The clip, though, is brimming with cameos from his pals and collaborators — Haim, Wallows, and even Charli XCX make appearances — which might make you starry-eyed. But the beauty of both the song and its visual is how subtle both remain in light of what seems like a superstar concept. "Boys" this is not. This is Rostam, continued purveyor of the understated twinkling poetry of our shared planetary connection. —Patrick Hosken
Kings of Convenience: "Rocky Trail"
Kings of Convenience, the early 2000s indie answer to Simon & Garfunkel consisting of Erlend Øye and Eirik Glambek Bøe, are back. The duo have been pretty radio silent since they released their third album, Declaration of Dependence, in 2009 — until last week, when they announced their upcoming fourth album, Peace or Love, with a new single, "Rocky Trail." On the folk track, the two sing about relationship regrets while strumming their guitars, with their soothing hygge harmonies lowering your blood pressure pretty much as soon as you hit play. Who could ask for more after this past year? Saving us from our stress and depressing inner dialogue, the Kings of Convenience have returned at the perfect time. —Chris Rudolph
When it comes to sexy sweets, ice cream is often top-of-mind, but indie-pop artist Chav is elevating the narrative with new track "Gelato." Firmly nestled in the middle of their latest EP Totally (out today), they perfectly set the scene for an extra hot summer. Evoking hints of EDM, R&B-pop, and electronic punk — how's that for 24 flavors? — "Gelato" is a flirty expedition through Chav's own musical sensibilities and cravings. And when they rhyme "sticky" with "hickey?" Chef's kiss. —Carson Mlnarik
It's hard to not be captivated by Brazilian singer-songwriter Rodrigo Amarante's limber rhythms and infectious vocal melodies. So, let yourself be. Then watch the wonderfully twee "Maré" video and get lost in its equally mesmerizing use of color and warm film vibrations. It makes "Maré" endearing twice over. —Patrick Hosken
Watching Chris, Jonny, Guy, and Will pantomime "Higher Power" — a Max Martin-assisted digital synthpop banger — with a traditional guitar-bass-drums setup showcases the true staying power of Coldplay in 2021. They're perhaps the biggest rock band in the world, and they're committed to what that means, but not at the cost of their actual sound. In other words, it's fitting that Mylo Xyloto turns 10 this year. Coldplay are back to expansive, electronic neon, taking cues from "Blinding Lights," and as big as they've ever been. —Patrick Hosken