'Cheers To Us': How The 'Teen Moms' Kicked Off Their 'Next Chapter'
See the eight women 'all together' for the first time!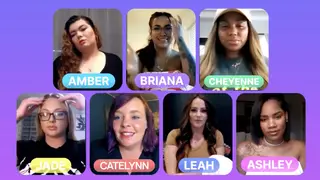 The Teen Moms are "all together" -- and prepared to begin their next chapter.
The series premiere, airing tonight, will commence with Amber, Ashley, Briana, Catelynn, Cheyenne, Jade, Leah, and Maci gathering together for the first time as cast members on Teen Mom: The Next Chapter. In the words of Bentley, Jayde and Maverick's mama, "Let's f*cking go!"
"We're the only people in the world that have been on a television show not just about our lives but also about our parenting journeys," Cate states in the clip above.
Who declares it's going to be a "crazy ride" -- and who is setting up the official Next Chapter group chat? Watch the video, and do not miss the debut of Teen Mom: The Next Chapter, tonight at 8/7c.